Try Our Free Price Quote Request Tool!
Aerial Lifts Prices
Visitors to B2B Exchange know that it helps to have the right features and a brand that will be there for you, but at the end of the day the price you pay for an aerial lift will be among the most important parts of the decision. That's why we've assembled actual prices paid for aerial lifts, straight from our users. Use these figures as a guide as you figure out what to pay during your negotiations.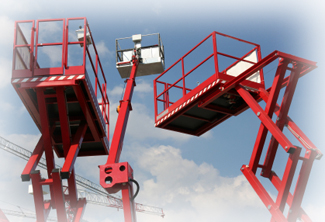 $52,216.00: Paid about $50k for one of Genie Industries' Aerial Lifts. Z45/25 RT Self-Propelled Articulating Boom with Deutz 48HP Diesel Engine; Rough Terrain Air Filled Tires, Four-Wheel Drive w/Oscillating Axle, and Standard Features.

Facilities/Operations, Education, Manassas, VA

Paid $8,500 for a used 1998 Amer-lift in California (about $30,000 new). Weighs about 5,000 lbs with inertia brakes. Lifts 300 lbs to 47' (41' platform) 8 hp Honda power, trailer type, and manual outriggers.

CEO/President/Owner, Equipment Sales & Service, Belfast, ME

$10,800 for Snorkel UNO 33E. 2WD, 1997, 750 hours, 4 new tires, 4 brakes recently replaced. Bought from White Horse Sales & Service.

CEO/President/Owner, Construction/General Contracting, Oneonta, NY

I purchased one of the Condor electric aerial lifts for $1750 from a company in New Jersey and paid $1050 to ship it to my business.

CEO/President/Owner, Construction/General Contracting, Woodstock, GA

We purchased a 2003 Genie GS2632 Scissor lift with 417 hours, a 30 day warranty and delivery for $8950.00.

Engineer, Manufacturing, Kernersville, NC

Purchased a used Genie IWP30SDC 2000 for $1500.00 plus $200.00 for delivery charges (no service contract).

Facilities/Operations, Non-Profit, Murfreesboro, TN
JLG RTS 500 Diesel new tires foam filled power deck delivered tax included $25,500 less than 1400 hours.

CEO/President/Owner, Construction/General Contracting, Defiance, OH

Brought a 2006 Genie Towable Lift TZ-50 for $23665.00 from Hertz Equipment Rental. Nothing included.

General Manager, Agriculture, Los Fresnos, TX

2008 JLG, 4WD, Dual Fuel, Jib, foam filled tires, lighting package, fire extinguisher $58,000.

Buyer, Manufacturing, Fayetteville, NC

2006 JLG aerial lift. $17,700.00 used. Purchase from Equipment Rentals.

Other, Masonary, Three Mile Bay, NY

JLG 2646, We had been looking for one of the older aerial lifts. Needs some work but suits our needs and was in our budget of less than $2,000. Would prefer a much smaller lift, but can't afford anything else at this time.

Buyer, Non-Profit, Murrieta, CA

I bought from Iron Planet auction from a rental yard a Skyjack 4626 for $3,200 total, in very good condition.

CEO/President/Owner, Construction/General Contracting, Upland, CA

Purchased 2 used aerial lifts; 2002 19ft. JLG lift for $3600.00 w/ 6month warranty and a 2001 32ft JLG lift for $6500.00 w/6month warranty

CEO/President/Owner, Construction/General Contracting, Oklahoma City, OK

Refurbished genie 1930 with 6 month warranty for $3500.00 with new batteries, paint, and wires.

Buyer, Construction/General Contracting, Saint Charles, MO

$3600.00 1998 19 ft 500lb aerial lift 90 day warranty. New batteries and fresh paint.

Buyer, Manufacturing, Indianapolis, IN

JLG 40' articulating boom, electric 2wd. $14030.00 including shipping and delivery.

Buyer, Education, Holbrook, AZ

I paid $3200.00 for an Up-right 20' with 125 hours and saved approximately $2800.

CEO/President/Owner, Construction/General Contracting, Oakland, CA
Shop for Aerial Lifts
There are a variety of options for you to explore as you think about buying aerial lifts. Auctions, e-commerce and request for quote services all provide you a way to evaluate different models, talk to dealers and ultimately figure out what's best for your aerial lift needs. Check out the links below for some of the best resources on the web when it comes to shopping for an aerial lift.
Straight Talk From Aerial Lifts Buyers
The Internet has enabled the wisdom of the crowds like never before. B2B Exchange brings that wisdom straight to you by collecting the comments and questions of other aerial lift buyers as they tackle business purchasing head on. If you're not sure what to be looking for in your next aerial lift , check out the most common thoughts, fears and ideas shared by your fellow business purchasers.
I need a 1998 or newer model, used, reconditioned lift with warranty. Please send actual picture, price, and specifications… The freight elevator's outside is 7ft (height) x 42'', inside -4'8'' (front to back) x 6Ft (wide), 3500 lbs- weight capacity. 1. Primary option is an articulating lift, 25 feet working height, single man basket, which fits into the freight elevator 2. Removing the man basket or other parts to fit in elevator is option # 2 3. Last option, an articulating lift: 35-45 feet that that will fit through double doors (approx. 6ft x 7ft tall)

CEO/President/Owner, Construction/General Contracting, Lincoln, NE

Use of these aerial lifts will be 90% indoors, hanging lights in theatre setting, changing lights in gyms and bay lighting at fire stations. I am assuming the 500 lb. weight limit is including the operator? Must have safety devices and out riggers. Please submit info ASAP. Would prefer unit has warning light and alarm when in operation. It must fit through standard doorways-3' X 7'. I would prefer power driven at lowered platform height. Extendable only when stationary and outriggers or safety engaged. Thank you

Facilities/Operations, Events, Pittsburg, PA

I need a lift that will knuckle and reach at least 50 to 55 ft. I want a lift that is on tracks and will work on soft ground conditions. There is a company called KDL Lifts and Equipment has a lift that is on tracks and weighs 4 times less than the typical JLG boom lift. I have to have a lightweight boom lift because of soft ground conditions and this track lift is much lighter.

CEO/President/Owner, Construction, Tampa, FL

I need several aerial lifts with working heights of approximately 26ft with platform height of approximately 20 feet. Lifts stowed height from the platform to the ground shall be approx. 38" Overall length shall be 89 inches maximum overall width shall be approx. 32" Maximum weight shall not exceed 3,920 pounds. Platform length retracted shall be approx. 89" and approx. 161" extended. Width shall be approx. 32" shall power type extension feature

Purchasing Manager, Manufacturing, South Bend, IN

We are looking at the Genie Z30/20N but we also understand that there are other products that can meet our needs like a JLG, etc....Please be advised it needs to fit between isles in church setting, not a scissor lift. My budget is approximately $16,000.00 delivered to Orange, Calif., 92867

Buyer, Non-Profit, Orange, CA

I need a Genie GS-2032 (20 ft / 800lbs) scissor lift OR EQUAL. Please quote your best priced scissor lift that meets the specs of the Genie, or if you don't have one quote the Genie. Include delivery to Utah (84022).

General Manager, Manufacturing, Dugway, UT

I currently have a genie pneumatic lift that I use for moving large, heavy glass panels so that I can switch out ballast and light bulbs. Bottom line is I don't trust the air power in the lift with such expensive glass. I'd like something better controlled and more precise.

CEO/President/Owner, Manufacturing, Tom's River, NJ

I would prefer 300 degree swing, 4 wheel drive. Need it to work on narrow hillside road. No more than 6 feet between wheels. Need to drive from bucket or platform.

CEO/President/Owner, Landscaping, Burlington, VT

Need two aerial lifts that have less than 100 hours. They must be 4 years old or newer. Both must fit through a standard double 3070 door entry. Must be under $6k for the purchase price, and come with a 1 year warranty. No mark tires for indoor use.

Plant Manager, Manufacturing, St.Louis, MO

I am looking for a towable lift similar to a Genie TMZ 34/19. Other brands are acceptable as long as ease of use is similar. Price restriction $10K or less. It will be used for occasional non-commercial use. I'm in South Central Wisconsin.

Facilities, Education, Madison, WI

We will purchase anytime between now and the end of the year, and we'd like a Genie model S-85 machine with a diesel motor and auxiliary power 5 ft, Articulating Jib Boom.

CEO/President/Owner, Construction/General Contracting, Athens, GA

We're looking for a 30-40 ft height, tow behind, battery operated, and articulating boom lift. We like the style of the Genie TL33, but it doesn't have to be a Genie.

General Manager, Landscaping, Palm Beach, FL
Aerial Lifts Advice
Aerial Lifts Basics
Aerial lifts come in many varieties, from small man lifts that lift one person straight up and down to large cherry pickers with considerable reach and scissor lifts that can raise thousands of pounds.
There are a few simple considerations to be aware of when choosing a scissor lift. The working height you need to reach and the lifting capacity are two of the most basic, so make sure you have that information before you start talking to suppliers.
You'll also need to consider the drive system. For use indoors, electric motors are required, but for outdoor use, gas or diesel engines can provide more power.
Points to consider
Are you interested in a new or reconditioned aerial lift?
What will you be using the aerial lift for?
What type of aerial lift do you need? (Boom lift, scissor lift, vertical personnel lift?)
Will you be using the lift indoors or outdoors?
How high do you need to reach?
What is your estimated budget?
Will you be buying or renting?