Try Our Free Price Quote Request Tool!
Air Compressors Prices
Visitors to B2B Exchange know that it helps to have the right features and a brand that will be there for you, but at the end of the day the price you pay for an air compressor will be among the most important parts of the decision. That's why we've assembled air compressors prices paid by actual individuals and businesses. Use these figures as a guide as you figure out what to pay during your negotiations.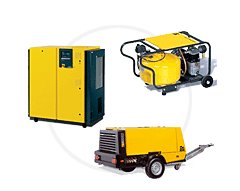 I purchased one of the IG Ran air compressors from Auto zone that fit the requirements. The price was $2799.99 with other parts reduced in price which helped me to stay in budget.

Buyer, Auto Repair, Seymour, MO

ALUP 25hp rotary screw, PLC control, integral air drier, mounted on 120 gallon tank, sound enclosure (69 dB), five year warranty (top to bottom) with annual purchase of service pack kit (which includes oil separator filter, oil filter, air filter and 4,000hr oil for compressor and particulate filter and descant filter for drier. Cost $7,500.

Buyer, Manufacturing, Deshler, NE

Champion Advantage Series 5hp single phase vertical 80 gallon tank with magnetic starter included, aftercooler, auto tank drain, vibration isolators, and extra maintenance kit. $2281.03 was the price.

Partner/Principal, Equipment Sales & Service, Garden City, KS

Caire 10HP 120gal 3ph power mag starter. Unit was purchased by new in 2005. The unit looks and sounds like new. Haven't checked CFM output but seems very good. $1200. It was one of the best air compressors prices I found.

CEO/President/Owner, Equipment Sales & Service, Fargo, ND

$2000, 7.5 HP 24 CFM 175 PSI 80 gallon receiver from a supplier that I do a great deal of business with and due the volume of business was able to make me a great deal.

Partner/Principal, Construction/General Contracting, Fairhope, AL
Husky (Cambell-Hausfeld) 3.2 HP 60 GAL. Compresssor only for $449; had $$ limitation at this time so we were looking for cheaper air compressors prices. We went for the smaller unit which is bigger than what I had for the past 4 years.

CEO/President/Owner, Furniture Restoration, Warminster, PA

$1499, Eaton, 3cyl, dual stage, 7.5hp, 80gal, ball valve on crankcase for draining, raised mount platform, 3/4" ball valve on tank, magnetic starter, brass auto drain on tank, 5 yr bumper to bumper warranty, countinuous run feature. I had been seeing air compressors prices of $2000 and up, so I feel like I found a pretty good deal.

Buyer, Retail, Jackson, NJ

Gardner Denver 5 horsepower 120 gal tank delivered & set up. Salesmen visited facility & walked us through the process as this was an upgrade that was installed into the existing system. All for under $3,000.

Buyer, Auto Repair, Wanaque, NJ

Purchased from Norther Industries, 13hp Honda, 26cfm, $1800, 30 gallon, electric start, oil alert, very good reviews, second one like this that I own. I currently have in service 10, 30 gallon compressors. Other places were quoting over me air compressors prices of over $2k so I think I found a pretty nice deal.

CEO/President/Owner, Auto Repair, Jackson, NJ

We have been comparing air compressors prices for about 2 months now. I bought a 13hp Honda compressor. I paid $1100 for a new system. I was looking for a compressor that had a high cfm. That is what I needed to be able to spray my product.

CEO/President/Owner, Construction/General Contracting, Natchez, MS

$2,022 5hp 208/3/60 ODP 80 gallon horizontal tank 17.2acfm @175 psig. Included: control panel magnetic motor starter, installation pad set, discharge flex hose 12' and electronic tank drain.

Buyer, Business Services, El Paso, IL

$900.00. Husky brand 80 gal tank, with two stage compressor, 4.5 hp motor. This unit was reconditioned and included a full three year warranty. The unit was purchased at Home Depot. I had seen air compressors prices of over $1200 at other places.

Partner/Principal, Business Services, Littleton, CO

I purchased the Eagle Air Compressor model P4125H1 as it provided higher CFM and larger tank than any other brand I surveyed. Price approximately $800.

Partner/Principal, Business Services, Pleasanton, CA

$8,000 for an Ingersoll Rand 10 hp. Mounted on a 120 gallon tank with air dryer mounted and filter. I had seen air compressors prices between $7000-7500 elsewhere for the same model.

CEO/President/Owner, Auto Repair, Los Angeles, CA

Ingersoll-Rand 10T-15TM w/ dual control & mag. starter. 230 volt all mounted on 120 gal. tank. Price was $1600 w/ freight included.

Buyer, Restaurant, Royston, GA

With a 10% coupon, I paid $825 for an Ingersall-Rand: 18.0cfm @ 90 psi. 5 hp (220 v), single stage on an 80 gallon tank.

Facilities/Operations, Agriculture, Richland, MO
Shop for Air Compressors
Besides looking at air compressors prices, there are a variety of options for you to explore as you think about buying one. Auctions, e-commerce and request for quote services all provide you a way to evaluate different models, talk to dealers and ultimately figure out what's best for your air compressor needs. Check out the links below for some of the best resources on the web when it comes to shopping for an air compressor.
Online Shopping
Auction Sites
Manufacturers
Straight Talk From Air Compressors Buyers
The Internet has enabled the wisdom of the crowds like never before. B2B Exchange brings that wisdom straight to you by collecting the comments and questions of other air compressor buyers as they tackle business purchasing head on. Aside from checking out air compressors prices paid by others, if you're not sure what to be looking for in your next machine, check out the most common thoughts, fears and ideas shared by your fellow business purchasers.
Prefer it be reasonably quiet so that it can be inside the building near the deposition system. Less than 70 db. Or, if louder it can be located outside the building. It is taking Nitrogen that has been purified by an MBraun system to less than 0.1ppm and pressurizing to 120 psi for feeding air bearings on an X-Y stage. No oil or an oil trap system must be included that guarantees no oil will get to the sintered air bearings. No particles or a filtration system must be included to a level of 0.01 microns.

Partner/Principal, Restaurant, Salem, MA

There are three filters sitting over conveyors in quarry. Each dust filter requires 10 to 20 cfm dy air at 90psi. On the filters, there are valves that will "blast" in each filtering elements every 30 seconds or as required. The electronic card on the filter manages this. Other important components: oil separator before the air dryer, air tank with automatic drain valve, pre-filter before air dryer, after-filter after an air dryer to remove the dust powder generated.

Manufacturing, Auto Repair, Warwick, RI

We would like a rotary screw compressor but the main thing that we need is for it to be as quiet as possible. We do some very small and intricate building of circuits and the less noise distraction the better. The unit that we currently have is way too big for what we need. It spends 10 minutes out of an hour on load and the rest of the time it is off load. The volume of air that we use is very miniscule.

Manufacturing, Agriculture, Kansas City, MO

Looking for a 5 hp or thereabouts. I'm looking at the Kobalt, currently 25% off at Lowes-5.5 HP, 155 PSI, 3 cylinder. Also would consider close out or re-man, however does need to be this quality or above. Please only give air compressors prices between $3000 and $4000.

CEO/President/Owner, Auto Repair, Fargo, ND

2 stage, 5 HP, 120 gal. receiver, control panel with motor overload, high discharge air temp., low oil pressure, low receiver pressure, safety valves, silencers, check valves, shutoff valves, receiver vent valve, pressure gauges, pressure switches, thermometers, temperature switches, valved hose connection, pressure regulating valve, and filter.

Purchasing Manager, Equipment Sales & Service, Grand Rapids, MI

I am looking for a variable speed compressor that matches the specifications of a Chicago Pneumatic "CPVS" 200 HP compressor. The footprint I have to install this compressor 10'L X 5.5'W X 7'H. I have the proper electrical service available.

Buyer, Manufacturing, Birmingham, AL

Ready to buy our compresssor now. Planning to go to Tractor Supply and buy a new Ingersol Rand. 7.5 HP - 100 gal capacity, 3 phase 24 SCFM, 120 PSIG output unit. Price is $1,999.00, a little more expensive than the other air compressors prices I had in mind. Please contact me if you have a better deal than this.

CEO/President/Owner, Manufacturing, Atlanta, GA

It will be indoors, so it needs to be electric. It will only be run once or twice every 3 months or so. It needs the necessary connections to fill scuba tanks as well as standard 470cuft air tanks. Quiet is a plus. Need a quote so we can see if this is a feasible option. May also need a large tank of say 2000cuft to keep air stored in at 3500+psi.

Buyer, Business Services, Topeka, KS

Need micro air compressor with pressure sensors to ensure constant level of 120 psi, lowest power consumption as possible, prefer dc to ac, must be maintenance free, corrosion resistant, non conductive, electronic display with wireless remote monitoring and control, must have emergency pressure release valve. Require smallest dimension possible. Please send as many air compressors prices as possible.

Buyer, Construction/General Contracting, Naples, FL

23 cfm @ 100 psig. Operates at -4 to 122F outside ambient, perhaps up to 150F inside our container. 760VDC, 480 VAC 3phase variable frequency available. Components may work better than a full system. Commands are given electronically. No general user interaction. Must be short. 1 to 2 minutes of use per day for 10 years.

Partner/Principal, Retail, Framingham, MA

We hope that the compressor can fit in a 14"x14"x31" enclosure, and run an external holding tank with appox. 20-30 gal. volume. Any help with this matter would be greatly appreciated.

CEO/President/Owner, Retail, North Haven, CT

I'm trying to compare air compressors prices; I received a quote from one company for a rotary screw compressor. The biggest thing we are looking for is one that is quiet, and that can handle the load. We use air tools from time to time, but usually use it for nail guns, and around our CNC machines. We don't need a big one so a 5hp would work.

CEO/President/Owner, Construction/General Contracting, Stockton, CA

I am trying to find a dependable air compressor operated by solar. It will be used with a water tank with a 2-3 inch line with a valve between tanks. It will lose its air pressure once or twice a day. It will have to fill a 500g tank with up to 120 lbs maximum. The key is solar power for there is no power up in the mountains. Please only quote me air compressors prices of under $5000.

Buyer, Agriculture, Saco, ME

Must be extremely quiet. I like screw compressors, but the price is too high. I used to have an old large-bore two-piston compressor that ran at low RPM which was very quiet, but not all that portable. I am willing to sacrifice some portability for quiet, but I also don't want to give up too much floor space.

General Manager, Auto Repair, Charlotte, NC

Need good vacuum pump (electric) for high school physics and chemistry lab experiments and teaching. I teach science in a rural high school and due to budget cuts I have to buy all my own equipment and supplies. Any consideration would be deeply appreciated.

Teacher, Education, Boulder, CO
Air Compressors Advice
Air Compressors Basics
Air compressors can be used for powering tools, production lines, or painting and spraying equipment. Whatever your planned uses are, be sure you know your requirements before you start shopping.
Each tool or piece of equipment will have a rating for both PSI (pressure) and CFM (volume) of air. Your compressor needs to be able to handle the single highest PSI rating of any of your tools. For an estimate of your volume requirements, add the CFM ratings for all the equipment that will be operated simultaneously.
You'll also need to choose between reciprocating compressors — which are cheaper but less suited for long-term continuous use — and rotary compressors, which are more expensive and more reliable.
Points to consider
What will you be using your air compressor for?
What type of air compressor do you need: rotary, reciprocating, or centrifugal?
What are your pressure and airflow requirements?
Do you need a lubricated or non-lubricated compressor?
Do you want a gas, diesel, or electric compressor?
Do you have a brand preference?