Try Our Free Price Quote Request Tool!
CD & DVD Replication Prices
Visitors to B2B Exchange know that it helps to have the right features and a brand that will be there for you, but at the end of the day the price you pay for CD & DVD replication will be among the most important parts of the decision. That's why we've assembled actual prices paid for CD & DVD replication, straight from our users. Use these figures as a guide as you figure out what to pay during your negotiations.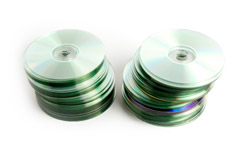 "For 1,000 Music CDs with a 8 page panel insert, 4-color, we paid $1,998 for the initial price and then another $150 for graphics work and $400 for an additional 4 pages on the insert, plus $200 for a rush job, for a grand total of $2,748."

CEO, Media/Publishing, Woodridge, IL

"$1240.00 for 1000 DVDs replicated and imprinted sleeves."

CEO, Media/Publishing, Cincinnati, OH

"We paid $1.13 per CD, which was by far the cheapest price and it was from a local vendor. It included laser printing, sleeves, delivery, and fast turn around."

Marketing/PR, Education, Lowell, MA

" I paid $900 for 300 totally 'green' copies of a <5 minute DVD demo master. The price included sleeve/jacket and disc label. I provided all the artwork."

CEO, Media/Publishing, Fairbanks, AK

"$.84 EA for 500 disks. Thermal graphics on top of CD with .pdf file copied to CD. No packaging."

Administrative Assistant, Business Services, Phoenix, AZ

"$1,140.00 for 1,000 CD's with 3 color artwork on CD, jewel case with black text only printed on tray card and spine."

CEO, Advertising/Marketing, Atlanta, GA

"$00.61 per unit at 7500 quantity. Includes DVD with full color label, in a card sleeve printed in full color."

Consultant, Non-profit, South Pasedena, CA
"$590 for 400 CDs including shrink wrap, shipping across the country, full color printing, and UPC bar code."

Administrative Assistant, Education, Malden, MA

"$1211 plus shipping for 1000 4 panel 4/4 replicated discs with bar code, shrink wrapping, and spine label."

General Manager, Media/Publishing, Akron, OH

"$588.00 for 300 replications including tax thermal printing on disc, art work front back and insert."

Creative Design/Writing, Media/Publishing, Menifee, CA

"1,000 double jewel case, 2-CD replication, plus 2-panel front cover and one-side tray card printing CMYK at $1.46 per piece, in other words $1,460 total plus first-time printing set-up fees."

CEO, Media/Publishing, Riverside, CA

"$0.39/disc - $100 full color set up fee."

Administrative Assistant, Equipment Sales & Services, Grand Prairie, TX

"$1.60 per disc for short term turnaround on 500 CDs."

Administrative Assistant, Non-profit, Mount Vernon, NY
Shop for CD & DVD Replication
There are a variety of options for you to explore as you think about buying CD & DVD replication. Auctions, e-commerce and request for quote services all provide you a way to evaluate different models, talk to dealers and ultimately figure out what's best for your CD & DVD replication needs. Check out the links below for some of the best resources on the web when it comes to shopping for CD & DVD replication.
Replication Services and Sites
More Info: Replication vs. Duplication
Straight Talk From CD & DVD Replication Buyers
The Internet has enabled the wisdom of the crowds like never before. B2B Exchange brings that wisdom straight to you by collecting the comments and questions of other CD & DVD replication buyers as they tackle business purchasing head on. If you're not sure what to be looking for in your next CD & DVD replication, check out the most common thoughts, fears and ideas shared by your fellow business purchasers.
"The CD is going to be for a school district promo video and for realtors, developers, etc.. The disc would contain a Superintendent's welcome and then the highlight portion, chosen from a welcome menu. We would want the school logo imprinted on the CD and possibly the cardboard sleeve with contact information available."

Adminstrative Assistant, Education, Jacksonville, FL

"This is for a record my band is making. The front of the sleeve will say 'Injectamine' across the top, 'My Own Planet' across the bottom, and a small syringe in the middle. Sleeve is all black, text is white. The disc itself will be the same. On the back of the sleeve will be the track listing and band members."

Creative Design/Production, Media/Publishing, Boston, MA

"Ideally, I would prefer a four panel eco-wallet, two color printing, with a spine. One color printing on CD would be good enough. Otherwise, a jewel case with a four panel insert, and a tray card that would provide the spine. Only the front cover would be two color, and the rest black ink only."

CEO, Business Services, Eugene, OR

"This is for a presentation packet I'm creating for my client. I will email/upload data to you for copying to disc. I'll also be sending a full color graphic file for imprinting onto the face of the CD. Labeling CD is acceptable also."

Consultant, Business Services, College Station, TX

"We are an apparel company and would like CD & DVD replication of images from our ad campaigns, editorial mentions, web links, etc. Additionally, we want recipients of the CD to be able to download images from the CD either as screen savers or for printing (no large format)."

General Manager, Retail, Chicago, IL

"We need to make a 10 disc set that we can send to 100 of our industry contacts. It would need to include on-CD printing, colored front and back CD inserts, and clear jewel cases. We would need to make an additional CD for the 10 piece set every two months after the initial order."

Office Manager, Media/Publishing, Walnut Creek, CA

"My goal is to make an aesthetically pleasing CD and case for the album my band has just recorded. The insert will be a single double-sided sheet containing the cover art on one side and additional pictures and credits on the opposite side. I also have artwork for the disk face. "

Buyer, Media/Entertainment, New York, NY

"This is for a direct mail campaign. 5,000 pieces. DVD needs to be strong>able to play on a DVD Player but also a computer. One version. Print a 4 color image on the DVD. We need styrofoam hubs to affix to a carrier so DVD will sit on it. Carrier will be folded/sealed/mailed."

Marketing/PR, Retail, Colorado Springs, CO

"We would like to use our own artwork and design for the front cover. We would like to include our own designed insert that will include lyrics and artwork and our thank you's to our crew. We would like to design the face print of the CD itself with our own design as well."

Buyer, Media/Entertainment, Omaha, NE

"Need CD & DVD replication prices for my business. This will be a promotional DVD for our company. I think it will be about 5 minutes. I would like to do a catchy label and want to be able to change the business name on the label easily, for the next run. I would like to have an inexpensive cover to protect it as well."

Owner, Real Estate, Orleans, MA
CD & DVD Replication Advice
CD & DVD Replication Basics
CD & DVD replication refers to the cloning (copying) of CDs and DVD. Whether you need copies of video, audio or any other media, the most reliable way to mass-produce these discs is to use a replication service. This ensures the integrity and consistency of all of your copied media for all of your copies.
It is also important to note the main difference between replication and duplication. Replication is generally used on large orders (1,000+ copies) and involves using a glass mold to produce mass copies of the original. Duplication is a more cost-effective solution for smaller orders (less than 1,000 copies). Another minor difference is that replication produces CDs and DVDs that are playable on any standard CD & DVD player, whereas duplication produces CD-R and DVD-R discs, which are compatible with most recent and new players, but may not be playable on older players. Be sure to consult your replication service provider as to what solution is best suited for your particular project.
Other CD & DVD replication terminology:
As you shop for a CD/DVD replication service, you may come across several different words and phrases that may not seem familiar. Among these terms:
CD & DVD production: Creating copies of discs and packaging them for mass distribution (aka manufacturing, copying).
CD & DVD pressing: A step used in replication process during which an exact copy of the original disc is copied onto blank media.
CD & DVD duplication A copy method used for smaller orders (less than 1,000 discs)
CD & DVD replication A copy method used for larger orders (1,000+ discs)
Points to consider:
What disk format are you going to be using?
How many copies do you need?
Do you require CD & DVD booklet design services?
What type of packaging do you require?
What is the turnaround you need?
Are there additional features you require such as bar codes, security labels, etc?