Try Our Free Price Quote Request Tool!
Collections Agencies Fees
Visitors to B2B Exchange know that it helps to have the right features and a brand that will be there for you, but at the end of the day the collection agencies fees that you pay will be among the most important parts of the decision. That's why we've assembled actual prices paid for collections agencies, straight from our users. Use these figures as a guide as you figure out what to pay during your negotiations.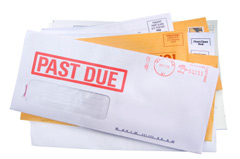 "Purchased 25 accounts up front for $25 a piece. I liked this option instead of a monthly fee."

Partner/Principal, Other Business Services, Salt Lake City, UT

"The collection agencies fees they charged were 25%. So far, however, I haven't collected on the overdue account that I contacted Revenue Assurance Partnerss about. So the jury is still out... I found RAP to be very professional and they had good knowledge of the applicable laws and procedures."

Engineer/Programmer, Consulting, Van Buren , ME

"$600 in collection agencies fees for 2-year contract to submit up to 25 individuals for collection services. Service includes up to 5 written demand letters in the Phase I process. Phase II provides full service collection services with letters and telephone calls to debtor."

Office Manager, Legal, Salt Lake City, UT

"I agreed to pay 50% of amount collected with no upfront costs."

Buyer, Real Estate, La Grande, OR

"We are paying 18% in collection agencies fees of the total debt. We get weekly reports on the process."

Accounting/Finance, Wholesale, Longmont, CO

"$9.99 per month for one year contract. File up to 3 delinquent accounts per year. Can track the status of each claim by internet website to see the progress of the collections."

Accounting/Finance, Health Care, Du Bois, PA

"The fee is 28% of the total collected. They are also attempting to have that amount added onto the collection."

CEO/President/Owner, Consulting, Fort Lauderdale, FL

"$2,060.45 was owed to my company. CRG collected $412.09 and my company received $1,648.36 (80%). So the collection agencies fees were 20%."

Marketing/Public Relations, Consulting, Miami, FL

"We paid 20% for and this included them sending out a private investigator. They also keep us updated with what info they need us to send to them in order for them to be able to collect money."

Accounting/Finance, Manufacturing, Sumner, TX

"$10 monthly service contract allows up to 4 debtor accounts in a year, which is just right for our small organization."

CEO/President/Owner, Non-Profit, Berkeley, CA

"The collection agencies fees were 30% of what they collected from us."

Accounting/Finance, Travel/Hospitality, South El Monte, CA

"If the collection comes through, which seems likely, the fee is 20% of the collected amount."

CEO/President/Owner, Advertising/Marketing/PR, Lawrenceville, GA

"30% of overdue amount, they have been trying to recoup overdue bill for two weeks and have not yet been successful."

CEO/President/Owner, Wholesale, Hollywood, FL

"They charged 20% in collection agencies fees (have not been able to collect from my two clients yet)."

CEO/President/Owner, Advertising/Marketing/PR, Delray Beach, FL

"The agency I selected charges me 25% of what is collected and they don't charge if they don't collect."

Sales/Business Development, Education, Los Angeles, CA

"Our fee is based on amount collected—it will be 30-50% of any amounts that are collected."

Buyer, Real Estate, Boise, ID

"$9.99 per month for up to 10 clients for collections for one year's contracted service."

Accounting/Finance, Real Estate, Juneau, AK

"Collection agencies fees were 27% for 1 year or less, 40% for more than one year and it includes legal fees."

Receptionist, Insurance, Goldsboro, NC
Shop for Collection Agency Services
There are a variety of options for you to explore as you think about buying a collections agency service. Auctions, e-commerce and request for quote services all provide you a way to evaluate different models, talk to dealers and ultimately figure out what's best for your collections agency needs. Check out the links below for some of the best resources on the web when it comes to shopping for a collections agency service.
Rules & Regulations
Collection Agency Websites
Straight Talk From Companies that used Collections Agencies
The Internet has enabled the wisdom of the crowds like never before. B2B Exchange brings that wisdom straight to you by collecting the comments and questions of other collections agency buyers as they tackle business purchasing head on. If you're not sure what to be looking for in your next collections agency service, check out the most common thoughts, fears and ideas shared by your fellow business purchasers.
"We are a web host and design company and we bill our clients on a monthly basis for their web services. This client did not pay their monthly invoices from Aug-Oct 08 and they will not return our emails or phone calls. We have discontinued our services with them but would like to receive some of our money back. We'd like to get an idea of the collection agencies fees that would be charged for $3400 in unpaid bills."

Accounting/Finance, Computers - Hardware, Kutztown, PA

"Trying to collect from an asset management company in New Jersey that retained us to prepare, manage and market a bank owned property in California. We performed the requested property preservation and maintenance tasks, submitted the bills and have not had a response from the company after repeated calls and email messages."

CEO/President/Owner, Real Estate, Baldwin, NY

"Overdue payments for ongoing animal care. Approx 30%. Balance due around $7000. Animals still in our possession, so charges continue to mount. Individual moved out of CA to NC. What would the collection agencies fees be for that balance?"

Accounting/Finance, Health Care, Grand Rapids, MI

"We are a private physician's office, looking to collect on bad debt throughout the 2008 year. Most patients are uninsured, however some have refused to pay their co-pays or meet their deductible. We have already sent out a letter requesting money and informing them that they would be sent to a collection agency."

Administrative Assistant, Health Care, Reseda, CA

"The company from which we want to collect is a large PR firm that borrowed samples from our smaller PR firm. The paperwork indicates that if they are not returned the company will be billed. Emails to follow state that they received product and lost it - we have invoiced numerous times and the company is only ignoring us and refuses to pay."

CEO/President/Owner, Advertising/Marketing/PR, Philadelphia, PA

"We install steel to reinforce concrete. We have contracts with the company we are seeking collections on. It is a total of 5 projects that we are owed for. We have contacted the other company several times about their debt. We have sent them a certified letter about the payments."

CEO/President/Owner, Construction/General Contracting, Minneapolis, MN

"We are an equipment leasing company; and we have a customer that has accepted equipment off our purchase order, but is unwilling to authorize funding to the equipment vendor. And they are refusing to make payments direct to the equipment vendor."

CEO/President/Owner, Financial Services, New York, NY

"I am a landlord and I have a tenant who moved out early, and left the apartment dirty. He is refusing to pay the difference of his security deposit and the last month's rent."

Partner/Principal, Real Estate, Torrance, CA

"I have a home care company where one son was in charge of his mothers check book but fell behind on the bills. The mother is the one who signed the contract but has dementia and no money. Another son has now taken over bill paying and tells me I am not going to get a dime of the $1600.00 owed to me. Unfortunately, this is not my problem. Please give me an idea of the collection agencies fees that I'll need to pay to get most of this balance collected."

CEO/President/Owner, Health Care, New Smyrna Beach, FL

"I won a judgment in small claims court against a man and woman that owe me over $4500 in back rent. Although the judge ordered the couple to pay me, I still can't collect from the deadbeats."

CEO/President/Owner, Real Estate, Manning, SC

"I have about 150 business accounts that owe my company about $180,000. Account balance range from $200 to $7000. All US companies, mostly golf clubs."

CEO/President/Owner, Transportation/Logistics, Golden, CO

"My business is a beverage manufacturing company. We sell to distributors who then resell our products. One of our distributors owes us $23,510.20, overdue by several months. Over the past months we have been served lie after lie to the point where I am willing to give up a percentage of the total to have it collected."

CFO, Manufacturing, Glendale, CA

"This is a dental office—we have old debts and new ones. Some are over a year or two old and some are within a year. We usually send patients to collection after their debt is over 120 days old with no payments. We are currently using a debt agency and I'm not happy with them. Their collection agencies fees are 28%, which is ridiculous."

Office Manager, Health Care, Jackson, GA

"We're a privately owned pharmacy that services long term care nursing homes and home health care facilities. We are trying to keep our year end write off to a minimum. We are trying to establish collection procedures, starting with phone calls and letters, and the final step would be to forward to a collection agency with results."

Partner/Principal, Health Care, West Hartford, CT

"We are a storage company. This would be collecting on customers that have: 1) moved out and left an outstanding balance or 2) their items were disposed of due to non-payment but still owe past due rent & fees. We try collecting on these accounts for 30 days after they move out and then send them to a collection agency."

CEO/President/Owner, Retail, Sunset Beach, CA

"I provided translation services to an immigration attorney and billed the service 2 months ago and still haven't received payment. I need quotes on collection agencies fees for approximately $1300."

CEO/President/Owner, Retail, Greensboro, MD

"We are a uniform/linen rental/sales company. The accounts you will have are usually "quit" customers - some have gone out of business, some just can't afford to continue our service, some have switched to a competitor."

Partner/Principal, Retail, Austin, TX
Collections Agencies Advice
Read more about Collection Agencies:
Collections Agency Purchasing Overview
Collections agencies work to retrieve your bad debts — money that is owed to you that you are unable to collect. A collections agency's tactics and behavior will reflect on your company, so make sure you select one that maintains a good success rate while presenting a respectable image.
Credit collection companies work by asking debtors to pay their bills. For larger debts, companies typically send letters and make phone calls to the delinquent account. Smaller debts may not justify the cost of phone calls, limiting the credit collection agency to simply send collection letters.
Some business collections companies also offer services such as billing services, accounting, and other administrative functions, to complement their debt collection services. This can be an easy way to ease the burden on your accounting department.
Debt collection is usually done on a contingency basis. This means that the collection agent keeps a percentage of money that is collected — usually between 20% and 35%. Some collection agents vary their collection agencies fees depending on the age of the debt, charging less for more recent debts and more for older ones.
While difficult to predict a commercial collections agency's success rate, you can still choose the right agent by looking for a few characteristics.
Look for agents with debt collection experience in your industry. They may have a better understanding of how to retrieve those funds. Also, review the letters they have used for previous business collections and look for professionalism and appropriate tone. For debtors who are particularly difficult to track down, see if the collections agencies handle "skiptracing". This involves searching a variety of databases to find these missing individuals.
Other Collections Agencies terminology:
As you shop for the right collections agency, you may come across several different words and phrases that may not seem familiar. Among these terms:
Collection agency: (also called "bill collector", "collection agent", "collection service", "collection services", "commercial collections", "consumer collections")
Bad debt collection: Employing a collection agency to recover past due debts that businesses or individuals owe you
Check collection: Recovering funds from bounced checks including assessed fees and penalties
Debt recovery: Retrieving money due from clients that neglect or refuse payment
Fair debt collection: Legal act detailing how collections agencies can communicate with debtors and noting which collection techniques are illegal
Points to consider when purchasing:
Are you looking to collect debt from default accounts or bounced checks?
Are you looking to collect debt from business or individual customers?
How much money do you need to collect?
How many different accounts or individuals do you need to collect from?
Do you have accurate contact information for the accounts or individuals you need to collect from?
How many individual accounts are you looking to collect from?
How many months past due is the money you need to collect?
Do you need any other services (such as skip tracing)?