Try Our Free Price Quote Request Tool!
Color Copier Prices
Visitors to B2B Exchange know that it helps to have the right features and a brand that will be there for you, but at the end of the day the price you pay for color copiers will be among the most important parts of the decision. That's why we've assembled actual prices paid for copiers, straight from our users. Use these figures as a guide as you figure out what to pay during your negotiations.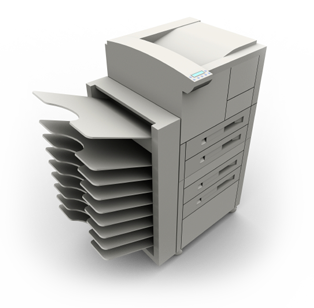 "$1,225 - fax, scanner, copier, printer."

Church pastor, Non-profit

"$750 including the purchase of a 2-year extended warranty. Brother all-in-one desktop copier, fax, printer, scanner with color. We had also been looking at Canon and HP color copiers, but I decided on this one because of the price."

Church office manager, Non-profit

"Xerox 6360 with 3-year warranty for $1,300."

Owner, Hospitality

"Konica Minolta 7920 with fiery, sorter, and duplexer - $2,400. Less than 70,000 meter read. Service contract - $0.13/color, .02/black & white. No minimum quantity per month, and it covers everything except paper and staples."

IT manager, Technology

"$182 for 60 months lease - $0.07 per color copy - $0.007 per B&W copy."

Administrator, Education

"Sharp MX-3501n color copier. Network printing and scanning, duplexer, 2 paper trays, stapler finisher. $309 per month lease [60 month]; $.01/B&W, $.06/color at 35 ppm. Cost per copy includes all consumables, preventive maintenance, parts and labor. We supply only paper and staples."

Educator, Manufacturing

"Went with a Canon Multipass. It had everything I needed especially individual ink cartridges which adds to savings. I previously had a Canon and was pleased with it for 5 years so when Canon informed me that they had two available, one for $275 and another for $399, I bought both color copiers."

Artist, Professional services

"35 cpm color, 45 cpm B&W, 15,000 monthly copies in maintenance, e-copy computer and software, buyout of existing copier with 15 months left in lease - $1,100 lease for 60 months."

CFO, Retail

"$9,137 for a refurbished machine."

Purchasing manager, Finance

"36-month lease for $336 per month. Panasonic DP-C264 digital color imaging system, network printer, network scanner, network fax, scan to e-mail, and scan to file. 26 ppm black & white and color. Advanced security, high-speed fax w/ Internet fax, booklet folding and stapling unit, paper transport unit, hard drive unit, 256-page memory, 256 main memory, surge protector, extra toner, deluxe copier console stand, and free training."

Owner, Non-profit
"$203/month lease payment for 5 years plus $790 for annual service contract. The service contract includes 60,000 B&W copies, toner, drums, and staples. We purchased was a C352 copier with scanning, stapling, and printing capabilities in both B&W and color. Out of all the Canon color copiers, this one had exactly what we needed."

Office manager, Hospitality

"Canon - color - finshing stapler, network. Paid $8,000 with toner and paper included in contract."

Administrative assistant, Non-profit

"$4,960 and $750 for initial set-up kit."

Office manager, Education

"$15,000 with nearly half of that being advertising trade on our TV and Radio stations in markets that power businesses and sell business equipment and supplies."

Wholesaler, Manufacturing

"Color copier was leased for $200 a month. Features included duplex copying, frame erase, sorting, interrupt feature, bypass tray, and large capacity trays. Service and toner supplies included in cost."

Office manager, Non-profit
Shop for Color Copiers
There are a variety of options for you to explore as you think about buying color copiers. Auctions, e-commerce and request for quote services all provide you a way to evaluate different models, talk to dealers, and ultimately figure out what's best for your color copy machine needs. Check out the links below for some of the best resources on the web when it comes to shopping for a color copier.
Straight Talk From Color Copier Buyers
The Internet has enabled the wisdom of the crowds like never before. B2B Exchange brings that wisdom straight to you by collecting the comments and questions of other copier buyers as they tackle business purchasing head on. If you're not sure what to be looking for in your next copier, check out the most common thoughts, fears and ideas shared by your fellow business purchasers.
"300 GSM 12"x18" sheet variable data printing. Interested in Xerox DocuColor 260 w/ Fiery Konica Minolta C6501—but please also give me quotes on comparable color copiers."

Office manager, Technology

"Double-sided, non-networking. There are only 7 employees: we probably print about 1,500 B&W copies per month and about 100 color copies. We might need one of those small desktop color copiers or a small business–sized machine."

President, Finance

"I need the machine to not only handle 100# cardstock but metallic stock in that range weight as well."

Manager, Marketing

"I need to reproduce color DVD wrap & sales sheets. "

Vice president, Sales

"I would like to be able to receive ongoing support if and when it's needed if anything were to go wrong with the copier. "

Office manager, Manufacturing

"Looking for a short 1-2 month lease to copy shared business records/patient charts. We will be leaving one location and need copies of these files to go with us. As of right now we only have two desktop color copiers but these are not fast or efficient enough for the job."

Administrative assistant, Health care

"Mainly interested in the Canon c3480i color imageRunner and also the HP Edgeline CM8050 but will take quotes are comparable machines. "

CFO, Construction

"Relative accuracy when positioning print on sheet. Compatibility with Macintosh (Postscript). "

IT manager, Technology

"We're an animation studio, so we depend on the highest quality of color copiers. The printer is in use daily by animators. However, we don't have a huge budget, and will most likely be looking into leasing. We don't necessarily need the printing to be fast, there is no rush, but just of quality color."

Owner, Media

"I need a copier that will accept high gloss tri-fold brochure paper that will produce excellent color copies at a faster rate than what I have now."

Purchasing manager, Marketing

"I need a price on a Repo Technology 3000 blue print machine."

Owner, Retail

"I need a price quote on a Canon IR-C3220 RADF with finisher."

Administrative assistant, Manufacturing

"Looking for a multi-function printer/copier/fax machine for small business. Inital use for the first few months will be less than 3,000 uses, but could become as much as 5,000. Must be network adaptable."

CEO, Retail

"Need a copier/scanner/fax for a very small space. Should handle scanning packages of 50-100 pages at a time."

Entrepreneur, Professional services

"Needs to be capable of duplex scanning and copying with a 35+ page automatic document feeder."

Owner, Media

"We are looking for a machine to lease with a service agreement that give us quality color copies along with a built-in number of copies allowed monthly. We currently have 6,000 B&W with 1,200 color and we need to increase the volume to 8,000 B&W and 2,500 to 3,000 color at no additional cost with an overage of $.01 for B&W and $.06-$.07 for color."

Manager, Technology

"We have 24 office locations that will need new color copiers as well as the main office/marketing department."

CTO, Professional services

"I will require print-for-pay click costs for each unit. I need a high capacity B&W with booklet finishing and also a high-capacity color machine with booklet finishing and 12"x18" paper printing ability."

Educator, Non-profit

"We sell tile. I need a copier to make copies for sample use. Our display boards average 12"x18". It would be great to take one shot to cover most of the board."

General contractor, Professional services
Color Copier Buying Advice
Read more about Color Copiers:
Color Copier Overview and Basics
A color copier is a digital machine that combines the benefits of a laser printer and scanner in a single unit. You can choose color copiers that feature different capacities and a variety of functions, with the better quality color copiers typically yielding faster copying speeds.
"Hybrid" machines that can print in color when needed but generally just product black and white copies are becoming increasingly common – but, if you need very high quality color output or rely on color copies most of the time, you're probably better off selecting a dedicated color copy machine (perhaps to go along with another machine that handles any black and white copying needs).
A reputable copier vendor can help you find the copier that best fits your budget, but you should plan on spending at least $1,500 for a decent color machines that will stand up to use in an office environment. When budgeting for a color copier, make sure to factor in consumables, which will need to be replaced periodically. The major consumables color copiers require are paper, toner, developer, and fuser oil.
When talking to dealers about color copiers, note what you will need your machine to do, what your standard volume will be, and how quickly you need to install the copier in your office. In addition to the features and functions available, it's important to think through the trade-offs and benefits involved with purchasing the machines versus leasing it – any dealer should be able to offer you either depending on what best meets your financing needs.