Try Our Free Price Quote Request Tool!
Commercial Cleaning Rates
Visitors to B2B Exchange know that it helps to have the right features and a brand that will be there for you, but at the end of the day the price you pay for a commercial cleaning service will be among the most important parts of the decision. That's why we've assembled actual commercial cleaning rates paid by our users. Use these figures as a guide as you figure out what to pay during your negotiations.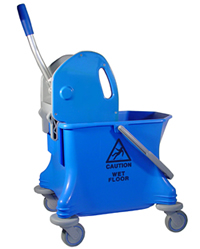 "The commercial cleaning rates we received are $89.00 per week to clean approx 3500 sq feet. All cleaning products are included. No service contact needed. I chose AmeriClean Services."

Facilities/Operations, Transportation/Logistics, Allentown, PA

"We pay $395.00/mo for cleaning 3 times a week. She will clean our bathrooms, empty receptacles, and clean kitchen daily. Mop once a week, other bigger tasks done as needed."

Administrative Assistant, Manufacturing, Trenton, NJ

"We were given commercial cleaning rates of $215/month for a weekly cleaning. Basic stuff like emptying garbage cans, disinfecting bathrooms, vacuuming floors, light dusting. Nothing too heavy-duty."

General Manager, Equipment Sales & Service, Alexandria, VA

"$195.00 a month, for a once a week cleaning. Not only are they going to clean weekly, but once a month there will be extra cleaning items done. We had received commercial cleaning rates from 3 companies and these were the best ones."

Office Manager, Computers - Software, Louisville, KY

"$198 per month, once a week cleaning. $50 extra for exterior windows once a month. Their commercial cleaning rates were the most reasonable for our budget."

Office Manager, Restaurant, Guadalupe, AZ

"$250 for first month, $150 for each month thereafter, cleaning service supplied all products, equipment, no service contract."

CEO/President/Owner, Salon, Kansas City, MO

"4 times a week for $1300 a month. All services included, sweeping, mopping, dusting, bathrooms, breakroom, trash, vacuuming, etc."

Office Manager, Retail, Plano, TX

"$3900, professional cleaning of our clubhouse, comfort stations and golf course maintenance facility."

Accounting/Finance, Travel/Hospitality, Sarasota, FL

"$2000/month for cleaning services for office area, warehouse, and mechanic's shop 5 times a week."

Buyer, Mailing Station, Pleasanton, CA

"We received a contract service and we are paying $280 per month for commercial cleaning rates and they come once a week."

Administrative Assistant, Consulting , Plainfield, NJ



"$299 per month twice a week cleaning. Extensive cleaning and supplies provided by company."

Office Manager, Health Care, South Windsor, CT

"They quoted us commercial cleaning rates of $515 per month for two days a week plus tax. General cleaning of the whole building."

Human Resources, Business Services, Fort Worth, TX

"$357/monthly. Weekly cleaning of a 2,500 square foot office with 8 employees."

Accounting/Finance, Business Services, Jasper, GA

"Cleaning of our 3,000 sq. ft. facility twice per week at $292 per month."

Buyer, Wholesale, Chandler, AZ

"$195 per month for bi-monthly cleaning. Green cleaning, no contract."

Office Manager, Manufacturing, Berkeley, CA

"$220 per month, for 2 days per week cleaning of our office building."

Sales/Business Development, Business Services, Dickinson, TX
Shop for Commercial Cleaning
There are a variety of options for you to explore as you think about buying a commercial cleaning service and compare commercial cleaning rates. Auctions, e-commerce and request for quote services all provide you a way to evaluate different models, talk to dealers and ultimately figure out what's best for your commercial cleaning service needs. Check out the links below for some of the best resources on the web when it comes to shopping for a commercial cleaning service.
Janitorial Cleaning Companies
Construction Cleaning Companies
Janitorial Supplies
Straight Talk From Commercial Cleaning Buyers
The Internet has enabled the wisdom of the crowds like never before. B2B Exchange brings that wisdom straight to you by collecting the comments and questions of other commercial cleaning service buyers as they tackle business purchasing head on. If you're not sure what to be looking for in your next commercial cleaning service, check out the most common thoughts, fears and ideas shared by your fellow business purchasers.
"Daily: Cleans rooms, hallways, lobby, conference rooms, rest rooms, corridors, stairways, and locker rooms along with other work areas. Must clean rugs, carpets, furniture, and draperies. Dusts furniture and equipment, polishes metalwork, empties wastebaskets, and empties and cleans ashtrays. Transports trash and waste to disposal area. Replenishes bathroom supplies. We are looking for commercial cleaning rates of under $1000 a month."

Office Manager, Consulting, Lexington, MA

"Right now we are paying too much for commercial cleaning rates, so I'm interested in getting some comparison offers from other companies. All offices are to be vacuumed once a week, dust and clean desks as needed. Clean bathrooms and kitchen area three times per week (MWF). Windows to be washed twice yearly, rugs to be shampooed once yearly. Blinds dusted four times yearly, bathroom floors to be mopped three times a week (MWF) and stripped/waxed twice yearly. Paper shredder emptied once weekly. Trash cans to be emptied three times a week (MWF). Trash to be taken to collection point. This may be a contract for 4.5 years."

Business Development, Manufacturing, St. Louis, MO

"To perform janitorial services at Fort Hunter Liggett gyms. Full service cleaning shall be required on approximately 11,972 square feet of gymnasium space five times per week (including restrooms). Looking for commercial cleaning rates from a local company, not a national company. All work shall be done in accordance with the Performance Work Statement included in the upcoming solicitation. The period of performance will be 8 months for the base year with four (12 month) option years."

Purchasing Manager, Gym, Boca Raton, FL

"Powerwash kitchen and bar floor once a week, do all bathroom cleaning- mop,toilets,sinks,trash,mirrors,wood work. Mop entire restuarant, vacum 4 carpet areas, sweep and wipe entire patio area, sweep and wash kitchen and bar floor nightly including 12 floor mats. Polish all wood areas nightly. Wipe all down all 27 tables daily. All interior windows about 10 large windows, sweep perimeter of building nightly."

Owner, Restaurante, Pittsburgh, PA

"I'd like to receive commercial cleaning rates for a thorough cleaning (dusting, vacuuming and windex) of the following in our West Hartford office / twice a month: Reception area; 9 occupied offices; 2 copy rooms; 2 conference rooms (1 small / 1 medium); 1 small kitchen; 2 storage rooms ; 1 tech equipment room; Approximate square footage: 3,700."

Office Manager, Business Service, Hartford, CT

"Office space 8,000 sqft and 50, 2 bedroom apartments that need cleaning once a month. The program is a medical school review course that runs 4 weeks. I need a cleaning crew to clean the building once a day (at night). The restroom in the building needs to be cleaned twice a day (3 stalls on each M/F. Office space consist of 5 offices, that have carpet and hardwood floors in the building."

Administrative Assistant, St. Paul, MN

"We are interested in commercial cleaning rates for a small 1,600 sq foot office in Boston, MA. Work would consist of one-hour, twice a week (preferably Tuesday and Thursday) cleaning bathrooms, vacuuming, empty tiny trash cans at 14 desks and light dusting. Also would be interested in one-time window cleaning exterior and interior for 5 large windows at front of the building."

Buyer, Finance, Boston, MA

"Janitorial cleaning on a daily bases Monday to Friday 1-4pm and contractor must provide all cleaning supplies. i.e. paper towels, hand soap, toilet paper, trash bags, empty all waste cans, mop and clean all bathroom comodes, urinals, sinks, vacum carpets/floor at least twice a week or as determined by deputy chief.Contract to be for at least until June 09 or later."

General Manager, Equipment Sales & Service, Alexandria, VA

"Vacuum common area and 7+ office spaces. Vacuum or clean outside carpet to door. Windows cleaned in entrance front, sides and in doors throughout. Dust throughout and clean monitor screens. Wipe down and polish large conference table, empty trash (10+ baskets) and recycle paper. Must have own cleaning equipment/supplies."

Business Development, Accounting, Boise, ID

"We are a commercial business, we need the cleaning service twice a week, for two hours both days, bathrooms, floors, trash cans emptied and taken to the dumpster, dusting, windexing (windows), breakroom cleaned, and anything extra we may need done. Must be able to be here Tuesdays and Fridays, at 7:00 a.m. We are also requesting commercial cleaning rates from a local company, but will choose the best package based on price and customer reviews."

CEO/President/Owner, Industrial, Providence, RI
Read more about Commercial Cleaning:
Commercial Cleaning Advice
Commercial Cleaning Overview and Basics
If you want to make a good impression on your employees and visitors to your office, a commercial cleaning service can make your floors sparkle and your carpets look as good as new.

Commercial cleaning companies can visit your office as often as you like, even several times a day, to perform a variety of tasks. The right commercial cleaning service can handle daily janitorial services such as trash removal and restroom maintenance, or more intensive office cleaning such as stripping and waxing floors or washing external windows.

Office cleaning companies can provide services appropriate for any business and any sized budget. Smaller companies with 10-50 employees may only need the occasional trash pickup or vacuuming a few nights a week. A larger company with 50 or more employees, or several locations, will need daily janitorial service. In some cases, large companies may even require porters to clean bathrooms and maintain common areas during the workday and then a night crew for more thorough cleaning services.

When getting commercial cleaning rates from different companies, find out if they require a contract or if you can use them on an "as needed basis." Many cleaning companies use contracts to outline the costs, number of visits, and detailed descriptions of the services offered. Also, having a contracted cleaning service is essential if you're looking for specialty services like stripping, waxing, or external building cleaning.

The most important thing to look for in a cleaning service is reliability. You will be allowing strangers into your office — often after employees have gone home — where they have access to your equipment and confidential information. Check references before agreeing to work with any office cleaning company. You also might want to look into a security system to act as an "extra pair of eyes" when the office cleaning service is at work.
Other Commercial Cleaning Service terminology
As you shop for a commercial cleaning service, you may come across several different words and phrases that may not seem familiar. Among these terms:

Industrial cleaning services: These businesses specialize in cleaning large warehouses, factories, and manufacturing plants. An industrial cleaning service requires employees with specific skills that are trained and understand safety regulations of industrial businesses.
Medical cleaning services: Health care industries that require commercial cleaning have strict guidelines in how to handle medical waste. Medical cleaning services offer trained personnel that can safely clean these facilities while maintaining the safety of others.

Points to consider:

What type of business location do you need cleaning services for?
What type of cleaning services do you need?
How many facilities/offices do you need cleaning services for?
How large is your office/facility space?
Will you require special cleaning services?
How often do you need cleaning services?