Try Our Free Price Quote Request Tool!
Credit Card Terminals Basics
Credit card terminals let businesses such as retail stores and restaurants process credit cards efficiently and securely. They can be set up to accept credit cards, debit cards, and even gift cards. An essential addition for any new business and, thankfully, adding the ability to process credit cards is now relatively straight-forward.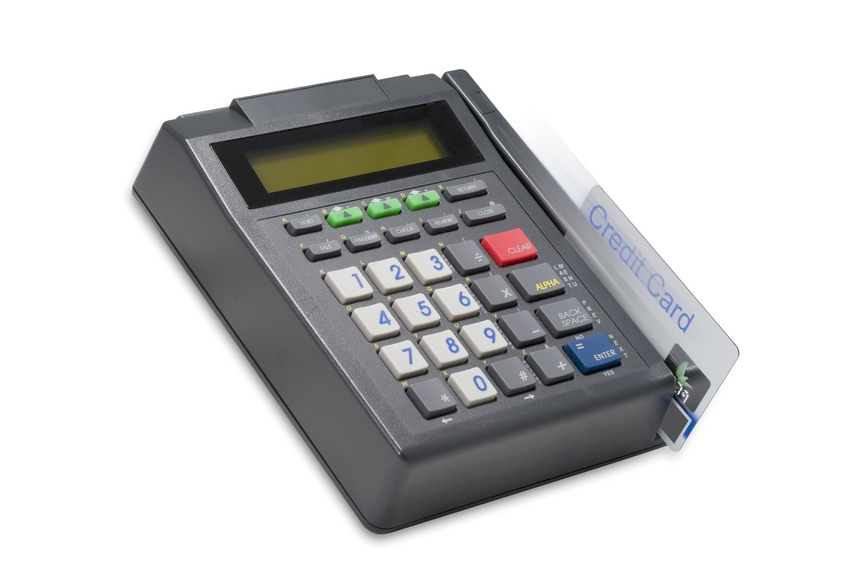 Most credit card terminals share basic features and functions. You can purchase different types of terminals based on need:
Traditional credit card terminals — Includes a magnetic stripe reader, keypad, small display, and printer. If you plan to accept debit cards, a separate PIN pad lets customers type in their code at the time of sale. You can also order different sized displays and keypads with extra keys to preset common functions.
Wireless credit card terminals — Features a built-in printer for the convenience of taxi drivers, seasonal businesses, and electricians.
Virtual credit card terminals — Requires software to handle transactions over the phone or Internet in lieu of physical terminals.
The costs of a credit card terminal are relatively inexpensive. Most of your expenses will be the ongoing fees you pay a merchant account provider to process transactions. Make sure you select the best merchant account provider with the best mix of price and customer service. As you evaluate different merchants and offers, you may be tempted by very low introductory pricing and even completely free credit card terminals — these can indeed be excellent offers but it's important to weigh the complete offer carefully, inclusive of all fees and pricing over the lifetime of your agreement with the merchant.
Straight Talk from Other Credit Card Terminals Buyers
"I own a tanning business. We will sell tanning packages along with retail accessories and we would like to offer monthly billing, so we need a few credit card terminals for this."

Business Owner in Virden, IL

"Well I started a small wholesale business and also work at a flea market on weekends, can you provide the tools needed to allow customers to pay by credit cards? Quotes on credit card terminals and credit card processing rates too."

Designer in Kihei, HI

"We are a general contractor and sometimes have customers that will put progression payments or change order payments on their credit card. These charges are between 2k and $30,000, so we need credit card terminals that can handle that amount. Please discuss processing rates too."

General Manager in Orange, CA

"I'm looking for a Hypercom Merchant Pro 3. Is there such a credit card terminal available? Please forward any information on the machine if possible."

Buyer in Salem, NJ

"I offer psychological counseling and therapy services. Patients pay on a per treatment hour basis. There are currently 5 providers in the office. We need only basic credit card terminals, nothing fancy."

Physician in Dover, DE

"This is a new daycare business, opening up near the end of January 2007. I don't know what equipment is required -- an analog phone line? Please inform."

CEO in Bedford, IN

"Our transactions are under 5k a month currently. We plan on accepting only the major credit cards (Mastercard & Visa). We will however need to see all fees. With the credit card terminals' prices, we'd like to know the monthly surcharge, rates, and application or setup fees if there are any."

Business Owner in Saint Paul, MN
Related Articles
Credit Card Terminals Buyer's Guide
Learn about types of merchant accounts available, who offers them, and how to improve your chances of getting accepted. (Source: BuyerZone.com)
Review of the top credit card machine manufacturers
A detailed look into the credit card terminal manufacturers that dominate the market. (Source: USA Merchant Solutions)
Selecting the right credit card equipment
Seven questions you should ask yourself before entering a credit card terminal purchase. (Source: Merchant Warehouse)
Protect your business from credit card fraud
What you should know about the dangers of credit card fraud and how to report it. (Source: NFIB)
Common Terms
credit card equipment
credit card machine
credit card processing equipment
credit card processing machine
credit card reader
credit card terminals
credit terminal
payment terminal
wireless credit card equipment
Leading Suppliers
1st American Card Service
1st National Processing
Applied Merchant Systems
Cynergy Data
Encore Payment Systems
Hypercom
iMax Bancard
MerchantEquipment.com
Merchant Warehouse
Nurit
PayOne Solutions
Pivotal Payments
Talento
Verifone
Read more about Credit Card Terminals:
Points to consider when purchasing:
How many credit card terminals do you need?
Will you require an integrated printer with the credit card terminals?
Will you need to process debit card transactions or just credit card transactions?
What is your current monthly credit card processing volume?
What is your timeframe for installing your new terminal(s)?
Would a wireless terminal be beneficial?