Try Our Free Price Quote Request Tool!
Equipment Leasing Rates
Visitors to B2B Exchange know that it helps to have the right features and a brand that will be there for you, but at the end of the day the rates you pay for leasing equipment will be among the most important parts of the decision. That's why we've assembled actual equipment leasing rates paid by our users. Use these figures as a guide as you figure out what to pay during your negotiations.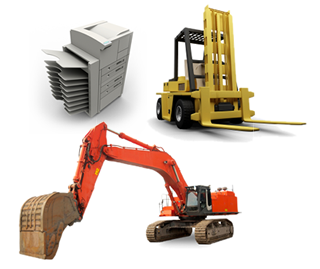 "The equipment leasing rates we received are $570 /mo for 48 months, included everything we ordered and accessories. [Specialty construction equipment]"

Partner/Principal, Construction, Downington, PA

"A 2000 All Aluminum East Flatbed Trailer. Financed $15,000 at 9% for 5 yrs."

Buyer, Transportation/Logistics, York, PA

"$8500, Rig Master APU, included 2 year full warranty, 3rd year parts only, complete installation with 1 dollar buy out."

CEO/President/Owner, Transportation/Logistics, Moss, TN

"$6,634.75 for various computer hardware and software to replace my current biofeedback system."

CEO/President/Owner, Health Care, Half Moon Bay, CA

"Computer, sign making software & plotter (vinyl cutting machine) -- $11,250."

CEO/President/Owner, Business Services, Saginaw, MI
"Instead of buying a copier, we decided to go with the equipment leasing rates given to us by a local Canon copier dealer. They were $150.00/month for copier and 28.00/month for service, toner and supplies."

Administrative Assistant, Construction/General Contracting, Denver, CO

"$92,900 S&S Cadillac hearse - walk-away lease with residual of $41,800 - 5 yr./5.8% rate."

CEO/President/Owner, Salon, Chicago, IL

"Equipment leasing rates were 4.80%, much cheaper than I could get at a bank in the present conditions. $122,000. [Specialized vehicle]"

CEO/President/Owner, Environmental Services, Newell, WV

"Full DJ setup, mixer, 2 JBL EONG2 15's with satellite stands, Crown amplifier, dual wireles mics and receivers, Compaq notebook. $2400."

CEO/President/Owner, DJ Service, Huber Heights, OH

"$86,000.00 Lease-purchase with $101.00 buy-out. [Professional audio equipment]"

CFO, Media/Entertainment/Publishing, Houston, TX

"We obtained loan approval on $100,000 of the $155,000 we were seeking equipment leasing rates of 5% — 10 year amortization and a 5 year balloon with 6 months of no payments or interest."

Accounting/Finance, Agriculture, Hillman, MI

"$7500.00 phone system plus installation — 8.9% equipment leasing rates."

CEO/President/Owner, Retail, Fresno, CA

"$124,000 for a new 9900ix International semi tractor & $35,500 for a Fontaine Stepdeck semi trailer."

General Manager, Transportation/Logistics, Troutdale, OR

"8.76 percent equipment leasing rates on total lathe & mill purchase over $15,000."

Buyer, Manufacturing, Kirkwood, NY
Shop for Equipment Leasing
There are a variety of options for you to explore as you think about leasing equipment. Auctions, e-commerce and request for quote services all provide you a way to evaluate different models, talk to dealers and ultimately figure out what's best for your machinery needs. Check out the links below for some of the best resources on the web when it comes to equipment leasing.
Comparison Sites
Calculators
Straight Talk From Companies that Leased Equipment
The Internet has enabled the wisdom of the crowds like never before. B2B Exchange brings that wisdom straight to you by collecting the comments and questions of other copier buyers as they tackle business purchasing head on. If you're not sure what to be looking for, check out the most common thoughts, fears and ideas shared by your fellow business purchasers.
"We are a recycling company that has been in operation for 18 months. We have $350k worth of shredders, granulators, wash lines, dryers, etc, that are financed with a bank (interest only). We are looking for a better interest rate and a company that will use the equipment as collateral. Currently we have 550k in water front property up and we would like to get that off the note. We are a small company, however we have good margins with our process. Our company can produce (in the current market) 90k in revenue per month."

CFO, Recycling, Corpus Christi, TX

"We are a supplier of automotive parts and systems to OEMs. In my location (Newport News, VA) we supply gasoline and diesel fuel system components to customers the world over. We are interested in equipment leasing rates on an IPG continuous fiber laser w/ min 2kW power capacity. The laser would have a beam split optic and corresponding 20m fiber cables. We would begin the lease as early as May 2009. We have facilities to supply power (prefer 480V 3ph), compressed air, exhaust, shield gas (argon or nitrogen), and chilled water."

General Manager, Manufacturer, Newport News, VA

"Sale/leaseback on computer equipment for a network security services provider. Currently, own select equipment with an original price of $36,000 to $45,000 which we would like to do a sale lease back. Also, looking to acquire new computer equipment with a value of approximately $150,000 and a telephone system with a value of approximately $100,000. Looking for 36 month term with either FMV buy out or a $1 buy out at end of term."

CEO/President/Owner, IT Services, Dublin, OH

"We wish to lease a new phone system for our business, the system is a NEC-UX-5000 IP phone system. The equipment cost is $23,000. We're looking for equipment leasing rates for a period of 4 years. We have been in business for 23 years. We have already received a quote from a company in Houston and seeking a comparative bid. We currently own and operate 4 store locations and are in the process of building another. Our phone equpment is now old and needs replacing and this type of system will company operations best."

Accounting/Finance, Retail, Beaumont, TX

"I have worked in advertising/ promotions for years. I want to purchase 3 pieces of equipment to run a promo business with. A t-shirt machine, & 2 imprinters. The total for this is less than $10,000. I would like to secure a loan that could be secured by the equipment and paid back equipment leasing rates of around $500.00 per month. I'm not really concerned that much with the interest rate as long as there are no penalties for early pay-off."

Buyer, Busines Services, Towson, MD

"We are a grading, paving, concrete, landscaping, water/sewer, septic systems and foundation footings company. We currently have an original equipment lease for $377,000 and are wanting to pay off the approximate balance of $130,000 which is due on lease and the buy out to get a better and more affordable monthly payment."

CEO/President/Owner, Contractor, Lackawanna, NY

"Myself and partner are expecting to open a hair salon in downtown Avondale Estates, Georgia. We have already gotten approved for everything else. Our only dilemma is getting the equipment financed. It is important that we get the equipment right away. The equipment that is needed are 7 stations, 7 styling chairs, 3 shampoo bowls, 10 dryers w/chairs, 4 color carts, 4 steamers, 10 reception chairs and receptionist desk w/chair. Our main objective is pleasing clients with love, understanding, style and honesty. We have come too far to go back now. Can you help in assisting us with the equipment? We are capable to pay monthly payments, so please give us multiple equipment leasing rates to compare."

Partner, Personal Services, Avondale Estates, GA

"We are looking to finance our Heidelberg Speedmaster Model 102-6 +L Six Color Offset Press with a Heidelberg Model CPC-21 Quality Control, S/N 797. It was purchased/leased new on March 20, 2001. We are pursuing financing for the balloon payment of $470,826. "

Accounting/Finance, Printing Services, Los Angeles, CA

"We are a new car dealer and are looking to change our computer management system. We have been provided with a quote for the cost of training to use the new web based system. It is approximately $50,000. The computer vendor has provided equipment leasing rates that have a high rate of interest. I am looking for a leasing company that will provide a competitive lease rate."

CFO, Retailer, Davenport, IL

"We are looking for a financing estimate for a new digital x-ray system for a two-doctor podiatry office. We believe our credit rating to be very good. We are interested in a 5 year term with a $1 buyout at lease end. the cost of the equipment is $26,125. We understand that without a full application you can only estimate equipment leasing rates and terms."

Partner/Principal, Health Care, Ft. Pierce, FL

"I have extensive experience in the custom embroidered and silk screened corporate cap and apparel industry. I worked for a company for over seven years in the past but have since started my own business selling custom embroidered caps which I order from a factory in China. My customers are business owners located all over the U.S. which I have developed by attending trade shows and the rest are local businesses. While I sell embroidered caps I am constantly getting requests for embroidered shirts and jackets. I am currently sub contracting my embroidery work out. I am being charged around $6.50 to $10.00 per piece. (Times 100 pcs = $650 to $1000 I am losing) This is money I could be making if I owned my own embroidery machine. Instead, this money is going out the window. I can buy a brand new Amaya XT "two head" professional machine worth $30,000 on a special now for only $18,000 from Melco. I this something you could help me with?"

CEO/President/Owner, Retail, Maplewood, MN

"We are a retail Hallmark card and gift chain, operating in northern Ohio and northeast Indiana. We have seven stores. We are interested in leasing new POS systems for five of the stores. Please send competitive equipment leasing rates for these five POS systems. We already have the systems in two of the stores. The systems are provided by Fujitsu, based upon Hallmark's specifications. They cost about $13,000 per store. Although we presently have IBM systems in the five stores, they are becoming outdated, and the leases, through GE are all at an end. We have never paid late."

CEO/President/Owner, Retail, Toledo, OH

"We are a printing business. I purchased the business from the previous owner who was retiring. The business was opertating in the same location for 10 years. We relocated the business about 1/8 mile from the previous location to a stand alone building on the corner of a major intersection. The business has increase in sales since my acquisition, and had further blossomed since the relocation to the stand alone building. We are in need of some updated equipment that is more automated, to allow us more time to handle the work load that has been increasing over the past few months, in addition to being able to provide a more products and expeditious service to our customers. The max we can pay for equipment leasing rates is $600 a month."

Partner, Printing Services, Modesto, CA
Equipment Leasing Advice
Equipment Leasing Basics
Equipment leasing allows businesses with limited cash flow to get necessary equipment right away. You can lease anything essential to your business — from furniture and computers to forklifts and utility vehicles. You need only make two advance payments before your lease begins.

Here's how it works: A third party funding source (the lessor) purchases the equipment you want. You then get the equipment and make regular payments for a period of time. If you get a finance lease, you have the option to buy the equipment at the end of the lease for a nominal fee. With a true lease, you can either give up the equipment or buy it at fair market value.

Another advantage to equipment leasing is you don't run the risk of owning obsolete machinery. You can set the limits of the lease or request a provision that allows you to upgrade the equipment during the leasing period.
Points to consider
What type of equipment do you need to lease?
How many pieces of equipment do you need to lease?
What are the maximum equipment leasing rates you are willing to pay?
How long has your company been in business?
What is your company's annual revenue?
Do you have any credit issues that could hinder the loan process?