Try Our Free Price Quote Request Tool!
Golf Carts Purchasing Overview
Golf carts aren't just for the golf course, anymore. The same manufacturers who make basic golf carts also offer specialized electric vehicles for personal use. And gasoline-powered golf carts, while disappearing on most courses, are still valued for use on the farm or in the wilderness.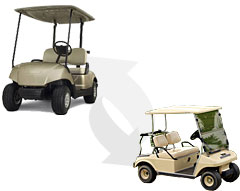 Golf carts can be outfitted with a range of features – including tops, windshields, and multiple seating options. You can easily add thousands to the sticker price of your golf cart by loading it up with extras. This is particularly true if you want to make your vehicle street legal, which requires turn and brake signals, seatbelts, and more.
Consider your needs before purchasing a golf cart. Make sure it has the features you're looking for, but doesn't exceed what you can afford. Visit multiple dealerships to in person and ask to see their service and parts departments in action to get a feel for how they do business. If possible, work with factory-authorized golf car dealers. They have easy access to OEM parts and can provide quality factory training for their repair technicians.
If you are planning on using a cart as a personal electric vehicle, look for suppliers with experience in creating street-legal carts. Regulations vary from state to state and even from one locality to another, so the dealer's experience and understanding can be important in making sure your vehicle has all the right safety features.
Gas or electric golf carts?
Gas golf carts are preferred in farming and hunting, as they can carry heavier loads than electric golf carts and are the better choice for sustained use. You can also easily carry an extra can of gasoline to extend the operating range.
Electric golf carts are far more popular for actual golf course use, since they're much quieter and less polluting.
Related Articles - September 2010
Golf Cars Buyer's Guide
The information you need to purchase the smallest golf car or the largest industrial vehicle. (Source: BuyerZone.com)
A Custom Ride, Legal for the Street or the 18th Tee
A look at how customized golf carts are gaining in popularity. (Source: New York Times – free registration required)
Golf carts making the rounds in some communities
Electric vehicles are gaining in popularity as simple, non-polluting local transportation. (Source: Center for Urban Transportation Research)
Golf Cart Engines - Extending Cart Life
This article emphasizes both the environmental and cost effective reasons for repowering golf cart fleets. This article brings home the point that repowering an engine is more efficient, and costs less than replacing it. (Source: Buzzle)
Leading Manufacturers
Club Car
Columbia Par Car
E-Z-GO
John Deere (Gator)
Yamaha Golf Cars
Points to consider when purchasing:
What will you be using your golf/utility vehicle for?
What type of vehicle are you interested in? (Golf cart, personal electric vehicle, burden carrier, personnel carrier?)
Are you interested in a new or used vehicle?
Are you interested in an electric or gas vehicle?
What is your estimated budget?
Will you be purchasing or leasing your vehicle?
What additional accessories will you need?