Try Our Free Price Quote Request Tool!
Home Generators Prices
Home generators come in a wide range of sizes and options, suitable for just keeping a few lights on or powering your entire house. Whether you want a portable gas-powered unit, or permanently-installed, diesel-powered set, purchasing an electric generator gives you access to electricity where and when you want it.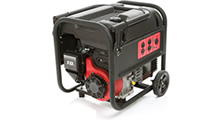 It's important to carefully evaluate your electrical power needs before buying a generator. The right supplier will help you through this process, measuring the total power your appliances and lights draw to help you get a set that will meet your requirements. It's also important to get multiple home generators prices before committing to purchase. And a qualified installer will make sure that your home generator is properly connected to a transfer switch, preventing potential power feedback accidents.
Home Generators Prices
Visitors to B2B Exchange know that it helps to have the right features and a brand that will be there for you, but at the end of the day the home generators prices you pay will be among the most important parts of the decision. That's why we've assembled actual prices paid for home generators, straight from our users. Use these figures as a guide as you figure out what to pay during your negotiations.
"Generac model 5744 cost us $4200 and includes transfer switch and delivery with fork lift. Better deal than some of the other home generators prices I've seen."

Buyer in Dallas, TX

"$7500 for a 15KvW Eaton (Briggs) home generator with 100 amp panel with load control, cold start kit, battery, and installation."

Buyer in Springboro, OH

"18kw Briggs & Stratton generator, natural gas, installed plus a tankless water heater was about $7500."

Buyer in Greenville, SC

"I bought an 18KW Briggs & Stratton home generator, automatic switching rear, battery, surge arrester, running gas lines and electrical wires and installing and testing everything. $8300.00."

Buyer in Birmingham, AL

"$3599, much better than the other home generators prices I found online. Included 12KW generator, ATS/w 12 circuit integral panel, and shipping w/ lift gate at no extra charge."

Buyer in Norman, OK

"Total cost for 8500w, housing, cable, electrician to hookup, and box interlock was $1400."

Buyer in Stafford, VA

"$3600.00. the home generators prices included a transfer switch, aluminum casing 16kw / propane, and prepaid freight."

Buyer in Orlando, FL

"Paid $6.750.00. GE 15Kw generator with a 200 amp service entry switch with load control. Load control is to be used. Winter package (oil warmer & battery warmer) included in cost. 5 year warranty, bumper-to-bumper. Were quoted an annual maintenance cost of $199.00, but did not sign for one at this time. Installation time is 3 weeks, partly due to our request for a particular date."

Buyer in Delaware, OH

"Guardian 10KW connected to NG. It has an auto start switch panel w/10 breakers. Permits pulled, electrical and gas work. Best of the home generators prices I found, it was only $4000."

Buyer in Nashua, NH

"I went and purchased a used pto home generator at an auction for $1250.00."

Financial Services Buyer in Delphos, OH

"Norwall Poweer Systems generator, 20kw, and 200 Amp whole house Power. The purchase price was $4799.00. No tax and free shipping."

Buyer in Mount Vernon, OH

"Went with a home generator that is powered by natural gas and starts automatically within seconds of losing electricity. It is sufficient to keep everything in the house going. We bought a Koehler single phase natural gas home generator 17KW and with installation and paid about $8000, about $500 less than the other home generators prices I received."

Buyer in Bettendorf, IA

"I paid $8,000.00 for a 20KW Home Standby Generator, 200 amp Transfer Switch, Cold Weather Kit, Shipping and Handling and all required installation services, parts and labor. The $1,700.00 for labor and parts for installation was included in $8,000.00 price."

Buyer in Normalville, PA

"$500 was the purchase price, with $100 rebate. The home generator is a Power Pro model 900,16 hp home generator. It's on wheels and has two folding handles for transporting. Much less than other home generators prices I was seeing. No service contract."

Buyer in Roosevelt, NY

"I paid $950 for the home generator, and one of the reasons was because of the product reputation, and it had the essentials for a quick start up. The warranty was also a consideration."

Buyer in Stanford, KY
Related Articles - September 2010
Home Generators Buyer's Guide
Detailed information on choosing a backup power generator for your home. (Source: BuyerZone.com)
Power Outages and Emergency Backup Generators
An overview of the options and important steps to take when using a backup generator. (Source: B&A products)
Talkin' 'Bout Home Generation
A quick look at emergency power options for homeowners. (Source: Slate)
Portable Generator Safety Tips
A list of several safety tips for operating portable generators. (Source: The Natural Handyman)
Common Terms
Diesel generator
Electric generator
Gas generator
Generator
Home generators prices
Portable generator
Power generator
Standby generator
Leading Providers
Briggs & Stratton
Caterpillar
Coleman Powermate
Generac Power Systems
Honda
Kohler Power Systems
Multiquip
Onan
PRAMAC
Points to consider:
What do you need a generator for?
What type of generator do you need? (A permanently-installed standby model, or a portable generator?)
What fuel type do you need?
How much power do you need your generator to have? (kW)
What are the home generators prices you expect to pay?
Will you need installation services?
Do you have other special requirements for your generator?