Try Our Free Price Quote Request Tool!
Interactive Kiosks Basics
It's almost impossible to find a business that doesn't offer some type of kiosk. Whether it's your standard ATM in a convenience store, a photo kiosk in a pharmacy, or an informational interactive kiosk in a mall, the concept of a sturdy and reliable self-service machine to handle basic tasks and transactions has really taken off.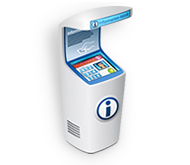 In some cases, interactive kiosks can act in place of an extra employee—without the interview process or performance review. Using standard touch screen technology, people can navigate through a simple screen of menu options to get the information they are looking for without human assistance. They don't take up much floor space and you can even customize the look and feel of the enclosure to appropriately represent your business.

With the help of a kiosk vendor, you could determine what you would like your interactive kiosks to do. If you will provide products or services, such as a photo printing kiosk or bill payment machine, the kiosk can be equipped with a bill acceptor or credit card swipe. If it's just information you're looking to share, a vendor can help you design the right presentation and interface.

One concern businesses have about interactive kiosks is: who maintains them? A kiosk vendor can set you up with a monitoring company that will keep track of each kiosk's performance. Should the machine break down or need adjustments, such as refilling paper or removing cash, they are notified immediately and a rep is sent to the site to maintain the device.
Interactive Kiosks Prices other People Paid
"We paid $5000 and $9000 for the two interactive kiosks that we purchased."

Business Owner in Houston, TX

"It was $5K for the kiosk we chose, including a 20" touch screen mag stripe reader, and biz card receipt reader. We also looked at used interactive kiosks."

CIO in Arnold, MD

"$5000 for the kiosk, printer, color of choice and programming of interface. We looked at other interactive kiosks but this was the best deal we found."

IT Administrator in Butte, MT

"Each of the interactive kiosks were $3,100. They each included a thermal printer and logo wrap on front. We're still working out the service contract details."

Facilities Manager in New York, NY

"Our kiosk costed around $5,000 including the traveling case."

Business Owner in Miami, FL
Related Articles - September 2010
Interactive Kiosks Buyer's Guide
Everything you need to know about purchasing a kiosk for your business — including features, options, and pricing. (Source: BuyerZone.com)
Transactional Kiosks Benefit Businesses
A kiosk can allow customers to pay bills and manage accounts — all without human assistance. Find out how. (Source: Kiosk Marketplace)
Succeeding in Self-Service
You can use a kiosk to make money, increase revenues and generate loyalty when you let customers help themselves. But only if you do it right. (Source: CIO)
Introducing: The HR Kiosk
Read the benefits and features of implementing a kiosk for employees to access and manage their human resources information. (Source: Kis-Kiosk.com)
Common Terms
interactive kiosks
digital photo kiosk
electronic kiosk
information kiosk
internet kiosk
kiosk
kiosk enclosure
kiosk information
kiosk lease
kiosk manufacturer
kiosk purchase
kiosk sale
kiosk vendor
retail kiosk
touch screen kiosk
Leading Providers
Apunix
CeroView
DNI Marketing Group
IBM
KING Products and Solutions, Inc
Kiosk Information Systems
The Kiosk Store
St. Clair
SeePoint
Slabb Corporation
Xpedient Software
Points to consider:
What is the intended use or application for your interactive kiosk (ticketing, retail marketing, Internet access, educational use, point of sale transactions, etc)?
Will you need a machine that integrates with other systems or just a stand-alone kiosk?
What other features or products do you need with your interactive kiosks (printer, touch screen, keyboard, bill acceptor, etc)?
Are you seeking an informational or transactional kiosk?
What is your preferred installation timeframe for your new kiosk(s)?