Try Our Free Price Quote Request Tool!
Prices
Visitors to B2B Exchange know that it helps to have the right features and a brand that will be there for you, but at the end of the day the price you pay for an office trailer will be among the most important parts of the decision. That's why we've assembled actual prices paid for office trailers, straight from our users. Use these figures as a guide as you figure out what to pay during your negotiations.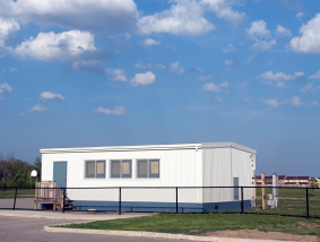 "We chose an office trailers supplier that was local and had great service reviews on Google. Movable building on a skid is 12' X 20' with AC/Heat, bathroom, 3/4 treated plywood on floor,walls, roof and ceiling, built in cabinets, 26 gauge metal roofing and exterior walls and inlaid flooring. Wiring, lighting, windows (5), exterior steel door and cement foundation to set the building on for $42,300."

Buyer, Other Business Services, Houma, LA

"Purchase price $31,000. Included in Sale: Delivery, leveling to my specs, two sets of entry steps code compliant, Desk tops, book shelves, handicapped accessible rest room, refrigerator, microwave, 5 year service contract. Unit is not and does not look like a trailer, whereas all the other companies were showing us examples of office trailers that were shabby and just didn't fit with the rest of our property."

CEO/President/Owner, Retail, Murfreesboro, TN

"We decided to lease two office trailers for 12 months with a payment of $120.11 per month. We recieved both trailers with window and door security bars and we also received 2 steps."

Office Manager, Wholesale, Twentynine Palms, CA

"$875.00 per month, including two sets of stairs. The supplier is handling all permitting for us, and reduced the delivery, set up and pick up fees by 50%."

Facilities/Operations, Construction/General Contracting, Las Vegas, NV

"$3,500 for a used office trailer 14 X 32, A/C & heating, receptionist desk, office desk and chair, shelves, bar windows, phone and internet wiring."

Buyer, Transportation/Logistics, Justin, TX

"$1,500 for one of the newer office trailers. All materials required to frame, roof, flooring, windows, door, drywall, exterior siding to create a portable to our own exact requirements."

Buyer, Other Business Services, Seattle, WA

"Approx. $6,000 for delivery set-up tear-down and return of 12'x40' duel office trailer with handicap restroom for a 12 month/13 cycle billing duration."

Buyer, Construction/General Contracting, Alamogordo, NM

"$1,000 including 2 air conditioners and lights and electrical hookups. This was a used office trailer that someone wanted to unload. We just got lucky."

Purchasing Manager, Other Business Services, Mesa, AZ

"$15,500 each. We purchased two 10 X 42 office trailers with two sets of steel steps, delivery, and set up. This did not include electrical work or plumbing."

Facilities/Operations, Agriculture, Bartow, FL

"$46,430. 12'x56' Block and level, anchor and tie down, step assembly, electrical, plumbing, skirting, delivery and other services."

Facilities/Operations, Agriculture, York, PA

"$150 per month rent contract for 1 year. Includes 1st 2 months free. Delivery and setup charges did add up to over $700 though, had we known that, we would have selected one of the other office trailers."

Facilities/Operations, Manufacturing, Sandersville, GA
"2007 or newer modular office trailer excellent condition. Monthly lease for 12 months at $305 per month."

Office Manager, Government, Jeffersonville, IA

"Leased one of their office trailers at $242 per month for 8'x24' trailer office. Stair and skirting and insurance waivers included."

Administrative Assistant, Health Care, Downieville, CA

"40' double security office trailer w/ 2 air conditioner/heaters--$924 set-up + 1st. mo. rent & $358/mo rent. "

Buyer, Non-Profit, North Hollywood, CA

"$3,600 for 1 year lease plus $700 for one time charge to deliver pick up."

Administrative Assistant, Other Business Services, Southaven, MS

"We purchased a 12X60 two-office, one ADA bath with setup and installed for $4,750."

CEO/President/Owner, Equipment Sales & Service, Pueblo, CO

"$38,029.69. We weren't interested in standard office trailers but actually chose the company that could custom-build our design. The price included set up."

General Manager, Construction/General Contracting, Raleigh, NC

"$400 per month. 12x32ft stair and plan table included. No shipping or pick up fees."

Purchasing Manager, Construction/General Contracting, Temecula, CA

"$8,686.80. Double wide, stairs and freight for 3 months."

Administrative Assistant, Health Care, Frederick, MD
Shop for
s
There are a variety of options for you to explore as you think about shopping for office trailers. Auctions, e-commerce and request for quote services all provide you a way to evaluate different models, talk to dealers and ultimately figure out what's best for your office trailer needs. Check out the links below for some of the best resources on the web when it comes to shopping for an office trailer.
Construction
Office Trailers
Office Trailers
for Schools
Straight Talk From
Buyers
The Internet has enabled the wisdom of the crowds like never before. B2B Exchange brings that wisdom straight to you by collecting the comments and questions of other office trailer buyers as they tackle business purchasing head on. If you're not sure what to be looking for in office trailers, check out the most common thoughts, fears and ideas shared by your fellow business purchasers.
"They do not need to be brand new, however, must be in reasonable condition. The office trailers need to conform to requirements of Miami-Dade County and capable of withstanding hurricane force winds of up to 150mph (3 sec gust). A layout drawing must be provided as this requires approval from the client."

Procurement Specialist, Construction/General Contracting, Miami, FL

"This would be used as a mobile command center for long term lease or purchase. Requirements: 3 workspaces - Office like - One climate controlled room with (preferably large) windows with enough room for 2-3 multiple monitor workstations. (room dimensions roughly 8' X 12') Power and network required Server and Equipment rack space - climate controlled server rack mount closet. Power and network required One possibly climate controlled room with a door that opens the full width of the container. Room suitable for tool storage and at least one work bench. (min length 15') Power required Connections: 1) Network connection from server closet to office space. 2) External power and network connections. 3) Panel for exterior cable runs including externally mounted antennas and/or cameras."

Purchasing Manager, Government, Washington, DC

"We need a few office trailers, specs are as follows. Main trailer: 1. Furniture required for Project-site documents including file cabinets, plan tables, plan racks, and bookcases. 2. Conference room of sufficient size to accommodate meetings of 10 individuals. Provide electrical power service and 120-V ac duplex receptacles, with not less than 1 receptacle on each wall. Furnish room with conference table, chairs, and 4-foot- (1.2-m-) square tack board. Private office: 1. Electrical service with no less than two 120-V AC duplex receptacles 2. Desk 3. 2-foot by 2-foot tack board 4. 2 to 3 chairs 5. Phone service and phone 6. File cabinet 7. Fluorescent lighting 8. Blinds/shades for all openings 9. Heating & air conditioning unit(s) 10. Bottled water with dispenser 11. Broom, mop, mop bucket."

General Manager, Construction/General Contracting, Decatur, IL

"I am looking for a 48x60 or 36x60 office trailer to house a large hearing room in center with access from a large reception and waiting room area with two half-baths attached. Also accessible to the reception area would be a clerk's office with public counter. The remainder of rooms would be not accessible to the public areas and would include a spacious office for the court officer with half bathroom, a smaller office for bailiffs, a small break-room for staff, a meeting room/library, a file storage space, a small server room, and an additional half bathroom. Lighting, heating/AC, phone wiring also requested. Entrance to front reception area should be wheel-chair accessible."

Purchasing Manager, Government, Lubbock, TX

"We are hosting a String Music Camp and need additional practice rooms. We'd like to have room for about 15 kids to practice their instruments simultaneously. The rooms don't have to be sound proof. Our church facility is very adequate for performance and dining, but not for practice rooms. We are also contemplating other facilities other than office trailers."

Administrative Assistant, Non-Profit, Charleston, WV

"I need to rent a construction trailer for ONE DAY for a photo shoot in downtown LA, I need it dropped off (i've permitted the street) set up so we can shoot (med size with deck) our picture, then I need it picked up and taken away when we're done, in the same day. I don't need to buy one just rent one for under 24 hrs, pay for delivery, installation strike and return all in the same day. Please advise, steps not ramps. No electrictiy heating lighting needed only exterior."

Photographer, Entertainment, Los Angeles, CA

"We will need a 24' x 48' office trailer, or 2 x 12' x 48' office trailers. The buildings will need to house a 250 SF (min) teacher's space, a 150 S (min) nurse's office and an accessible bathroom. It will also need to house the Special Education space(s). We had assumed that the trailer could be vendor-engineered ASAP by the selected manufacturer. As soon as a layout of the office trailers is completed by the manufacturer, we can incorporate any utility hook-up notations in the construction documents, and reference the trailer drawings in the construction documents as well."

Administrative Assistant, Education, Boseman, MT

"The office has to have at least 7 foot ceilings, licking windows, adequate electric lighting, and adequate number of storage cupboards and closets, mail slot or drop box, and a private entrance secured with lock and key, steps that include a handrail and non-skid treads, heating and a/c unit, 2 bathrooms with hot and cold water capacity, 2 individual partitioned rooms, 2 desks and chairs, 6 office chairs, 2 plan racks, 2 work tables, 2 4-drawer file cabinets, 1 2-drawer file cabinet, and 4 individual access phone lines. "

CEO/President/Owner, Construction/General Contracting, Fort Collins, CO

"We are a school located on the upper East Side of Manhattan. We own a lot next to our building which is 20 x 100. The need is to have it set up as a regular business office, we would need a/c, heat, windows, lighting, etc. Would need steps outside for entry purposes unless we can break through into our facility. "

Facilities/Operations, Education, Manhattan, NY

"Options 50 people 7,500 SF, 100 people 15,000 SF, or 150 People 22,500 SF. Will be used for temporary professional office trailers for governmental employees. Each trailer must have a bathroom and 3 private offices. Need rental cost for a 3 year term on each alternative. Also need costs for move-in, set-up and move-out. Land is flat and paved, easy access."

Administrative Assistant, Government, San Diego, CA

"This will be a food production facility with need for electrical to handle freezers, commercial Jerky drying machine, vaccum pack machine and exhaust fan as well as restroom and office area - storage needed for both dry finished product and equipment - Sinks & water to meet USDA regulations - we would modify on site by our contractor to meet those requirements "

Facilities/Operations, Food Services, Tuscaloosa, AL
Advice
Basics
The basic construction trailer can be found serving as the office on job sites all across the country. Most commonly rented for short-term usage or leased for up to a year or two, these trailers are a convenient and inexpensive way to get temporary office space where you need it.
Office trailers come with basic lighting and furniture already in place. They're delivered to your location, set firmly into the ground, and typically outfitted with skirts to hide the wheels and stairs for easy entry. You can choose from a range of sizes to get the amount of work or storage space you need.
Points to consider
How much space do you have for the office trailer?
What do you plan to use space for?
How many people do you need to accommodate?
How long will you need the office?
Are you planning on buying or leasing?
Will you need bathrooms or private offices?
Do you have other special requirements for your mobile office?