Try Our Free Price Quote Request Tool!
Plotters Prices
Visitors to B2B Exchange know that it helps to have the right features and a brand that will be there for you, but at the end of the day the price you pay for a copy machine will be among the most important parts of the decision. That's why we've assembled actual prices paid for copiers, straight from our users. Use these figures as a guide as you figure out what to pay during your negotiations.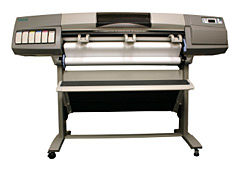 "Ricoh printer, MP W2400 Wide Format w/ scanner & copier. ~ $17,000"

General Manager, Manufacturing

"We purchased aprinter for $1,100 that would do letter size to Super B sheets and had a auto feed roll attachement for 18" wide rolls"

Engineer/Programmer, Construction

"HP Designjet Z3100 24" for $1,290 from PCRUSH.com."

Educator, Education

"OCE-2236 36, installed, 2 year extended warranty: $4,795.00."

Engineer/Programmer, Government

"HP designjet T1100 44 in. Delivery, configuration & install included. $5,740.00 with a $1000.00 rebate. Total price for this machine was $4,740.00."

CEO/President/Owner, Construction/General Contracting

"$4,200.00 with 4-200 Rolls of paper, 2-extra Matte Black 130 Mill cart. Training and install included."

CEO/President/Owner, Construction/General Contracting

"New HP 42" plotter cutter printer. Fill on the go. $3,750.00."

General Manager, Amusements

"I purchased an HP Designjet Z3100 ps GP for $1,799.00 and a Kodac ESP 9. Both are new in factory box with all items per MFG. The low price on the HP was due to a liquidation (only 6 units were available)."

Partner/Principal, Construction/General Contracting

"Canon IPF 610 $3,077.86 with 3 year warranty."

CEO/President/Owner, Graphic Design

"Designjet 1100 C with stand extra ink and 2 rolls of paper $500."

General Manager, Construction/General Contracting
"$800.00 dollars for a HP designjet 800 complete with stand paper ben, paper and ink. Very good purchase, I'm happy."

Administrative Assistant, Government

"$3,845 plus tax and $200 rebate. Included an extra set of inks but the delivery didn't include the ink and we had to ask for them to be delivered. Ink was delivered with a bill so we had to explain the quote included the extra ink and shouldn't be billed. We also purchased a set-up service for $99."

CEO/President/Owner, Architecture

"Canon with parts and labor for 3 years, installation and set up all for $2,865.00."

Administrative Assistant, Construction/General Contracting

"Canon iPF710, the price was $3850.00. This price included start-up supplies, delivery, set-up, training, and a one year warranty through Canon."

Engineer/Programmer, Construction/General Contracting

"HP Designjet 510 with stand and ink, $3,100.00, including 1 year finance free."

CEO/President/Owner, Construction/General Contracting

"$2,650 for the HP-DesignJet 510 with stand, one (1) extra set of ink cartridges, delivery & setup."

Creative Design/Writing/Production, Consulting
Shop for Plotters
There are a variety of options for you to explore as you think about buying a plotter. Auctions, e-commerce and request for quote services all provide you a way to evaluate different models, talk to dealers and ultimately figure out what's best for your plotter needs. Check out the links below for some of the best resources on the web when it comes to shopping for a plotter.
Online Shopping
Auction Sites
Manufacturers
Straight Talk From Plotters Buyers
The Internet has enabled the wisdom of the crowds like never before. B2B Exchange brings that wisdom straight to you by collecting the comments and questions of other plotter buyers as they tackle business purchasing head on. If you're not sure what to be looking for in your next plotter, check out
"We are looking at both leasing and purchasing options. A lot of our work will be plotting sets of plans for different depts. However, we want the capibility to be able to plot bot color Digital Terrain Models and color 3D renderings of the final product for presentations to potential clients. We are a construction company that bids a high quantity of work and once a project is aquired we build DTMs for GPS machine control to do the majority of our excavation work."

General Manager, Construction/General Contracting

"Curently I'm preparing business plan for small studio - custom packaging and invitations design (low quantities: 10-500). I'm looking for inexpensive plotter/cutter. I'm not interested with cutting large format vinyl. Will do mostly paper and special cartons. The more precise cutting resolution is the better."

Designer/Writer/Producer, Advertising/Marketing/PR

"I don't anticipate high volumes of printing. I probably won't print more than 200 square feet a month. However if the plotter can cut vinyl, I will use it more often. I am looking to purchase the plotter instead of leasing it. I want to make sure ink costs aren't too high for the plotter I will purchase."

Partner/Principal, Consulting

"Needs are as follows: We primarly print CAD/Microstation drawings in monochrome. We have a minor need to print in color and a major need to scan drawings in color. Additionally, we have a minor need to print ArcGIS data both in color and monochrome. Solution can be either one or two printers/plotters. Overall printing volume is cyclic but would be considered low to midrange. Have no preference for lease or purchase."

Office Manager, Information Services

"Plotter should have functionality for the following: Plot prints up to 36" wide Utilize .TIFF, .PDF, and .DWG among other formats Plotter should have maxed-out memory. Plotter should be able to scan prints up to 36" wide. Networkable hard drive in addition to network capable a plus. Paper feed via a roll system with auto-cutter Purchase / Leasing options in pricing quotes."

CEO/President/Owner, Advertising/Marketing/PR

"My company is looking for an affordable solution for plotting and scanning documents. I'm trying to find the best value be it new or used. We need a plotter/scanner with the capability to plot/scan document as large as 42"x39", in monochrome or gray scale."

Sales/Business Development, Insurance

"Purchasing plotter, need Mimaki JV33-160 Solvent printer, 2 each of Mimaki Solvent JV3 Ink SS2 440ml Cyan, Magenta, Yellow, and Black inks, 13 oz NuFlex Supreme II Glossy 54"x 50 yards with shipping tubes, Orajet 3651 Gloss White 54"x 150' 2.5mil, Wasatch Mimaki Exclusive Edition, and Installation."

Consultant, Government

"This plotter will get some moderate to heavy usage, for very short periods of time, and will then be idle for several weeks, before being used again. The HP 1050C (A series) that we now own has functioned flawlessly for 9 years (until now), and is being replaced because of the difficulty of obtaining service for it."

Engineer/Programmer, Real Estate

"The plotter will be used mainly for producing engineering drawings. Drawings are mainly line drawings with 3D images in the corner to clarify form and function. We expect 3 batches of drawings (5 drawings per batch) a week. drawings will be D size (22x34" )and smaller. We use Autodesk Inventor 2009."

Engineer/Programmer, Construction/General Contracting

"I am a contractor that read blueprints for work. I need a plotter thats able to print 42x30 with no problem and able to hold good memeory, because it would have to be hooked-up to my hard drive that I use for other purposes. I am looking for the speed of around 1 page blk&wht in 1 to 2 min."

CEO/President/Owner, Construction

"We're looking for a new lease on a plotter that handles color scanning, black and white (possibly color) printing on multiple rolls. Ideally this printer would be capable of long prints of up to 15 meters, long scans, scans directly to pdf, and power supply at 240 volts."

Office Manager, Wholesale

"Looking for a wideformat printer that can print up to and including 11X17 borderless. Espson Artisan 800 has caught my eye. Can its 16:9 format feature handle this? I read a lot about 16:9 format but can't find anything that'll tell me what size photo paper that is."

Purchasing Manager, Healthcare

"We are planning to purchase and all in one machine to copy, scan, and print building plans. We are also interested in the ability to print onto transparency film or other large format transparent media to use as a "layering" effect on complicated building plans."

Partner/Principal, Construction

"I am a owner of a auto body shop. I have been doing a lot more airbrushing and I need to get a plotter to achieve better productivity. I am not really to educated on plotters I will be doing a lot of decaling on autos and trucks."

Partner/Principal, Equipment Sales & Service

"We are a municipal electric water and wastewater utility and have the need to produce our own maps and plan sets. We could also have the need to copy and scan as well from time to time. Plooting or printing maps would be the main function."

Purchasing Manager, Government
Read more about Plotters:
Plotters Advice
Plotters Overview and Basics
A plotter, or wide/large format printer, allows architects and graphic designers to print out blueprints, signs, topographical maps, and banners. While a printer may express these images as a series of dots, a plotter uses vectors to draw high-quality graphics according to computerized information.
Plotters are available from dealers and a network of licensed resellers. Independent resellers, such as the Reprographics Services Association (RSA), assist with installation and will be the focal point of contact when a customer has problems or questions with their purchase.
It takes about six to eight weeks to purchase a plotter from a vendor. You need to carefully review your needs with multiple vendors before you make a purchase.
Points to consider:
What types of documents will you be printing with your plotter?
Are you interested in a inkjet or laser printer?
Do you need a black & white or color plotter?
How often will you be using your plotter?
What type of configuration will you need?
What is your estimated budget?
Do you have any special requirements for your wide format printer?