Try Our Free Price Quote Request Tool!
Spray Paint Booths Prices
Visitors to B2B Exchange know that it helps to have the right features and a brand that will be there for you, but at the end of the day the price you pay for a spray paint booth will be among the most important parts of the decision. That�s why we�ve assembled actual prices paid for spray paint booths, straight from our users. Use these figures as a guide as you figure out what to pay during your negotiations.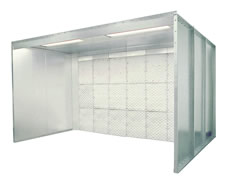 "I purchased a booth/suppresion syst. and other shop/office supplies and equipement. Total price paid was $10,150.00."

CEO/President/Owner, Automotive, Evansville, IN

"We've been comparing spray paint booths for months, and found the best deal from Standard Tool. It cost us $8500 delivered."

CEO/President/Owner, Equipment Repair, Prairie Farm, WI

"$1,000 for 4'2" x 3' x 3' inside working dimensions. 6' tall with 12" tubeaxial fan, filters, manometer, collar, and all hardware and shipping from Michigan."

General Manager, Retail, Hartford, KY

"We've always like the Spray Zone spray paint booths. So we bought a Spray Zone # SZ-PMR 6188 SE, $ 8500.00, and an EvolutionXL Side Draft Spray Truck Booth. # SZ- TSDD6 $ 51,000.00."

CEO/President/Owner, Equipment Sales and Service, Long Beach, CA

"Of all the spray paint booths we looked at this was the best deal. 12'D x 20'W x 8'H with (4) lights, 42" fan and 5 HP motor, complete exhaust with easy directions = $6,900."

Partner, Manufacturing, Philadelphia, PA

"$9,400 - powder coated, white, extra lighting, single phase motor, shipped for free."

Auto Shop Owner, Business services, Iola, KS
"Instead of just getting a booth we got one of the spray paint booths package deals: booth, oven, electrostatic applicator system = $18,500."

Partner, Business services, Columbus, KS

"One of the 23'x18'x14' sanding/blasting spray paint booths with 3-stage HEPA filtration cost us $18,335."

Office manager, Government, Bloomfield, IN

"Paid approximately $4,000 for a slightly used system."

Operations manager, Construction/General Contracting, Atlanta, GA

"Powder coating, tri-fold doors, 12 lights for $13,050."

Receptionist, Business services, Douglas, GA

"$2,600 for a 8' W x 7' H open-ended spray paint booth w/ 1ph 3ph motor."

President, Manufacturing, Lehi, UT

"$5,600 for one of the older 3-sided spray paint booths plus a fan."

Facilities manager, Manufacturing, Sacramento, CA
Shop for Spray Paint Booths
There are a variety of options for you to explore as you start to compare spray paint booths. Auctions, e-commerce and request for quote services all provide you a way to evaluate different models, talk to dealers and ultimately figure out what's best for your spray paint booth needs. Check out the links below for some of the best resources on the web when it comes to shopping for a spray paint booth.
Online Shopping
Auction Sites
Manufacturers
Straight Talk From Spray Paint Booths Buyers
The Internet has enabled the wisdom of the crowds like never before. B2B Exchange brings that wisdom straight to you by collecting the comments and questions of other spray paint booth buyers as they tackle business purchasing head on. If you're not sure what kind of spray paint booths you should be looking for, check out the most common thoughts, fears and ideas shared by your fellow business purchasers.
"We are an aerospace fastener company based in Torrance, CA. At the end of the manufacturing process of our Titanium Pins, we are coating them by spraying a product called Hi-Kote. We currently have different systems handling these processes, both manual and automated. We are looking at upgrading (retrofitting) our current manual spray booth in order to be able to spray more �toxic� product (containing chrome)."

Owner, Aerospace technology, Torrance, CA

"We recycle woven poly bags of various sizes. We are trying to reduce the dry power dust associated with cleaning of the bags. In addition, we also want to use air spray guns to clean the outside of the bags in a modified closed environment. We have a vaccum system that will take the residue out from the bottom of the bag, but want all to be contained in a modified closed room setting."

General manager, Manufacturing, Cedar Falls, IO

"The overall inside dimensions of this bench spray booth would be 5' x 4' x 3' and would need to be installed unless it comes assembled. Need it to be vented outside, be OSHA approved w/ exhaust/motor, filters, etc. I also need the weight as well with a shipping estimate. If the weight is over 200 lbs, it will need to be delivered and installed. I will need detailed line item quotes. Thank you!"

Foreman, Construction, Staten Island, NY

"We are considering buying two spray paint booths. One each for spray painting and sandblasting glass. We'll be attaching these to our new warehouse dock and have them extend out into a exterior bay. We will be creating a platform for them to sit on in that bay. We want to have commonly-available filter sizes and type for the air equipment as well as good lighting."

Facilities operator, Manufacturing, Algona, WA

"We need a spray paint booth for applying acrylic-based clear coating to fine art reproductions. Our prints vary from very small to as large as 12' W x 54" H. This booth doesn't need to be very deep since the art is on canvas. I don't have a big budget so would prefer spending $2,000 or less if possible. Booth to be installed in a flex space warehouse."

Owner, Art services, Bozeman, MT

"Facilities currently have no HVAC, so a heating/cooling system will need to treat air coming into the booth like it would a seperate building. The booth is proposed to be installed in a truck parking bay. A long series of hooks, or a long coat rai,l will need to be installed along the 20' side to support all the fiber-glass poles being repaired & painted."

Office manager, Construction/General contracting, Scottsdale, AZ

"Global finishing solutions select semi-downdraft spray booth, powder coated, 2 wing entrance door, 10'x9'. 10 4-tube light fixtures, one personal door w/ observation window, 34" exhaust fan, 3HP 3-phase exhaust motor, 12,000 CFM, 2 obv. windows, plenum for future heater, roof flashings, and prices for direct fired air replacement system."

President, Automotive services, Thomasville, GA

"We manufacture overhead traveling bridge cranes and handle these cranes by lifting and moving them with our own overhead traveling bridge crane. We are trying to locate a booth design with a top slot that will allow our crane cables to enter down the length of the booth and exhaust out of the top through our roof."

Foreman, Construction, Medina, OH

"We're a retail merchandise supplier. We construct much of the products we supply as an in-house prototype to form our rapid prototype equipment. Many of the prototypes require Powder Coat, which must go outside for processing. We would like to control and run the powder coating process in our own engineering lab."

Manager, Retail, Cupeper, VA

"This booth is for a University's architecture program. It will be used mostly for spray paint, but also for finishing furniture and architectural installations. We are located in a basement and will probably need some custom work to make this fit due to existing HVAC and plumbing."

University headmaster, Non-profit, Ringgold, GA

"Utilizing HVLP spray guns to spray Dow Corning 1-2620 low VOC conformal coating substance onto PCB (electronics assembly). Inquiry on bench spray paint booths with a variety of fumes, filtration configuration generated from substance use, and spray method if information is available."

CEO, Business services, Kennewick, WA

"The spray booth is for my client and will primarily be used for the finishing of furniture. It will be installed in a cellar. I am concerned about obtaining adequate exhaust & make-up air in this proposed location. I appreciate your advice."

Consultant, Business services, El Paso, TX

"We have a semi-downdraft booth. We would like to know if you can provide information/equipment to change over to a modified downdraft booth? We would buy the required materials from you."

Administrative assistant, Automotive services, Cambridge, MA

"We need the booth to be modular for ease of relocation. Spraying Chromium VI primer, needs to have breathing air supply for operator. Also, HEPA filtration exhaust required and should be capable of environmental control inside booth. Temperature requirements: 73F+/-5 deg.); humidity: rH% 35-55."

General manager, Manufacturing, Davisville, MO

"I spray gelcoat and final paint work on fiberglass model radio controlled boats. The boats are typically 50" and I usually hang them in order to clearcoat the entire hull."

Owner, Retail, Laguna Niguel, CA

"To be used for spraying small panels in a color formulation laboratory. Either need one large booth able to handle 4 spray stations or individual spray paint booths. Most cost-effective solution is essential. Will consider used equipment."

Researcher, Non-profit, Lafayette Hill, PA

"Powder coating of tubular steel auto. chassis. Prime + base/clear spray painting of fiberglass body panels. Also seeking media blasting booth and equipment for prep./stripping of chassis."

Auto body specialist, Automotive services, Clayton, OH

"The booth would be used to cure resins and would be required to reach 250�F. Ventilation is not necessary due to the method of material processing. Dimensions given are approximate; other dimensions may also be considered."

Manager, Business services, Round Rock, TX

"We will utilize the two spray paint booths for finishing work on guitars. Each booth will need to be OSHA approved with a ventilation and fire suppression system. We use water-based and nitrocellulose lacquer, paints and stains."

Partner, Retail, Hartford, CT

"My paint booth has to be long enough to fit an extended cab long box truck. If applicable, should be wide enough to comfortably walk around and spray. Also needs several filters and a high output crossflow exterior exhaust fan."

Operations coordinator, Trucking, Haltom City, TX

"The main things we require are lights and a filtration/vent system. We are looking into using only water-based paints as well. If there is a difference in spray paint booths, please provide quotes for both."

General manager, Automotive services, Miami, FL

"We are looking for a booth in which we can disassemble gasoline meters which will have some residual gasoline in them. Our primary concern is safety and minimizing exposure of nearby people from the fumes. "

Head foreman, Construction, Nutley, NJ
Spray Paint Booths Advice
Spray Paint Booths Basics
Spray paint booths are enclosed, ventilated structures used to paint large vehicles, furniture, and picket fences for homes. A spray painter relies on these booths for just about any job that allows them to move around freely and safely.
The booth operator uses lacquer-based paints in a pressurized paint container (or paint gun) that operates on compressed air and tubing. You can select a manual or automatic setting to apply an even coat of paint onto the surface. The booth itself uses a high-quality filtration process to confine paint particles and debris from the finish.
The type of spray paint booth you need for your business depends on what you will paint. There are various considerations for system layout, enclosure, airflow, lighting, and filtration. You need to consider how many units you can work with on a given day from start to finish including drying.
Points to consider:
What primary tasks will you be using this paint spray booth for?
What type of spray booth are you interested in?
What size requirements for your spray paint booths do you have?
What is your estimated budget?
Will you need assembly & installation services?
What is your estimated budget?
Do you have any special requirements for your paint spray booth?