Try Our Free Price Quote Request Tool!
Systems Furniture Prices
Visitors to B2B Exchange know that it helps to have the right features and a brand that will be there for you, but at the end of the day the price you pay for systems furniture will be among the most important parts of the decision. That's why we've assembled actual prices paid for systems furniture, straight from our users. Use these figures as a guide as you figure out what to pay during your negotiations.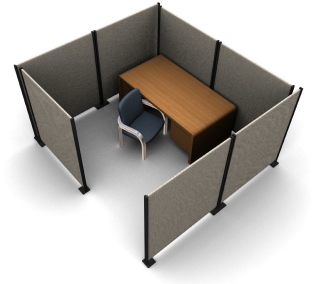 "1 HMI A02 C Cubicle with accessories (2 task lights, 2 overhead storage, 2 filing cabinets, 1 pencil tray, 1 tackboard, 1 tool bar tray with vertical file), 1 curved corner work surface and 2 rectangular work surfaces, freight charges, labor charges = $2,473.87"

Administrative Assistant, Government Agency, Bothell, WA

"30 work stations, cabinets, chairs, large cubicle, reception desk with glass, approx $48,000."

CFO, Transportation/Logistics, Rosedale, NY

"Under $2000 for like 8-10 panels, delivery and set-up"

Office Manager, Consulting, New York, NY

"$2500 for four cubicles to accomodate an 18 x 18 sf office space."

Buyer, Construction/General Contracting, Tampa, FL

"$345 / station delivered, installed, after taxes, for 3' x 4' x 66" refurbed telemarketing stations."

Marketing/PR, Travel, Shawnee on Delaware, PA

"Herman Miller panels. Some panels included glass sections at a very competitive price. Total cost of our system: $2,873.49 "

Sales/Business Development, Business Services, Spring, TX

"Approx. $13,000. Desks, panels, pedestal units, overhead bins, bookshelves."

Human Resources, Health Care, Portland, OR

"Approx $3,000 per cubicle for 3 cubicles - includes a 48" flipper shelf, 36" regular shelf, 6'x7' cubicle, set up to handle the electrical connection, power pole; 2 sets of drawers for each cubicle (box, box, file and a file, file)."

Office Manager, Insurance, Columbus, OH

"$6000 for 9 6' x 8' Steelcase cubicles (installed), 8 chairs, and four lateral file cabinets, and removal of old furniture."

CEO/President/Owner, Financial Services, Wayne, PA

"Herman Miller - 2 pre-owned cubes plus files/keyboard holders/drawers/overhead storage. Includes installation & delivery & on site visit to calculate measurements. In person on site 2nd visit to confirm computer drawings. Total price $5000."

Buyer, Government, Hillsboro, ND

"$25K which included 20 cubes, 20 task chairs, two executive offices, 6 side chairs, conference room set, kitchen tables and 8 chairs, instalation and removal of old set up."

Sales/Business Development, Telecom/Utility, Waltham, MA

"10 Moda cubicles with partial glass, above storage compartments, below storage pedestal AND 3 custom wall partitions two of which are partial glass. Total with installation, delivery and tax is $16,943."

Office Manager, Non-profit, San Francisco, CA

"For ~$1500 I got 6 workspaces, a file cabinet, 2 chairs, 3 overhead hutches; Steelcase, used."

CEO/President/Owner, Health Care, Saint Charles, MO

"$1550 Hon used. Partitions and counters, overhead cabinets and desk drawer."

Purchasing Manager, IT Services, Los Angeles, CA

"I purchased 3 new Cherryman L desks and lobby furniture for $3000, 6 used Steelcase 6x6 cubicles for $6000, and 2 used Holga 4 drawer lateral files for $1000. All prices include tax, delivery, and installation."

CEO/President/Owner, Financial Services, Sun Prairie, WI

"$3,200 for 10 cubicles (2' x 4' x 53"H). Includes delivery, installation of refurbished and as-is panels."

Accounting/Finance, Computers - Software, American Fork, UT
"$203/month lease payment for 5 years plus $790 for annual service contract. The service contract includes 60,000 B&W copies, toner, drums, and staples. We purchased was a C352 copier with scanning, stapling, and printing capabilities in both B&W and color."

Office manager, Hospitality

"Canon - color - finshing stapler, network. Paid $8,000 with toner and paper included in contract."

Administrative assistant, Non-profit

"$4,960 and $750 for initial set-up kit."

Office manager, Education

"$15,000 with nearly half of that being advertising trade on our TV and Radio stations in markets that power businesses and sell business equipment and supplies."

Wholesaler, Manufacturing

"Color copier was leased for $200 a month. Features included duplex copying, frame erase, sorting, interrupt feature, bypass tray, and large capacity trays. Service and toner supplies included in cost."

Office manager, Non-profit
Shop for Systems Furniture
There are a variety of options for you to explore as you think about buying a systems furniture. Auctions, e-commerce and request for quote services all provide you a way to evaluate different models, talk to dealers and ultimately figure out what�s best for your systems furniture needs. Check out the links below for some of the best resources on the web when it comes to shopping for systems furniture.
Online Shopping
Auction Sites
Straight Talk From Systems Furniture Buyers
The Internet has enabled the wisdom of the crowds like never before. B2B Exchange brings that wisdom straight to you by collecting the comments and questions of other systems furniture buyers as they tackle business purchasing head on. If you're not sure what to be looking for in your next systems furniture, check out the most common thoughts, fears and ideas shared by your fellow business purchasers.
"The office area is linear 21 feet 6 inches long and approximately 8 feet 6 inches wide for the three panels to fit in. I would like work space (like a desk top) that fits in at least two sides of the panel. There is a back wall 21'x6" and two side walls on the ends of the space that would be suitable not to have panels on. I would like these cube areas to be as private and modern looking as possible. I'm looking for a hanging storage unit as well as filing cabinet(s) for the three cubes."

Partner/Principal, Real Estate, Colonial Heights, VA

"Workstation dimensions, side materials should be either 5/8 or 3/4 plywood (preferably oak) with a sealer and stain. The desktop can be pine with laminate on the top and front edge. If I intend to put printers above workstations, the shelf should be wide enough to accommodate printer depth. A 3-inch hole should be bored on both sides of the workstations to allow cables to be run from one end to the other."

Buyer, Health Care, Milford, CA

"We need three 4' work stations, 24" deep with at least 30" privacy panels between each station. We have a 12' wall space where we intend to install these. Also, we need you to arrange installation. Thank you."

Marketing/PR, Advertising Agency, Los Angeles, CA

"Want to set up 9 staff members in a large open room with high visibility into each office so they can see each other and see wall monitors that track our key metrics. Each "cube" will have one or two PCs, phone and normal office set up."

Office Manager, Computers - Software, Gardena, CA

"Looking for used. No need for desks, filing cabinets, etc. Room is 160" by 172.5" with door in a corner and both walls on the 160" not usable, so cubicles could be up to 61" by 49" such as two panels of 61" in the middle of the room attached to the wall with two 49" panels in the connection of the two 61" panels and two 49" panels in the other end. I would consider buying just used panels and new connectors."

CEO/President/Owner, Wholesale, Bluffton, IN

"We have a 12' x 22' room which needs to accomodate from 4 to 8 people. Do you have an arrangement where ther would be one long middle wall with 4 workstations on either side? It would be nice if each person had a 18"x 3' or 4' work area as well as room for their computer monitor."

CEO/President/Owner, Manufacturing, Buffalo, MN

"Need medium to dark gray partition 68" tall. One - 5' long, one - 2' or 3' long and the other wall needs to be 10'4" long. Also need brackets to attach one end of the the long wall to a sheet rock wall and the other end to an existing partition. Also, need a bracket to attach one end of the 5' wall to existing partition and whatever is needed to attach the 3' to the 5' at a 90 degree angle."

CFO, Non-profit, Glen Cove, NY

"Need one free standing wall and a free standing l shaped desk system maybe 3'-5' x 7' or somewhere around that size. 6' wall from back wall into room, then 8' across room with l shaped desk, with overhead cabinet and light, transaction shelf o the 8' side and two 2 drawer under desk cabinets."

CEO/President/Owner, Financial Services, Irvine, CA

"I don't need cubicles, I need free standing panels with the option to drill into the wall or additional T panels for support. We need approximately 30 of these free standing panels. 5 of them should be 5ft tall and 25 of them should be 6 feet tall. I do not know the possible widths which will obviously change the amount of panels needed. Thank you."

Buyer, Education, Holmen, WI

"We are having a 6000 to 7500 sq. foot building being built for admin/office/warehous. We will also be having three buildings of approx 1800 sq ft for classrooms that will need tables and chairs for students. We have an existing building that will also be used for office space for instructors. Will need to fit as many instructors in the office areas."

CEO/President/Owner, Information Services, Dedham, MA

"I would like a 4'x4' 2-sided work station with one side being clear from the desk up the other side something washable... perhaps a laminate The back side and one side open... perhaps an 8"W shelf above the desk."

Office Manager, Health Care, Traverse City, MI
Read more about Systems Furniture:
Systems Furniture Advice
Systems Furniture Basics
The common cubicle, often referred to as "systems furniture", helps eliminate noise and provide workers with individual, private workspaces. You can customize the look and feel of your systems furniture and provide everything employees need from electric outlets to ample storage space.
Most systems furniture is panel-mounted with a few walls and desks and file cabinets mounted directly onto the panels. You could also buy a freestanding unit — separate panels placed around your furniture to create your cubicle or to partition space with divider walls.
Systems furniture has also progressed way beyond the standard, drab cubicle that is so often envisioned in an office environment. Office furniture dealers can provide you with cubes and panels in a wide array of colors and options, which also could include low divider walls (to encourage communication), wood and/or glass design – of course, the fancier models are more expensive but, if desired, you can use systems furniture to give your office environment a very fresh, modern feeling.
In terms of pricing, you can save considerable dollars on your systems furniture purchase with remanufactured cubicles. Vendors inspect all parts of the cube and make necessary repairs. After checking for quality, they attach a warranty to the unit. And just because a cubicle is used doesn't mean you can't customize it. You can still select the brand and model and furnish it with your choice of fabrics, colors, and other features.
Points to consider:
How many cubicles or modular units do you need to install?
Are you also looking for other office furniture (chairs, desks, tables, file cabinets, etc?)
When would you like your new cubicles to be ready for use?
What size requirements do you have for each unit?
What is your estimated budget per unit (least expensive units start around $1,000)?
Would you consider refurbished systems furniture?