Try Our Free Price Quote Request Tool!
Utility Vehicles Basics
Utility vehicles are becoming popular in many different applications, both as transportation and for hauling cargo. Usually, a utility vehicle is simply a golf car with a bed hitched to the back for hauling equipment and supplies. However, some manufacturers can design them from scratch to transport heavy-duty materials, drive over rough terrain, or carry additional passengers.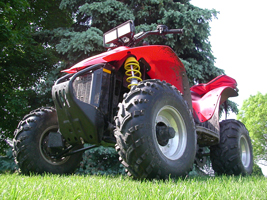 Commercial and industrial businesses use utility vehicles to haul materials and commute from location to location. Some heavy-duty utility vehicles can carry extremely heavy loads, while still fitting into smaller spaces than a standard fork truck. For farm or ranch work, a trail utility vehicle can transport hay, seed, and fertilizer with ease.
Consider your needs before purchasing a utility vehicle. Make sure it has the features you're looking for, but doesn't exceed what you can afford. Visit multiple dealerships to in person and ask to see their service and parts departments in action to get a feel for how they do business. If possible, work with factory-authorized utility vehicle dealers. Since they carry multiple brands, they have easy access to OEM parts and can provide quality factory training for their repair technicians.
Other utility vehicle terminology
As you shop for a utility vehicle, you may come across several terms for different types of vehicles. Not every manufacturer uses these terms the same way, but here are some general types:
Commercial utility vehicle: Similar to standard golf carts, but with larger engines, higher suspensions, and knobbier tires for more demanding applications.
Industrial utility vehicle: Designed for use in industrial applications – can include hauling equipment and supplies or people.
Personnel carrier: Used foremen and managers to quickly get to far-away locations on job sites to make sure business is running properly.
Burden carrier: Extra heavy-duty hauler, can carry up to several thousand pounds.
Related Articles - September 2010
Golf Carts and Utility Vehicles Buyer's Guide
The information you need to purchase the smallest golf car or the largest industrial vehicle. (Source: BuyerZone.com)
Utility Vehicle Musts
Options abound for these grounds care workhorses. Which ones are essential for efficiency and success? (Source: Maintenance Solutions)
All-Terrain Utility Vehicles
Tough vehicles for outdoor hauling and transportation. (Source: Mother Earth News)
Utility Vehicle Product Comparison
Detailed specs on 10 popular utility vehicles. (Source: AgrAbility)
Points to consider:
What will be the primary use of your utility vehicle?
What is your drivetrain preference?
Do you have a preferred seating capacity?