Try Our Free Price Quote Request Tool!
Video Surveillance Prices
Investing in a trustworthy, reliable video surveillance system can make your business safer and protect it from theft and accidents. Depending on your surveillance needs, prices may differ greatly. That's why we've collected prices directly from our users for a variety of different models and features. Be sure to ask about receiving professional installation.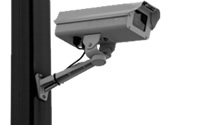 "Our CCTV system cost $3,000. We received eight high definition cameras, cabling, wiring, installation, software, and DVR."

Warehouse Manager, Wholesale, Everett, MA

"$3,350 for our surveillance system, including; three dome and six box color cameras, a 19" color monitor, 250GB DVR with splitter, power supply, cabling, installation, testing, training, and one year warranty on parts and labor."

Administrative Assistant, Manufacturing, Seattle, WA
"$410 for a four camera system with 500GB DVR."

Partner/Principal, Retail, Olney, MD

"$599 for a four camera DVR, network-ready security camera system."

Purchasing manager, Finance, Bangor, ME

"$7,240 for a 500GB, 16 cameras, color DVR with remote client viewing, 17 inch flat screen monitor, six infrared indoor/outdoor auto iris lens cameras and a two year warranty."

Consultant, Non-Profit, Ashville, NC

"$9,800 which included four external cameras and three internal, server with sufficient storage, and labor for install."

President, Travel/Hospitality, New York, NY

"16 channel DVR network with day and night, indoor/outdoor cameras. $3,800 included professional installation."

CEO, Retail, Newark, NJ

"Paid for a 16 camera DVR, 11 cameras, and installation. $4,200."

Buyer, Government, Baltimore, MD

"We paid $8,601. Included in this cost was: installation, four Honeywell 530 TVL 3.8-9.5mm 20IR LEDs mini domes, one Honeywell 17" flat screen LCD monitor, one Altronix 12/24vdc P/S mount, eight fused outputs, one Honeywell Video Articulating Wall Mount Arm for 17/19" LCD; one Honeywell performance series 16ch 1TB DVR; a three camera system, and a 1000' power cable for long runs."

Office Manager, Retail, Naperville, IL
Shop for Video Surveillance Systems
There are a variety of options for you to explore as you begin comparing CCTV prices. Auctions, e-commerce and request for quote services all provide you a way to evaluate different models, talk to dealers and ultimately figure out what's best for your website design needs. Check out the links below for some of the best resources on the web when it comes to shopping for a video surveillance system.
Manufacturers & Service Providers
Other Resources
Straight Talk from Video Surveillance Buyers
Video surveillance systems can range widely in available features, capabilities, peripherals, and monitoring options. And as new technologies expand system capabilities, these options continue to grow. We surveyed recent buyers to get a better understanding of the features they were looking for:
"I have a 16 channel analog security surveillance system that I'm trying to upgrade to 32 channel. I understand I will not be able to use the same DVR but I would like to use the existing cameras and add new ones. I also need powerful software with good mobile app for iPhones and ability to view through a browser."

Director, Information Services, Miami, FL

"I am involved in the local HOA and we are looking to put cameras in our clubhouse. We may be able to get by with three indoor cameras and one outdoor camera. At a minimum we will need a 500GB DVR with the ability to access through the Internet. The cameras need to be able to view large areas. Will need the make and model of components and a rough installation cost."

General Manager, Restaurant, Commerce, CA

"I have a large warehouse that I need to install weatherproof night vision cameras along the front corner and one side of the warehouse. Probably around six cameras or so. The warehouse is about 20 feet tall and will need to go about 100-150 feet back from front office where the CPU and monitor will be. I would also like iPhone app capability."

Engineer/Programmer, Other Services, Snyder, TX

"Looking for Wi-Fi cameras to mount in trees. Power will be provided via solar and batteries. Cameras will be about 30 feet off the ground. Pan and tilt will be required as well as audio and color. Router will be provided and located in the cabin. Max communication distance will be about 120 feet."

CFO, Equipment Sales & Service, Pompano Beach, FL

"Outdoor cameras for mini storage area with two 220 x30 foot buildings located side by side and 700 feet from office shop that is 50 x 75 feet. Will want recording and surveillance equipment in office and five to seven outdoor cameras at mini storage, four to six outdoor cameras at office and shop area and two to four indoor cameras in office and shop."

CEO/President/Owner, Retail, Danville, OH

"This system needs to be a combination of fixed wired cameras at a gate for entering and exiting and remote cameras located on existing lighting poles located throughout the community. We need all cameras to be digitally recorded at a base location and the remote cameras should have the ability to pan and zoom."

Consultant, Government, Battle Creek, NE

"We are interested in posting cameras at our entrance and exit gates to our private community. We want to be able to identify vehicles and license plates coming and leaving day and night. We also need to access and review the captured images remotely 24 hours per day. We would prefer motion activated cameras. We need to place them where it would be difficult to dicker with them. Clarity and sharpness are essential."

Admin. Assistant, Financial Services, Aurora, IL

"We have an approximately 7,000 square foot office space we are leasing with only two entry/exit doors. We would like to get a quote for a simple alarm and or video surveillance system for our office. Since we are on a month-to-month lease we want something that is not permanent."

CFO, Retail, Stuarts Draft, VA

"We need a wireless system able to work well in the dark. I need to set it up in the back of restaurants, drive over to the next lot and view in almost real time. It also needs to be able to be monitored over the Internet. The cameras need to be wireless and high quality enough to use in court for identification purposes; faces, license plates, etc."

Owner, Restaurant, Ocala, FL

"We need one camera at each of the three doors and one camera covering the main alter. I want to be able to download the pictures or video on a memory stick to be played on a computer or saved to the computer. It would be helpful if it could be viewed at the main unit with a small monitor but not required."

Admin Assistant, Non-Profit, El Cajon, CA
Video Surveillance Buying Advice
Read more about Video Surveillance:
Purchasing a video surveillance system can be a complex process. It is important to work with your vendor to identify your current and future needs, and find a flexible solution which meets both. Start with our free price quote request tool to connect with qualified vendors.
Points to consider
What type of a business do you need a video surveillance system for?
How many cameras do you need?
Will the cameras be installed inside, outside, or both?
Will you need audio recording?
What is your estimated budget?
Are you interested in purchasing or leasing your CCTV system?