Home > Storage Containers > Shipping Containers
Average costs for shipping containers: dimensions matter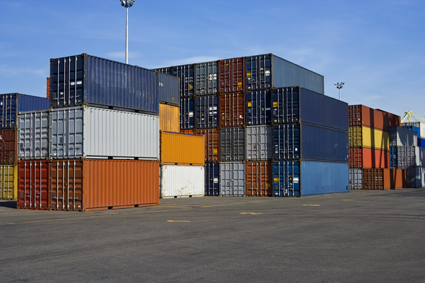 Aside from air freight, shipping containers are one of the most popular methods for transporting goods and services overseas. In fact, they're often the preferred method for bulk quantities and heavy or oversize items due to their extreme affordability, especially when compared to other modes of shipping. And no matter what your size requirements, you can probably find a shipping container with the dimensions you need.
A shipping container, also known as an intermodal container, freight container, ISO container, hi-cube container, Conex box, or even a "sea can," is a standardized reusable steel crate that provides a durable and secure way to store and move products by train, barge and other means of transportation within the "intermodal" freight transport system. The term intermodal is simply a way of referring to a container that doesn't need to be unloaded and reloaded on each stop between originating and final destinations.
Most containers have two doors hinged onto one end and are constructed of corrugated weathering steel. Usually watertight, they provide extreme durability during transportation and protect valuable goods like electronics, fabrics and other perishables from ruin. Thanks to their standardized dimensions, storage containers can be stacked up to seven units high, and can be secured at each corner through castings that contain openings for twist-lock fasteners.
Types of shipping containers
Many times, having a container that's "usually" waterproof isn't enough, especially when transporting food and similar items. In these instances, variations on the standard container are available and include refrigerated containers, tanks in a frame for bulk liquids, open-top units that allow easy top loading, and even collapsible versions.
In addition, there are a number of special coal carriers and 'bin-liners' that are used throughout Europe for the safe and efficient transportation of trash and recyclables from refuse stations to dump sites.
Costs for shipping containers by size
To provide simplicity, efficiency and cost-effectiveness in the storage and transportation of goods, shipping container dimensions have been standardized, varying from 8 feet to 56 feet long with heights that are typically around 8 feet high. There is a variation in height, with some shipping containers reaching up to 9 and a half feet, but these are the exception to the rule, with most containers adhering to the 8-foot limitation. There are five standard lengths: 8 feet, 10 feet, 20 feet, 30 feet and 40 feet.
Depending on what you're shipping, it's often far more affordable to buy a used container with an acceptable level of wear, as most containers will stand up to the rigors of the shipping process for a decade or more. When evaluating the difference between the two options, here's what you can expect to pay based on current offerings and reported purchase prices from around the web:
8 Feet – Though not in high demand, a new 8-foot shipping container typically starts at around $1,500, with used containers that can be found for $600.
10 Feet – New 10-foot containers run anywhere from $1,800 to $2,400, with used containers starting around $750, depending on the number of trips logged.
20 Feet – One of the two most popular sizes, a new 20-foot container ranges between $3,100 to $3,400, with used models starting at around $1,600 and going up to $2,900.
30 Feet – Though rather difficult to find, a new 30-foot cargo container can cost anywhere from $3,700 to $4,200, with used options that range from $2,200 to $3,700.
40 Feet – Another one of the two most popular sizes, new 40-foot shipping container prices start in the neighborhood of $4,600 to $4,960 and go up from there depending on refrigeration and other add-ons. Used models can be found starting at $2,800 and can be as expensive as $4,500.
It's important to note, especially when buying online, that most prices do not include the cost of delivery which will need to be negotiated and arranged between buyer and seller. If you're located far away from the container you're purchasing, you can expect a significant delivery charge. Keep in mind that it's almost always more cost effective to have it delivered on a flatbed truck as opposed to a tilt-bed truck due to the prevalence of flatbed trucks.
You'll need to arrange for either a forklift or crane at the delivery site to offload the container. And don't forget to inspect your container upon delivery to ensure it wasn't damaged during delivery.
How used is that shipping container, exactly?
Though new shipping containers typically contain no flaws or dents, the same cannot be said of used containers. And the prices you see above reflect the age and condition of that container, specifically how many trips it's been used for. As a result, the condition of a used cargo container is the direct result of its age, with older containers reasonably expected to have logged more trips.
Specific dimensions that contribute to pricing also include:
Miles traveled – Some containers may have been used for storage or spent more time in ports, so pay attention to the miles traveled when evaluating used containers. The fewer miles, the better.
Handling and exterior appearance – Containers undergo a range of abuse at the hands of crane and forklift operators. This resulting damage may compromise the container's seal or allow rust and corrosion to begin taking hold on the frame or even within the interior of the cargo container itself.
Cargo transported – What was the container used for? There's a huge difference between hauling electronics and food items. If anything spilled within the container, it may have left a residue that could saturate clothing or other similar items.
Environment – Where has the cargo container spent most of its time? Certain environments are far more destructive (humid or icy climates would be two examples) while more moderate locations are show to result in less wear and tear.
Availability – Shipping containers of certain dimensions can be particularly hard to find: 8, 10, and 30 footers are massively outnumbered by the 20 and 40 footers that dominate intermodal shipping, and so they may be more expensive relative to their size.