Try Our Free Price Quote Request Tool!
Time & Attendance Systems Prices
Visitors to B2B Exchange know that it helps to have the right features and a brand that will be there for you, but at the end of the day the price you pay for time and attendance systems will be among the most important parts of the decision. That's why we've assembled actual prices paid for time and attendance systems, straight from our users. Use these figures as a guide as you figure out what to pay during your negotiations.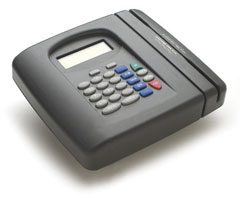 "The time and attendance systems cost $5,000 total including clocks and software. We did not buy maintenance or installation."

Office Manager, Health Care, Tempe AZ

"$1200 Biometric hand scanner and attendance software that will interface with our accounting software"

Office Manager, Media/Entertainment/Publishing, Humble, TX

"Instead of full time and attendance systems, we were looking for just software. We paid $450 for software only...bare bones because we are a staff of twelve. Jerry Friedman was the first to call and set up appointment, local company and no pressure approach. The timeliness and professionalism of the install added to our satisfaction. Jerry Friedman went the extra mile and telephoned our payroll service to determine a solution for transmitting the info. He negotiated an interface - unique to us. "

Human Resource, Education, Platte City, MO

"We paid $400.00 for a time clock that gives us all the reports we need, will hold up to 100 employees with no additional charge, and has the pin entry feature so we do not need any employee to have a swipe card of any kind. I think out of all the time and attendance systems this one makes the most sense for my type of business, which is a retail store."

Consultant, Business Services, Las Vegas, NV

"I only have a small staff, and the purpose of the time recorder is simply to keep track of time worked. Therefore, I do not need a sophisticated machine. I ended up buying Lathem 1000E for $230.00. Many thanks for your referrals. They offered a variety of products, but they are too advanced for my needs."

Facilities/Operations, Wholesale, Los Angeles, CA

"$3000 for a system that included desktop software and web based time and leave software with a module designed specifically for our payroll system."

Accounting/Finance, Wholesale, Chinook, WA

"We were looking at several time and attendance systems but went for the company that offered the best maintenance agreement. It cost $2,835.00 for an Infiniti Time clock, software, and software maintenance agreement."

CEO/President/Owner, Insurance, Crestwood, KY

"$5,968.39 for 4 IPS300T clcocks, application server, 300 employee module, setup, training, IT/hardware support included."

Facilities/Operations, Non-profit, Bay City, MI

"$500.00 software with single-user license. With 30-day service contract. TimeClock Plus small business edition, one of the time and attendance systems that was recommended to me by a family member in the business."

General Manager, Health Care, Osseo, MN

"$588 for a Steel Heavy Duty LCD time clock with register style printer, along with a Steel Heavy Duty relay timer system plus two day air shipping."

Accounting/Finance, Non-profit, Houston, TX

"$349.95 Included hardware, 90 day tech support, no maintenance agreement, one year warranty. I also made several calls to customer service departments to check on level of service, hold times, etc. I was comfortable with this vendors level of Customer Service. Overall we're happy with the switch to time and attendance systems rather than keeping manual track of our employees."

Buyer, Manufacturing, Amelia Court House, VA

"Amano MTX-15 Badge or Pin Entry Time Clock System Item # 974739 includes 50 cards and everything needed to hook up timeclock. Compatible with Quickbooks and many other payroll systems. $299.99."

Office Manager, Non-profit, St. Paul, MN

"$599.99 Small Business Edition. Included CD, manual, tech support, money back guarantee, etc."

Accounting/Finance, Manufacturing, Rupert, ID

"We chose one of the higher-end time and attendance systems, which cost us $4300. We chose to purchase a time clock plus software from one of your suppliers."

Administrative Assistant, Manufacturing, Albion, NY
"$203/month lease payment for 5 years plus $790 for annual service contract. The service contract includes 60,000 B&W copies, toner, drums, and staples. We purchased was a C352 copier with scanning, stapling, and printing capabilities in both B&W and color. The other time and attendance systems companies didn't offer such a service contract so we decided to hold out and actually chose the last supplier that contacted us."

Office manager, Hospitality
Shop for Time & Attendance Systems
There are a variety of options for you to explore as you think about comparing time and attendance systems. Auctions, e-commerce and request for quote services all provide you a way to evaluate different models, talk to dealers and ultimately figure out what's best for your time and attendance system needs. Check out the links below for some of the best resources on the web when it comes to shopping for a time and attendance system.
Auction Sites
Other Resources
Manufacturers
Straight Talk From Time & Attendance Systems Buyers
The Internet has enabled the wisdom of the crowds like never before. B2B Exchange brings that wisdom straight to you by collecting the comments and questions of other time and attendance system buyers as they tackle 're not sure what to be looking for in your next time and attendance system, check out the most common thoughts, fears and ideas shared by your fellow business purchasers.
"We operate a Boat Rental Business in Austin, Texas. We are a seasonal business, with approx. 10 - 15 employees during a 6 month season. The emplyees are outdoors/on the water 99% of the time. The employees would only enter the office to check in/out or pick up supplies/keys/radios. At present, we have been using a simple, old-fashioned piece of paper and pencil and trusting the staff member to be honest about what he/she writes down. The time has come where we're just too busy for this manual process, and have been considering comparing time and attendance systems prices. We have a payroll service (B of A) and pay these kids weekly. We do utilize Quickbooks for our accounting."

Owner, Boat Rental, Austin TX.

"The time and attendance systems need to be able to round to quarter hours. 24 hour military time options needed and/or AM/PM for 24 hour period. Total needed by day, week, and bi-weekly pay period totals. Failure to punch in and/or out error notice capabilities. Ability to program settings for other types of time such as training hours a(which are paid in addition to but inclusive of the punched time)."

Operations Manager, Contracting, Indianapolis IN

"Would prefer an exception based system — only enter time if it is different than a standard work week for that employee. Are there time and attendance systems that are capable of doing this? Would need supervisor approval for all time/exceptions worked. Would like it to be able to integrate or have a downloadable file to a separate payroll system."

General Manager, Maintenance, Wilmington DE

"We work off a server. We remote in. We are looking for very simple time and attendance systems software = clock in and out. Need to be able to print time sheet — to include — regular hours, overtime, travel time, vacation, holiday and sick time. Relatively low cost. Would like prices for warranty, customer support? Monthly fees? Annual fees etc."

CEO, Billing Services, Philedelphia PA

"We are looking a for a single basic time clock system that will assign up to 150 employees a job code (which they are already use on a DCSI system) so that we can simply record each employees 30 minutes lunch clock out. We just need to export it to an excel file that I can setup my running the unit to the server."

Owner, Agriculture, Pittsburgh PA

"We want management to be able to clock out employees manually if we need to, be able to print out reports such as hours worked etc., that we can supply to our payroll company, we do not want anything with ribbons or timecards as we would like to go paperless, something easy to use and program."

Sales, Non-Profit, Marana AZ

"We're looking for time and attendance systems that can track about 32 employees as they come in/out from our summer day camp. Especially to see if staff are sneaking in late — it gets so busy and hectic and staff spread out to many areas of camps it gets hard to track if they are truly arriving on time."

Camp Director, Summer Camp, Carmel NY

"Must be able to upload to Ceridian pay system. Nice to have it work with existing prox cards at one site but different cards at other sites. Web services for others. Easy reporting. Accruals tracking. Vacation/time off approve/decline. Local support would be nice."

CEO, Agriculture, Gainesville GA

"Want prices on time and attendance systems that will assist with cutting down on overtime hours and will not permit employees to clock in early and will require a supervisor override when they clock out late. Also want to be able to have reports that allow tracking with various input dates."

Administrative Assistant, Industrial, Amite LA

"Looking for a system to track non exempt employees at multiple sites including in/out times for lunch. Not interested in adding another card, would prefer not to involve our IT department so the web based system might be better suited to our needs. "

Engineer/Programmer, Non-Profit, : Palm Coast FL
Read more about Time and Attendance Systems:
Time & Attendance Systems Advice
Time & Attendance Purchasing Overview
A time and attendance software package helps make your business more efficient by automating day-to-day tasks such as tracking work hours and calculating benefits accrued. Instead of manually managing paper time slips or punch cards, these systems automate the entire process allowing you to manage employee attendance time while avoiding mistakes.
One of the biggest concerns for businesses is "time theft." This is when employees overstate how much time they actually worked. Rather than trusting an honor system, time and attendance systems can accurately report how long staffers work and when they take breaks. It also helps put an end to "buddy punching", which is when employees enter time for fellow workers who are out of the office.
Another measure that can help keep employees honest is a biometric time clock. These devices can confirm the right person is logging in and out by checking fingerprints or handprints. For maximum security, you can combine a biometric time clock with an iris scanner to further discourage time theft.
Basic timeclocks provide routine time tracking of employee log-in/log-out times. These packages can help your business with scheduling, forecasting labor needs, tracking tardiness, and determining patterns of lateness and absence. For larger businesses, more complex time tracking systems feature increased functionality and more robust reporting.
Look into several different companies and brands of time and attendance systems, because prices can range widely between brands and vendors. Find out how long they have been in business. This usually indicates that they will be around if you have problems or concerns with your purchase. It's also helpful to find a vendor with experience in your industry. The vendor may be able to offer you solutions that worked for businesses like yours.
After you select the employee time and attendance system that works best, make sure the vendor provides full training for your staff.
Other Time and Attendance terminology:
As you shop for a time and attendance system, you may come across several different words and phrases that may not seem familiar. Among these terms:
Time and attendance systems: (also called "computer time clocks", "electronic time clocks", "payroll time clocks", "time keeper", "timekeeping systems", "time keeping systems")
Electronic time cards: Computerized version of paper time cards that employees transmit online and managers digitally "sign".
Time and attendance software: Collects employee time data and enters the information into a database for payroll processing and reporting. (also called "time clock software", "time keeping software", "timekeeping software", and "timesheet software")
Time attendance: Lets employers know how many hours their workers put in
Time card machine: Punch clocks for businesses that require employees to insert individual cards into the machine to stamp when they arrive or leave. (also called "time card system", "time clock systems")
Time keeper: Manages the amount of time workers spend on the job.
Time recorders: Tracks employee costs and labor time and time stamps documents.
Points to consider:
How many employees will you track with your attendance system?
How many locations will time and attendance systems will be needed?
Do you have Internet access at some (or all) of these locations?
What extra functionality, if any, would you like your system to include (scheduling integration, payroll compatibility, tracking multiple employee or department classes by group, report generation, etc?)
What type of data collection method would you prefer (time clock with software, biometric system, swipe card, numeric keypad, etc?)
How soon do you need a time and attendance system installed?
Will you add additional employees to the tracking system during the upcoming year?