Home > Hot Tubs > 2 Person Hot Tubs
Which brand makes the best 2 person hot tubs?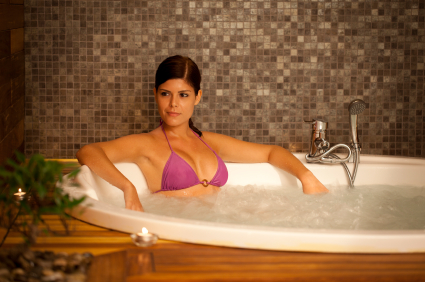 Whether you're looking to install a hot tub on a small patio or in the bathroom of your home, 2 person hot tubs provide the same great level of relaxation as their larger counterparts but also have the added benefit of taking up considerably less space and often requiring less energy consumption.
Similar to the larger models, each manufacturer includes a series of unique features that may make one more suited to your personal needs than another, including interior dimensions, weight and a plethora of extra bells and whistles.
Comparing Caldera, Sundance, and ThermoSpas tubs
When comparison shopping, three brands to consider at the top of your list should be Caldera, Sundance and ThermoSpas. Leading the industry for decades, these three manufacturers have refined 2 person hot tubs to make them as economical as they are relaxing. And when stacked up against each other, here's how they compare.
Caldera Spas Aventine
Created especially for confined spaces, the Aventine is a 2 person hot tub that's designed to fit neatly into a corner. With dimensions that measure 5'4L x 5'4W x 29"H, this space-saving spa holds 150 gallons of water and features 14 hydromassage jets. It includes a 3.5" to 2.5" tapered, 1.5 lb.-density foam core insulating cover for preserving heat between uses to save on costs. Caldera 2 person hot tubs are also available with optional upgrades that include an integrated MP3 sound system, wireless multi-source sound system and wireless TV, enabling you to engage with your favorite entertainment as you relax. Reviewers have cited the Aventine from Caldera as 'easy to maintain' and have also credited Caldera for a superior level of service when problems or questions arise. One buyer reported that his Caldera Spas Aventine cost about $4000.
Specs
Costs about $4000
Triangular in shaped for corner locations
5'4x5'4
150 gallons
14 hydromassage jets
Includes insulated hot tub cover
Optional upgrades:

MP3 stereo system
Wireless TV
Sundance Spas Dover
Sundance went for a crowd-pleaser with this model and from the consumer reviews seems to have hit the mark. Featuring a beautiful AquaSheer waterfall, LED-lighted footwell, molded beverage holders and jet variations, the Dover also includes the popular Accu-Sage therapy seat, the equivalent of a hydrotherapy spa session, according to online reviews. Sundance 2 person hot tubs measure 5'9"L x 6'10"W x 30.5"H, and operate with 300 gallons of water delivered in a pulsating massage through 22 powerful jets. The one catch is that, although the design specs state that the Dover can accommodate two or three adults, three is reportedly a bit crowded. In addition, the unit is available with optional stainless steel trim, ideal for matching existing furnishings in your bathroom or patio. Buyers reported the Sundance Spas Dover cost them between $5500 and $6500.
Specs
Costs between $5500 and $6500
5'9"x6'10"
300 gallons
22 jets
Waterfall
LED lighted footwell
Accu-Sage therapy seat
Optional:
Stainless steel trim
ThermoSpas Gemini
Designed for luxury, the ThermoSpas Gemini model includes built-in pillows and extra leg room to accommodate tall users, enabling practically anyone to stretch out and sit deeply in the spa's relaxing water. Ideal for personal relaxation, though perfectly capable of handling two users simultaneously, the Gemini measures 6'8"L x 4'W x 31"H. At 175 gallons, the economy continues with its water requirement – a feature that is slightly greater than Caldera Aventine but almost half that required by the Sundance Dover. In addition, ThermoSpas 2 person hot tubs offer the most jets, incorporating up to 37 water jets and 14 air jets into its pulsating design. Allowing for installation either indoors or out, the Gemini is framed in an elegant cabinet that provides the look and feel of fine furniture, making it an attractive addition to any patio or bathroom. Multiple buyers reported that they were quoted prices of around $7000 for the ThermoSpas Gemini hot tub.
Specs
Costs around $7000
6'8"x4'
175 gallons
37 water jets, 14 air jets
Cabinet exterior
Built-in pillows
Extra legroom