Try Our Free Price Quote Request Tool!
Prices
Visitors to B2B Exchange know that it helps to have the right features and a brand that will be there for you, but at the end of the day the price you pay for a hot tub is among the most important parts of the decision. That's why we've assembled actual prices paid for hot tubs, straight from our users. Use these figures as a guide as you figure out what to pay during your negotiations.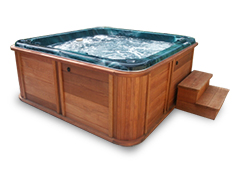 "Hot Springs Caldera. $5,000. 5-6 person. Includes cover, lifter, stairs, 1 bottle silk water product, delivery, class."

Conifer, Colorado

"Sundance Chelsee $8,900, stereo, cover, deluxe steps, towel, scent, booster seat, delivery, installation, 5 year warranty."

Salt Lake City, Utah

"$3,200. Including stairs, chemicals, delivery and set-up, trade in value of 100% within 1 year, hard cover, free water testing forever, etc."

Rollinsford, New Hampshire

"I paid $5,400 for an 8 foot Apollo Spas hot tub. The price includes shipping, movement, installation, cover, cover lift, and 3-tier 36-inch step system."

Port Orchard, Washington

"$3,500 - 5 seater including lounge, 110/220V convertible heating system, 2 HP two speed pump, 12v light with two-color mood lens, poly steel cabinet,30 jets and 14-nozzle turbo blast jet, 2 headrests, and an assist bar."

Rocky Mount, North Carolina

"$13,500 for Catalina CL1300 and 9x9 Tea House gazebo. Includes LED lights, stereo, full width steps, waterfall, ozonator, first chemicals."

Belleville, Illinois

"I paid $5,300 for my Artesian Island Spa. It included 44 jets, led lights, waterfall, cover with hydraulic lifter, and 3 month chemical supply."

Pulaski, Tennessee

"$7,000. Hot Springs Sovereign, Moto-Massage jet, rotary massage jets, water feature, includes G.F.C.I. sub-panel, delivery and set up, shock type cover lifter."

Creswell, Washington

"$8,900. Spa, cover, steps, built in stereo system, delivery and setup, chemicals and filter."

Tulsa, Oklahoma

"Sundance Spa model Optima. We got the Ultimate Package which included the JBL stereo, CD Ozone, Cover, Cover Lift, Smart Steps, delivery and set up, chemicals and accessories like aromatherapy fragrances, drink tray. We paid $12,999 for the total package."

Wichita Falls, Texas

"$4995 plus tax. South seas spa with waterfall, LED lighting, ozone, cover and chemical start-up kit. 3 yr warranty. Cover lifter was additional at $200.00 Removal/disposal of old spa and delivery of new spa included."

Seattle, Washington

"I paid $9,700 and that includes shipping, delivery, setup, plus included the Thermozonator, cover lifter... I bought the Concord Platinum Series, which has 99 jets, enhanced led lighting, 5 pumps, etc."

Williamston, North Carolina
Shop for
There are a variety of options for you to explore as you think about buying a hot tub or spa. Auctions, e-commerce and request for quote services all provide you a way to evaluate different models, talk to dealers and ultimately figure out the best source for your hot tub. Check out the links below for some of the best resources on the web when it comes to shopping for a hot tub.
Manufacturers/Dealers
Comparison sites
Auctions
Straight Talk From
Buyers
The Internet has enabled the wisdom of the crowds like never before. B2B Exchange brings that wisdom straight to you by collecting the comments and questions of other hot tub buyers as they tackle their purchases head on. If you're not sure what to look for in your hot tub, check out the most common thoughts, fears and ideas shared by your fellow buyers.
"I would like my hot tub to be underground. I also want tile to be around it. I want it to match my existing tile on my back porch."

West Chester, Ohio

"I absolutely want 2 pumps, ozonator, multi color LED lights, am/fm/cd stereo w/ ipod option. One side of spa needs to be less than 80", one lounge seat, waterfall, neck/shoulder jets, topside controls, high density foam insulation, lots of jets. Maybe dvd/lcd screen?"

Brownsburg, Indiana

"I would like for it to be portable. I am not sure if I want a "plug and play" or one that requires an electrician. What is the electricity cost for both on a monthly basis? How much on average does it cost to have an electrician hook it up? I am looking for the "Honda" of hot tubs in the $3,000-$4,000 price range."

Stafford, Virginia

"Would like a dual lounger, lots of jets (70 or more), led lighting, foot jets a must, stereo. Spa must be 9ft or larger, ozone, 3 or more pump plus circ pump, stainless steel jet covers, steps, hand rail. Spa is going indoors so easy delivery to garage, need jets for back-neck-calf-hip-wrist-foot. Maple in color, is there a company out there that can step up to the plate?"

Cincinnati, Ohio

"Do I have to put down a concrete slab? I envision a hot tub with decking around it—at least on one side—for easier access. I do not want to walk on the grass. I'm also concerned about a cover to keep out leaves and bugs. I would consider a used tub if it meant hotter water. I do not want lukewarm."

Houston, Texas

"I have osteo spinal / hip arthritis (aka AS)...so powerful heated water jets on neck, spine, and hip are very helpful. Are there discounts if recommended by an MD? Thanks."

Red Hook, New York

"We are looking for a hot tub that we can add to our current pool as a freestanding unit, partially inset and something we can cover with an attractive stone or other covering to match our pool. # of jets - unsure but needs to be good for back and neck therapy."

Lake Worth, Florida

"NEEDED: Sanitizer system other than BROMIDE (smell), if available, Hard spa cover, maintenance free exterior (never needs painting or staining). Jets: 50 to 80 with rotation pulsating on some especially on the lower back, blower. 240 volt. Delivery with setup (remove current spa) all wiring is in place already for new spa. NOT NEEDED: entertainment center, waterfall, stairs, OPTIONAL: ozonator, sealed bottom to keep out vermin."

Grand Prairie, Texas

"I'm not interested in tons of jets, tvs etc. I'm only interested in a quality tub that won't break the bank when the monthly bill comes. I've had two tubs in the past and I was very surprised at the gigantic leap in my electric bill. I know it cost money, but after talking to other spa owners over the years, it appears that it was costing me a lot more to run my tub then them. So I'm looking for a sound tub with value. I'm also interested in the in ground tubs. I know they cost more, but I would still like to know more about them and their cost. Thanks.

Poughkeepsie, New York

"We would like to have a lot of jets in it and also have lounges in it to feel the pulsations on our backs and legs. If possible also lights in it. We were just recently married and on our honeymoon we were in one that was awesome, with lots of jets, and also the lighting. Thank You."

Breckenridge, Colorado

"I would like a spa that has room to do exercise, but don't necessarily need a swim spa. Just enough room to stand up and do strengthening and stretches. Have a bit of an interest in spas that are divided in two sections and have dual temp. controls. "

Williamstown, Massachusetts

"CD ozone generator; use year round; custom made cover; energy efficiency; able to stand very cold weather; air jet system provide air bubbles; jet pressure adjustable; easy to clean; variety type of jets; full body sits."

Alexandria, Virginia

"Actually looking for a smaller, more intimate spa. Looking at "corner type" spas, but more interested in seating arrangements, jets/waterfall, and 220V. Unit will be placed in an enclosed "sunroom" so it must be free-standing."

Austin, Texas
Advice
Read more about Hot Tubs:
Purchasing Overview and Basics
Buying a hot tub doesn't have to be complicated: there are a few key points to keep I mind that will help you get the right spa for your needs without spending too much.
There are a couple of basic questions to ask yourself before you get started:
Where will you put it? Indoors or out, on a deck or patio, built-in or above ground?
What basic style do you want? Most new hot tubs sold in the US are fiberglass or plastic; wooden hot tubs have a certain charm but are much more expensive and harder to keep sanitary.
How big do you want it? You can think about this as the number of people you want it to seat, or if you're working with space limitations you might need to set a maximum external dimension. Common sizes seat 4 to 6 people.
What extras do you want? Spas today come with all kinds of options such as LED lighting, built-in sound systems, lounge seats, and more. Take your time reviewing the options so you can decide which really matter to you.
To heat your tub, you'll probably get an electric or gas heater. (Other options are available, but not common.) Most spas will have little trouble maintaining temperature, but those with under-powered heaters may take quite a while to initially get up to temperature.
Insulation is also important to help keep the temperature up and your energy costs down. Full-foam insulation is the most efficient.
Sanitation
One of the few real downsides to owning a spa is the required maintenance. You'll need a combination of hardware components built in to the spa and chemicals you'll add on a regular basis to keep the water clean and safe. Components like ozonators or ionization systems can reduce – but not eliminate – the amount of chemical treatments you'll have to perform.
The real test
The most important step in buying a hot tub is the "wet test:" go to the dealership and test out the tubs you're interested in! Judging by the specs won't tell you the whole story. The number and type of jets doesn't mean that much compared to how they feel when you're in there.
While you're there, make sure to ask the dealer about their repair policies: do they do their own repairs or contract out to a third party? What does the manufacturer's guarantee cover, and for how long? A trustworthy dealer can help you enjoy your spa for decades to come.