Home > Hot Tubs > Used Hot Tubs for Sale
How do Hot Spring hot tubs stack up?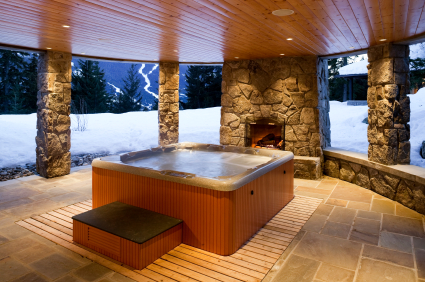 With a wide variety of Hot Spring hot tubs available, including the Envoy, Aria, Vanguard and Prodigy, each one features unique designs and benefits intended to suit almost any desire. Plus, Hot Spring Spa backs its hot tubs with one of the most reliable, straightforward warranties available – a warranty that set the standard for the spa industry.
All Hot Springs hot tubs are covered by a five year warranty. That same comprehensive warranty covers components that include the plumbing and spa heater in addition to other parts, with an extended seven-year warranty offered for the shell surface of the unit.
3 most popular Hot Spring hot tubs
If you're shopping around, you can spend hours searching through reviews of Hot Spring hot tubs, and in the process come across dozens of prices. So to save you some time, here's a quick rundown on three of their most popular hot tubs, backed by actual consumer reviews for each.
The Vista
Measuring 8'4"L x 7'7"W x 38"H, this is one of the larger Hot Spring hot tubs. It seats six adults and includes a four-zone multi-color lighting option, enabling you to light up different sections of the spa for a party effect. With an integrated MP3 and wireless sound system, you can listen to your favorite playlist while relaxing in almost 50 hydromassage jets, each designed for a precision output to provide optimal relaxation on sore and tired muscles. The Vista also includes a second jet pump, the Wavemaster 9200, providing additional power to ensure a strong, soothing torrent. Buyers reported that the Hot Spring Vista cost between $8,400 and $12,600 (prices usually vary by location and model year).
Hot Tub Specs
$8,400-12,600
6 person hot tub
Larger size (8'4" x 7'7")
4 zone multicolor lighting
MP3 stereo system
50 hydromassage jets
Wavemaster 9200 pump
The Sovereign
With over 30 powerful jets, the Sovereign is one of the mid-sized Hot Spring hot tubs, measuring 6'8"L x 7'9"W x 33"H. Its smaller size makes it easy to work into a back patio or basement recreation area. The Sovereign has been rated high for its economy of power expenditure. Reviewers report this tub as delivering "very little increase in electric" consumption, a real benefit for a large tub that's capable of comfortably holding six adults. One buyer reported that he was quoted $8595 plus tax for the Hot Spring Sovereign.
Hot Tub Specs
$8,600+
6 person hot tub
Mid-sized (6'8" x 7'9")
Low electric usage
The Grandee
This Hot Springs hot tub measures 8'4"L x 7'7"W x 38"H, the same exterior dimensions as the Vista. However, the difference between the Hot Spring Grandee and the Vista is found in the interior design, with the Grandee comfortably seating seven adults. In fact, this design has earned it high marks among consumers, with reviewers specifically citing the "openness of the Grandee," with four corner seats that provide great views from any spot in the tub. Featuring nearly 40 soothing jets, this model also includes a second pump, the powerful Wavemaster 8200. Buyers reported that their Hot Spring Grandee cost them between $9000 and $12,000.
Hot Tub Specs
$9000-12,000
7 person hot tub
Larger size (8'4" x 7'7")
40 jets
Wavemaster 8200 pump
Compare prices on multiple Hot Spring hot tubs by using our simple quote tool. Choose from multiple dealers, hot tub models, accessories, service and delivery packages, and more.