Home > Trade Show Displays > Custom Trade Show Exhibits
Fantastic examples of custom trade show exhibits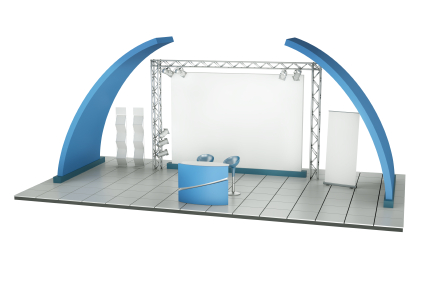 What exactly are custom trade show exhibits? In reference to trade show displays, a "custom" display is one that has been created especially to client specifications, including size, number of panels, lighting, and other add-ons. Typically far more permanent than anything that could be carted from location to location, custom trade show exhibits will often include onsite design and even professional assembly. Therefore, this type of display is often considered to be semi-permanent – and despite the name, they're often used in situations other than trade shows. Examples include:
Corporate showrooms, advertising products or services
Kiosks, promoting rates, services or initiatives
Lobby towers, providing directions or future plans for expansion
Historical displays, incorporating an eye-catching element to museum exhibits and similar events
Special event needs, enhancing corporate parties or fundraisers
Due to the size of the project, all displays are quoted for cost and delivery in advance once the entire scope is determined and finalized. And if you're unsure where to begin or don't have the the necessary design skills, many vendors have in-house design experts that will be willing to travel to your location to work with you on the most effective presentation. As mentioned above, these same companies provide a range of onsite services that extend far beyond design. For large projects, you can expect onsite woodworking, metal fabrication, and full assembly that includes all the lighting and electrical components that go into a custom trade show exhibit.
Mixing it up with modular custom trade show exhibits
Custom modular displays are slightly different from standard custom displays in that they incorporate a range of components that can actually be moved around, enabling you to expand the reach of your message to various locations around a single floor, or even position elements on a number of different floors.
Also known as a "hybrid" display, modular custom exhibits can be continuously updated with a variety of graphic panels, tension fabric, backlit displays, aluminum extrusion, folding panels and frames, and a range of different materials like Acrylite, Lexan, and Plexiglas.
Advantages to this type of display include an easy integration with portable systems, achieving a series of unique impressions while remaining highly cost-effective. In addition, you are able to highlight specific functions by easily bringing them to the forefront of the display. In fact, this level of extreme flexibility has made modular custom exhibits popular because the initial investment often prevents a company from having to continuously reinvest in materials every time they want to provide a fresh configuration, saving a reported 30 to 50 percent over the cost of a traditional box-frame display.
Custom graphics for a classy, brand-specific presentation
As would be expected, custom display and custom modular systems both include a completely personalized level of graphic design. Typically provided through in-house designers, all trade show display manufacturers can take your logo and message and craft it into a stylish and attractive presentation. Whether you want the display to coincide with an existing theme or be completely new, custom trade show exhibits are often on the cutting edge of presentation techniques. Consider some of the following real-life examples:
College lobby – Used to inspire donors, alumni, and students alike, an interactive lobby design incorporates all elements of the space to craft an engaging and interactive environment that can include video displays, computers and other multimedia devices. Featuring a style and materials that fit well with the location, finished wooden bases are often used to impart an elegant appearance, making the design appear more sophisticated while transforming lobbies or waiting areas into a memorable experience for visitors and employees alike.
Custom outdoor tent – Designed for fairs, races, concerts, and other outdoor events, a huge tent makes for an easily-spotted focal point. Whether used for check-in, refreshments, or medical services, a custom outdoor tent can be used to usher thousands of people into an event while providing shelter against high temperatures or unexpected showers. Tents are easy to set up and break down, with installation often performed by professionals, and the front and side walls can all be emblazoned with your personalized logos and branding message.
3-D branding environment – Create a customized display that will reach out and grab the attention of the video generation. This dynamic kiosk will usually include a large plasma screen integrated with signage and other display materials. Encased in a semi-permanent housing, display panels provide the opportunity to incorporate graphics of your choice while remaining extremely lightweight.

Permanent lobby or concession services – Seen in most hospitals and many modern corporate office buildings, these custom modular displays integrate a number of permanent and semi-permanent components, with movable displays and similar fixtures that allow employees to continuously change the appearance of the "store front" as well as place popular items and advertising directly out into the flow of traffic. Dynamic graphics effectively impart your message while permanent product demonstrations aid in providing a high degree of onsite customer communication. Plus, there's typically an ample amount of additional counter space incorporated into the design, providing the opportunity for enhanced messaging, special promotions, sales and other conversational meetings that require a countertop.
Medical lobby – With effective lighting and large screen monitors, this modular display is deceptively minimalist yet also useful for imparting a message to the best kind of audience: a captive one. Typically found in modern waiting rooms at a doctor's or dentist's office, a medical lobby display is simple yet effective and can be used to enhance the consumer's impression of the facility or provide additional information related to specific services.