Try Our Free Price Quote Request Tool!
Trade Show Displays Prices
Visitors to B2B Exchange know that it helps to have the right features and a brand that will be there for you, but at the end of the day the price you pay for a trade show displays will be among the most important parts of the decision. That's why we've assembled actual prices paid for trade show displays, straight from our users. Use these figures as a guide as you figure out what to pay during your negotiations.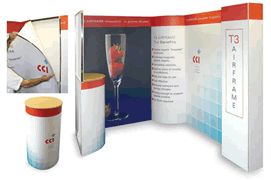 "The Full Graphic EVO Kit. 92"H x 28"D x 114"W — Kit Includes: 1 heavy duty square tubing aluminum frame, 6-3 piece aluminum channel bars, 3-27.625"W graphic center panels, 2 graphic end caps, 2-200w halogen lamps with adjustable heads, 1-power strip, 1-molded oval shipping case with wheels, 1-black ABS podium top. Printed on a polyester material with luster encapsulation and opaque lead backing, (includes 2 year tunnel proof warranty). $2,645.00"

Administrative Assistant, Legal, Paso Robles, CA

"Basic exhibit was around $2,000. Additional trade show displays accessories purchased and graphics brought the entire order to $4,600 approximately."

Sales, Transportation, Cudahy, WI

"2 trade show displays each -ShowStyle ShowStyle Briefcase Display (48"W x 24"H) - Includes: (4)Velcro Receptive Fabric Covered Panels - (1) 24"Wx8"H - White Styrene Header - Shipping Weight: 12 lbs., Actual Weight: 9 lbs. Total for 2 was $629.00"

Sales, Government, Washintgon, DC

"$1,693 6 ft curved table top trade show display wit hfull graphic panels,1 sq shipping case, 200 watt halogen llight, convertable table throw (has front and back cloth), exibiter series 120, 6 ft portable folding table, interlocking trade show flooring (2'x2'softwood tiles: 100 sq ft (from another company)."

President, Consulting, Newcastle, TX

"We needed multiple trade show displays, this ended up costing us $1700.00 for the total package including;One color printed table cover (6' or 8' expandable), 6' table top pop-up display, 3 pocket literature stand and a 35 1/2' banner stand. Price includes Banner Graphics, Table cover printing, header for pop-up and 3 graphic attachments for the pop-up."

Marketing, Insurance, Montville, NJ

"$1200 to rent an 8 foot popup trade show display with 3 lights, 3 shelves, 1 flatscreen monitor that mounts in the popup with a special bracket, 1 conversion kit for crates (we are doing our own graphics for this display)."

Marketing, Government, Grafton, WI

"Purchased a 6' Table Top "pop-up" display with two colors of fabric panels. Includes a molded plastic rolling carrying case. Price for the unit was $450.00 and shipping was $90.00."

President, Education, Sylmar, CA

"We purchased multiple trade show displays — booth was $1000, we are doing our graphics in-house; table covers — $75/each with another company doing the logos; pole banner signs — $500"

Marketing, Non- Profit, Madison, WI

"10ft. black popup display. Portable case with wheels, 2 overhead halogen lamps, extendable body frame, 21 pieces of spring bars, 6 pieces of black fabric panels."

President, Business, Sugar City, ID
"6' table top display with velcro receptive fabric and write on/wipe off back side. Waived shipping and matched other quote. Grand total $249.60."

President, Advertising, McKees Rocks, PA

"$2500 for multiple trade show displays. The price included a tabletop display, table cloth & booth hard case. It also included all art work finished and installed."

Marketing, Software, Portland, OR

"$395 + free same day shipping.. Extruded aluminum curved 2x2 pop-up frame, 10 magnetic channel bars with bag, 4 velcro receptive frontrunner fabric panels for table top, 1 150 watt halogen light kit with bulb, 2 canvas carrying bags, field repair kit, hard shipping case, lifetime warranty on frame & hardware, limited lifetime warranty on panels, light and shipping case."

MIS/IT, Consulting, Dearborn, MI

"$150.00 The buyer I gave to the committee was the only one that had a product below the price we wanted to pay"

Administrative Assistant, Non- Profit, Arnold, MO

"$ 2,100 - 8" popup display with podium converter package. Lifetime warranty. Personal demo of display."

Administrative Assistant, Government, Madison, WI

"Due to being in the military a local company I found in the phone book gave us a 50% discount and only charged us $100 for the trade show displays as long as we picked them up and returned it. We wanted a local vender just incase something popped up unexpectedly. The product was in no way as nice as the companies that contacted me but we wanted simple and that is what we got. "

Production, Government, Bremerton, WA

"Total was approx. $600, including all accessories and overnight shipping from Tradeshow Supermarkets."

Human Resources, Non- Profit, Atlanta, GA

"Price paid $2,160.00 product and shipping included, additional trade show displays accessories quoted at better price."

General Manager, Telecom, Miami, FL
Shop for Trade Show Displays
There are a variety of options for you to explore as you think about buying a trade show display. Auctions, e-commerce and request for quote services all provide you a way to evaluate different models, talk to dealers and ultimately figure out what's best for your trade show displays needs. Check out the links below for some of the best resources on the web when it comes to shopping for a trade show display.
Straight Talk From Trade Show Displays Buyers
The Internet has enabled the wisdom of the crowds like never before. B2B Exchange brings that wisdom straight to you by collecting the comments and questions of other trade show display buyers as they tackle business purchasing head on. If you're not sure what to be looking for in your next trade show display, check out the most common thoughts, fears and ideas shared by your fellow business purchasers.
"Please email me - I have a package put together to explain more: We are a POS company with over 20 years of experience. Our primary market is 75% coffee and café and 25% pizza and restaurant. We are currently using trade show displays that are about 10 years old. Our company is very computer literate and our software changes versions 4-5 times a year so the look and feel of our product can change some. We attend about 8 trade shows a year. These tradeshows all take place in the US. About half are 10x20 (sometimes on a corner) and the other half are 10x10 (usually inline). "

Sales, Software, Houston, TX

"We have been instructed to upgrade our trade show displays and stands. I need something like a 3x3 Curved pop up stand with printed graphics and lights. Either we will rent or buy depending on your prices."

Marketing, Healthcare, Brooklyn, NY

"i would like for the overall theme of the trade show displays to be a clothing boutique something that looks unique to its name and styles of fashion that it will help to sell. The colors would need to be semi loud but not to flashy. Just enough to captivate the eye of the consumer when walking by. I would like for the booth to be complete with shelves lights racks and cases for small accessories. Ii also would like the banner which will hold the company logo to be of a solid materialthat can not be damaged easily. "

Marketing, Retail, Cupertino, CA

"Looking for a few tri-fold panel trade show displays with middle slatwall panels that do not have cardboard filler inside the panels. Middle panel for shoe display and two end panels for graphic display. I am not interested in the models such as those made by Apollo and Quartet. They do not stay intact at all. Would rather pay extra for shipping a sturdier model than to continuously fix the sub-par, light-weight models I've been using. Would be interested in purchasing a few if I find the right product."

President, Entertainment, Omaha, NE

"I am looking for a free standing, self-standing (curved) display which fits into an 8 x 10 booth, has a black carpet-like skin that's put over the skeleton holding the display, and then I would put up 1-2 graphics on the upper part that would be stuck to the "carpet" with Velcro. These units typically come with 2 lights that connect on the top. When I go to events, the messaging needs to change, so I need flexibility like this."

President, Restaurant, Boca Raton, FL

"We are looking to purchase 1-3 booth flags trade show displays with portable, adjustable and detachable flag poles. We would like to have the flags made/printd with copy and images of our technology and products. We would like them to be in the shape of large pennants, possibly with 3 adjustable poles so we can position at different heights. We would like to add these as a standard component of tradeshow equipment."

Administrative Assistant, Retail, Tampa, FL

"Very simple, but impactful! Want to display the three brands owned by our studio. Would like to have our promotional video playing on a display television. Would also like a display area for products, brochures, and catalogs. Would also like to have very simple and chic furniture: mod style couch and high stools with a complementing table for short discussions with perspective clients."

Marketing, Retail, New York, NY

"Greetings. I am working with an international client who is planning to do several small tradeshows and conferences in North America over the next year. The company is interested in purchasing one (or possibly more) pop-up trade show displays for this purpose. They want a 10' pop-up display with full digital graphics. Can you provide me with some quotes? Thanks in advance for your help."

Sales, Consulting, Cincinatti, OH

"This is our first trade show, we are a local landsape contractor and are going to do 2 shows this year. We need a banner which displays our services and logo and would like to display some projects we've done. The second show will be an actual water feature display and paver display in a bigger booth, thus the sign needs to work for both shows. Any suggestions for the types of trade show displays we should include?"

President, Construction, Williamsburg, VA

"Mostly need a theater seating for 12 to 20, a welcome stand, locked storage, literature rack, and room for 2 small tables and 2 chairs per table. One show we're an island, the other a penisula. We're introducing a student financial aid planning product so we need to hang large blowups of the product on the back wall. We'll rent a plasma screen to display slides from our computer/projector. Having a few shelves for laptops to show our Web site is a "nice to have." We're a start-up with a new, blockbuster product for parents of college-bound students."

Sales, Education, Rochester, NY

"Hinged 4 panel screen Each panel would measure 18" wide 5 ft. high. the final product to go on each panel is wallcovering on both sides - each panel needs to be a frame for the wallcovering with a rigid insert - the wallpaper would be applied to both sides of the rigid insert and then slide into the frame from the top. the rigid insert needs to be of a material that the wallpaper can be removed and replaced as patterns change. this display will be free standing in showrooms. 25 trade show displays required. "

Marketing, Healthcare, Cambridge, MA

"My company is currently looking for trade show displays for next year's Trade shows in Salt lake city area. We would like to have a booth that is done like a cabin as we will be in a sportsman expo. We sell Recreational Property but my boss really would like a mountain cabin feel. Do you do these or can you recommend me to someone who does. Much Thanks, "

Administrative Assistant, Real Estate, Pittsburgh, PA

"I want the cases to fit in the booth (I like the ones that become the counter) and I want chairs that fit in the case as well as the booth. It would be nice to have space for literature in the case as well. If additional cases are needed I would like for them to fit behind the booth display. I want quick set up and tear down that anyone can do. "

President, Non- Profit, Manchester, NH
Trade Show Displays Advice
Read more about Trade Show Displays:
Trade Show Displays Overview and Basics
In a sea of booths screaming for attention, making your trade show displays stand out can be a real challenge. Finding the right trade show booth supplier can make a big difference in your overall success: the right vendor will do more than just sell you a booth. Instead, they'll make an effort to learn your business and help you design a distinctive booth that works with your needs.
Be sure to understand your trade show display plans before investing in a booth: do you plan to go to one or two shows year, or one a month? Will you need signs that can easily be changed from show to show? How portable does the display booth need to be? These types of questions will help you get the right trade show display at the right price.
Points to consider:
For what type of event do you need a trade show display?
What is your main goal at this event?
What type of trade show displays do you need? Pop-up, table top, island, banner display, custom etc.?
What is the size of the exhibit space?
Would you like to purchase or rent your display?
What is your estimated budget?