Home > Trade Show Displays > Pop-up Exhibit Displays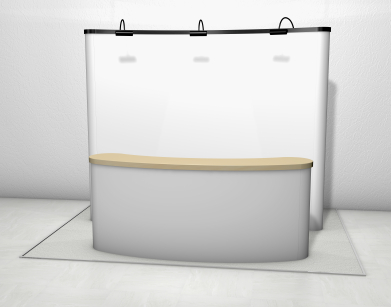 Cut through the sea of signage with pop up exhibit displays
Few types of displays are more effective at catching the eye than pop up exhibit displays. Like their children's book counterparts, they provide a three-dimensional element to any display that immediately makes it more visually appealing… and your message that much more prominent.
Often including elements such as a lightweight frame, multiple panels, lighting, and carrying case, a popup trade show display is typically provided as a complete kit, enabling you to use it again and again for years.
Generating maximum impressions with customized pop up exhibit displays
Although they're available in a range of sizes, including 6, 8, 10, and 20-foot models, 8-foot and 10-foot popup displays are consistently the most popular due to their combination of impact, affordability, and easy transportation to and from events. Consider the following comparison between high-end displays and more basic models.
Deluxe exhibit displays
Easily customized to your specific height requirements, high-end pop up exhibit displays often start around 8 feet high. Many includes a large central image with five or more small supporting graphics, that can be arranged to your specifications. They feature high-definition images that are usually printed in at least 720dpi.
Usually starting around $2,100 depending on the size and number of panels, the deluxe popup trade show display is used to advertise a variety of products and services at trade shows or industry events. Due to the impressive nature of the materials, they're also frequently used in retail stores, banks, malls and airports to promote current offers, mortgage rates, local travel destinations, tourist attractions and even directions.
Built for durability and continuous take-down and setup, an 8-foot popup display features a sturdy aluminum frame, typically painted black or a similar neutral color enabling it to blend into the background. Signage squares are constructed from PolyLycra tension-fabric, resisting tears and fading. In addition, each square includes hemmed edges and reinforced corners, further protecting it against wear and tear. Despite its impressive scale, the whole 8-foot display can weigh as little as 15 pounds and breaks down for storage into a carrying bag or hard carry case, providing simple transportation in vehicles and through airports.
Standard Full Graphic Popup
This 10-foot option extends your display space while still remaining relatively affordable and easy to move. With costs starting at around $1,800, this model provides a few less bells and whistles than the deluxe version but is ideal for use by a single person.
One of the biggest differences is found in the signage itself, with this version including a series of panels that seamlessly tie together to create a single cohesive image. These photomural panels are printed on high-quality substrate material for lasting durability and feature inkjet technology that provides a vivid reproduction of any image. In addition, the panels are further protected through a lamination process that applies a protective film that covers the top of the signage, enabling it to resist stains, fading, curling, and other signs of wear.
The standard full graphic popup includes an aluminum frame and graphic signage that is easily hung, providing a setup that takes less than 10 minutes. Considered by some to be the most popular portable trade show display on the market, the aluminum frame often comes backed by a lifetime warranty against manufacturing defects depending on where you purchase the display. In addition, some vendors will offer limited warranties on the signage also, with 2 to 3 years being standard.
Any pop up exhibit display you buy should include a carrying case that safeguards display materials when not in use. Storing the display is as easy as removing the sign from the frame, rolling it up and sealing it in the case. And no matter what kind of display you buy, all structural components should be made of fire-retardant materials.