Home > Trade Show Displays > Portable Exhibit Display Options
Catch their eye with a portable exhibit display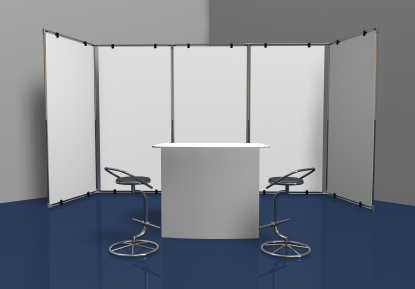 The cornerstone of any good trade show booth, a portable exhibit display includes a combination of printed signs and a collapsible frame that can be used over and over again. Portable models are among the most popular types of displays, given their high degree of mobility and cost-effectiveness. Unlike other more permanent displays, they're easily moved from location to location, and many even allow you to purchase new signage when it's time to upgrade outdated materials.
Selecting an effective portable exhibit display
When planning your next event, you'll find that there are a wide variety of portable exhibit booth materials available. Some of the most popular include:
Pole banner stand with custom vinyl banner – Often found spread around a trade show or within a retail outlet, pole banners have become one of the preferred methods of advertising when space is limited. These high-impact marketing tools feature custom-printed, single-sided signage and a durable, height-adjustable poster stand for around $210. The large vinyl banners can be effectively placed on a main aisle, above the crowd, or at eye level, garnering many customer impressions with just a small footprint. The banners can measure up to 23-1/2 inches wide and up to 78-3/4 inches high, allowing you to choose the exact size that provides maximum impact within your assigned space. Plus, portable banner stands allow you to adjust not only the height but the banner attachment arms as well. In doing so, you can allow the banner to rest at any height along the pole and create a dynamic presentation when paired with other banners at varying heights.
Standard popup trade show displays – Simple, affordable ,yet highly effective at communicating your sales message, standard popup trade show displays cost around $580 and feature a tension fabric design that creates the illusion of 3-D. Their narrow size takes up minimal space, great for small booths, cramped showrooms, or similar spaces. Popup displays feature custom-printed signage with brand-specific artwork to ensure a cohesive presentation in line with the rest of your materials. In addition, this model will often include three square graphic panels, printed on fire-retardant fabric. Plus, the lightweight silver aluminum frame weighs a mere five pounds and can easily be moved from place to place by only one person. Often used for highlighting exhibits, this model typically includes a hard carrying case, enabling quick and safe transportation to and from events, enabling years of continuous use with the same materials.
High resolution displays with pop up frames – Starting in the $1,800 range, this type of portable display includes a high-res multi-panel graphic that's printed in 1,200dpi resolution using UV-cured inks. The images are printed directly onto PVC panels, ensuring that the kit will not warp or separate and remain durable enough to last for years without any additional laminate. It also includes fabric end caps that can hold brochures and a variety of other accessories using Velcro. Plus, they're also popular for their easy setup, out of the box and ready to go in about 10 minutes. They typically come in wheeled plastic cases for easy transport. And for those looking to grab that extra bit of attention, many high resolution displays contain framing that supports add-on lighting, allowing you to highlight one panel in particular or the entire display.