Try Our Free Price Quote Request Tool!
Point of Sale Systems Prices
Visitors to B2B Exchange know that it helps to have the right features and a brand that will be there for you, but at the end of the day the price you pay for a pos system will be among the most important parts of the decision. That's why we've assembled actual prices paid for pos systems, straight from our users. Use these figures as a guide as you figure out what to pay during your negotiations.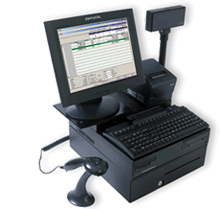 "$1,650 - HP computer system, drawer, scanner, printer & POSW software."

Small Business Owner, Retail, Lovelock NV

"$2770.00, CRE Software, Touch Screen Monitor, Cash Drawer, Receipt Printer, One Line Bar Code Reader with Stand, HP Computer, 3 year NBD Onsite Warranty for all equipment."

Small Business Owner, Retail, Pipe Creek TX

"I found a Quickbooks system on ebay that met my needs and saved me over $1,000 from the acutal quickbooks site. I got a complete bundle, software AND some extras for a great price. I WAS going to purchase a system from COMCASH but it turns out their system was not compatible with my computer operating system"

Partner/Principal, Retail, Rogers AR

"$2,713.00 covers registers, programming, documentaion, installation, training, receipt paper and cables<. I will also have local support and could actually see what I was buying."

CEO/President/Owner, Consulting, East Moline IL
"2 new computers with MS XP, 2 of each, receipt printers, barcode scanners, touchscreen monitors, cash drawers, pole displays and 2 program license for $3,350.00 plus 158.00 shipping. I am very happen with them. "

Engineer/Programmer, Retail, Kinston AL

"$2,100 software, scanner, cash drawer, customer pole, two printers."

R&D, Restaurant, Elgin IL

"The price paid was $8,050.00 and it included all hardware, software, on-site instruction and additional sevice as needed."

CEO/President/Owner, Retail, Crescent City CA

"2 complete POS systems with back office server, also 1 year tech support included around $7,500.00."

General Manager, Restaurant, Spicewood TX

"$3,450 included 2 systems complete with training, compared to well over $6,000 from the people I talked to."

Marketing/Public Relations, Retail, Boxford MA

"$1,058.00 plus that price included the display pole."

Small Business Owner, Retail, Mendota IL
Shop for Point of Sale Systems
There are a variety of options for you to explore as you think about buying a pos system. Auctions, e-commerce and request for quote services all provide you a way to evaluate different models, talk to dealers and ultimately figure out what's best for your pos system needs. Check out the links below for some of the best resources on the web when it comes to shopping for a pos system.
Online Shopping
Auction Sites
Manufacturers
Straight Talk From Point of Sale Systems Buyers
The Internet has enabled the wisdom of the crowds like never before. B2B Exchange brings that wisdom straight to you by collecting the comments and questions of other pos system buyers as they tackle business purchasing head on. If you're not sure what to be looking for in your next pos system, check out the most common thoughts, fears and ideas shared by your fellow business purchasers.
"I want to be able to barcode each item in my boutique so I can know what I have, what I need, how much I spent, how much I made, how much was stolen or broken, how much taxes were collected, and so I can inventory the whole store easily simply by scanning everything in the store periodically with a wireless scanner. I also want the system to increment and decrement the stock as I buy and sell product, and interface with my cash register somehow so I can discount the product on an ad-hoc basis if I choose. I already own a credit card machine so I will not need one of those, but I do want to be able to print receipts, and access my internet business from the same terminal if needs be. "

CEO/President/Owner, Retail, Battle Creek, MI

"We are a small hospital in Southwest Kansas with a cafeteria that does about 100/130 covers per day (65% employees) cash and credit We are looking for a system that will be able to scan credit cards and our employee's badges so we can charge then through our payroll. The payroll system we use is KRONOS, we will also like to have a digital scale possibility for our salad bar. If the system is unable to interface with the KRONOS system, what type of report could it produce for us? "

General Manager, Healthcare, Garden City, KS

"Let people swipe credit cards at events, give us there billing address to subscribe to a monthly membership with the first month free and then allow monthly billing after that. Data will need to be transfered directly/instantly to a third party/Client so that our team is not saving or storing the data. will be used remotely at events and venues where people will be survey and then as a premium be subscribed to a membership based on their answers. We need both a handheld solution as well as a laptop/kiosk solution. "

Marketing/Public Relations, Consulting, Gainesville, FL

"We are opening a medium size bar/restaurant with limited food service (appetizers, burgers, etc). Some requirements would be: Must handle both on and off service accounting integration: compatible/direct reporting to software for sales reporting, taxes, payroll, etc. (possibly Quickbooks with Dell hardware) Employee time in and time out Touch screen/cash drawer. Allow customized features for specials. Receipt printer. Good inventory control (both in and out). Credit/Debit card processing with possibly storage of card information while customer is running a tab."

Principal/Partner, Restaurant, High Point, NC

"I am just getting started with my business. I do private home parties, flea markets, fundraisers and sell merchandise out of my home as well. The register would be for me in flea markets. The home parties, fundraisers and out of my home I would not need the register for. "

Principal/Partner, Home Business, Oxnard, CA

"Terminals must be connected wirelessly. Servers may need hand-held wireless devices to send orders up. Bar needs it's own inventory tracking method...scanning the bottles upcs. Integrated security camera manager. Integrated inventory tracking for scannable items, manual input of non-scannables like produce. Automated product ordering. System must be remotely accessible through web interface and able to perform administrative functions (order voiding, etc.)."

General Manager, Retail, Meriden, CT

"We are in the process of buying a local tavern. We would need to stations to put in one area. They would need to be connected so that we can just print one report. We would also like to talk with customers who have purchased different systems so that we can get some personal ratings of the systems. We would like to be able to just plug it up and take off running, but if tech support is available, we could do it ourselves if necessary."

Office Manager, Restaurant, Somerville, MA

"I need a POS system designed for a small to medium sized Italian Pizzeria. I need options for dine-in, pick-up and delivery on the POS. Wireless is better but not necessary. I need 1 complete POS with a cash drawer a receipt printer, and 2 separate touchscreens (one for waitresses and one for back phone operator). I also need a printer for Pizza Chef and a printer for the Dinner Chef. "

CEO/President/Owner, Restaurant, Naperville, IL

"I am looking for intiial and operating cost information on a POS terminal for EBT-only transactions. The Lipman Nurit 8000 Secure wireless terminal or similar handheld wireless system. We will not be processing credit cards at this time. "

CEO/President/Owner, Financial Services, Lakewood, OH

"I am starting up an ice cream store and am looking for a robust system that will allow me to tie in sales results into a back-end inventory management system. Our store will have a featured product - an ice cream sandwich - along with other product sales (cones and cups sold by weight, shakes, floats, Cookies, various drinks, etc.) I would like the POS system to report at the end of the day the distribution of sales. "

Partner/Principal, Restaurant, Kansas City, MO

"I would like to have software that allows the customer to place their own order. I have about 7 menu items and think they would be able to select the item and then see sub-menus to allow toppings etcetera for each item chosen and eventually process the order. I am in a Mobile food trailer with a BBQ menu and do not have room for a second person to handle the window. The cash drawer must mount under a 20" counter. "

CEO/President/Owner, Restaurant, Mobile, TN

"Need 2 pos cash registers for beauty supply retail store. I would prefer a system that has included a database available for ethnic hair and beauty products. I need a system that can combine with a 16 channel DVR security system that can display the POS transactions on the DVR screen. I currently have two vendors that provide these features along with the database but wanted to see if there were any other choices. "

CEO/President/Owner, Retail, Shrewsbury, NH

"I'm a consultant working with a retailer that is looking to upgrade some of its POS terminals. They already have functioning POS hardware and a custom SW app, but are looking to find a new hardware platform. "

Consultant, Retail, King of Prussia, PA

"I represent a franchisor interested in obtaining a POS system for their franchisees. Franchisor is a sandwich shop with 40+ locations in California and are looking to get POS systems into their new franchisees as they come on board. Franchisor would need to be able to electronically and remotely tap into the franchisee's system. Franchisees will only need one computer system. "

Consultant, Retail, Bakersfield, CA

"We have a cash management system (Royal Alpha 710ml with bar code reader) We would like to know what bar code reader program to use in order to make our own labels. Plus connect to a program such as quickbooks or similar for the accounting part of it."

Partner/Principal, Retail, Mechanicsville, VA
Point of Sale Systems Advice
Read more about Point of Sale Systems:
Point of Sale Systems Basics
Point of sale (POS) systems replace standalone cash registers with computer-based sales software. A POS system may include a touchscreen, scanner, or keyboard for inputting prices, as well as a display and a computer.
POS systems offer several advantages to hospitality and retail businesses. By helping track inventory, they reduce "shrinkage" and employee theft. Automatic price tracking improves price accuracy over traditional cash registers. And built-in reporting lets you collect detailed information on how your business is really performing.
Specialized POS systems are available for a range of industries: restaurants, retail outlets, hotels, and more. Other POS systems are more general and allow you to customize the interface and options to your business.
The two most prominent point of sale systems are retail POS and hospitality POS. Businesses that need retail point of sale systems typically look for solutions to easily support refunds or exchanges, handle special offers and sale promotions, and create inventory databases to track specific items sold. Retail computer systems can also keep tabs on items that either sell out quickly — or don't sell at all — to determine future inventory needs.
Hospitality POS systems can help ease operations in the hotel industry, bars, and especially in restaurants. A restaurant POS system can add efficiency for casual or fast food establishments that need to quickly complete orders and ensure they are correct. For more exquisite dining, restaurant systems can manage open checks and track server responsibilities.
There are many pieces of POS equipment that come with a standard system. Most are furnished with touch screens which are optimal in POS retail systems and POS restaurant systems for their functionality and flexibility. A supermarket or fast food franchise may opt for keyboards since they can program certain keys to represent specific items. Scanners allow businesses to quickly read bar codes on items for swift and accurate checkouts. And of course, you need a printer to print receipts for credit card and cash transactions.
You can also add other peripherals to your POS equipment such as wireless handheld terminals, cash drawers, magnetic stripe readers for credit cards and gift cards, and personal check readers.
Other Point of Sale Systems terminology:
As you shop for a point of sale system, you may come across several different words and phrases that may not seem familiar. Among these terms:
point of sale: (also called "pos", "pos system", "computer point of sale", "electronic cash register", "pos equipment", "pos cash register", "pos hardware", "point of sale equipment")
cash register: Traditional machine that allows retail and hospitality business to process sales, print receipts, accept cash and coupons, and make change.
pos software: Specific software tailored to your industry to run the POS equipment
bar POS: Point of sale systems to track food and beverages sold in the bar/pub/saloon industry
restaurant POS system: (also called "restaurant computer system", "POS for restaurants")
retail pos systems: Point of sale systems to track sales and inventory in retail businesses
touch screen systems: Devices that allow employees to quickly enter selections and process transactions using their fingertips instead of keyboards
Points to consider
Are you interested in a complete POS system, or just hardware or software?
Do you need a brand new system or just an upgrade?
What wiring or installation needs do you have?
Are you interested in maintenance or service contracts?
How many locations are you buying for?
What is your timeframe for installation?
What type of reporting capabilities do you require?
Do you prefer a specific type of input device for the system — keyboard, touchscreen, scanner, scales, wireless device?