Try Our Free Price Quote Request Tool!
Digital Copier Prices
Visitors to B2B Exchange know that it helps to have the right features and a brand that will be there for you, but at the end of the day the price or lease rates that you pay for digital copiers will be among the most important parts of the decision. That's why we've assembled actual prices and copier lease rates that our users paid. Use these figures as a guide as you figure out what to pay during your negotiations.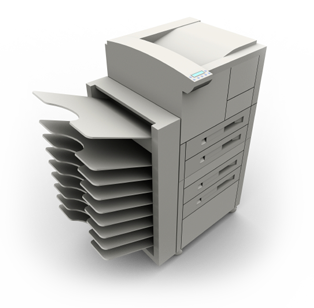 "Canon Imageclass MF6540 $399 Service Contract $199 two years extended warranty from Staples On Sale reg. price $599."

CEO/President/Owner, Consulting

"We decided to buy one of the Canon DS 5470 digital copiers, which is also a scanner, fax, and printer. Cost was only $399 after rebate. We only make 200 or so copies per week so commercial grade was not deemed necessary."

Attorney, Legal

"Our digital copier ended up being only $350 after a $300 rebate 24 ppm copy, print and scan. Copy larger copies and two sided copy, network capable."

CEO/President/Owner, Non-profit

"$544 for a Bizhub C550 and Bizhub C203 digital copiers, which both include toner, parts & labor, PM's."

Educator, Education

"I am leasing but the purchase price was $13,500 for two colored digital copiers from Konica Minolta with fax and scanning capabilities."

CFO, Other Business Services

"I purchased an HP all in one machine, Officejet Pro, L7780 at Best Buy. Normal price $499. Sale price $304."

CEO/President/Owner, Consulting



"1 year old Factory Refurbished Sharp AL2040CS - $265.99 plus $33.00 3yr Service Contract. Had to purchase the toner cartridge/drum separately, but was worth it! I came out very much ahead here instead of buying retail."

CEO/President/Owner, Financial Services

"$1,700.00 for a basic digital copier with set up. Also purchased a service agreement for 150.00 per year."

Partner/Principal, Real Estate

"I purchased one of the Konica Bizhub C253 digital copiers with auto. doc. feed, scanning, duplexing, 4 paper drawers, work table and desk, 60 gb. hard drive, 1,024 ram and a fax kit. Price $6,733.00 due to state contract pricing."

Accounting/Finance, Transportation/Logistics

"Copystar - $6,000 2-sided copy, black & white, fax, printer, scanning to 11 X 17 in color to my computer, email capable."

Partner/Principal, Healthcare

"We finally got rid of our old Xerox and started looking at modern digital copiers. We paid $1,400 for a Copystar 1635. 2 paper cassettes to hold all sizes fm 4 x 5 up to 11x17 paper, side insert paper, collates (turns packets 'sideways' since we did not choose optional outlet tray)."

Consultant, Construction/General Contracting

"Approximately $139 a month for a 48 months digital copiers lease and service contract. Service includes part, labor, drums and supplies."

Purchasing Manager, Healthcare

"We leased one of the HP digital copiers at $158 a month including (3000 copies), service, and supplies."

Sales/Business Development, Manufacturing

"Paid $2,850 for a refurbished Canon 2800 copier with fax, finishing, network card, service @ .012 (combined sc with other Canon already on contract)."

Administrative Assistant, Legal

"$5,045. 25 ppm, duplex, network ready, color scanning, scan to pc/email, scan memory to save and print documents later without original, 1 cent per page contract for three years, Brand is Kyocera, 200 sheet bypass tray, 4 drawers."


Accounting/Finance, Telecom/Utilities

"We paid $1595 but will receive a $350 rebate resulting in a net purchase of $1,245. We purchased a HP 3027X."

Accounting/Finance, Retail

We ended up purchasing a Konica Minolta bizhub C203 for $7,494.79. We had also considered two of the enterprise-level Canon digital copiers but they were just too expensive."

Sales/Business Development, Consulting

"$7,500; Kyocera KM C2323E color scan, copier with fax and finisher. Service Contract - $.12/copy and $.075/copy for color. No added charges."

CFO, Wholesale
Shop for Digital Copiers
There are a variety of options for you to explore as you think about buying a digital copier. Auctions, e-commerce and request for quote services all provide you a way to evaluate different models, talk to dealers and ultimately figure out what's best for your copy machine needs. Check out the links below for some of the best resources on the web when it comes to shopping for a copier.
Online Shopping
Auction Sites
Buying Tips from other Digital Copiers Customers
The Internet has enabled the wisdom of the crowds like never before. B2B Exchange brings that wisdom straight to you by collecting the comments and questions of other copier buyers as they tackle business purchasing head on. If you're not sure what to be looking for in your next digital copier, check out the most common thoughts, fears and ideas shared by your fellow business purchasers.
"I need a color copier that is around 3500 and has a printing resolution of atleast 1200x600.Also prints up to 140lb index or 12pt cover. 11x17 bleed is optional."
General Manager, Non-profit
"I need information on digital copiers warranties and what type of service guarantees, maintenance plans etc...are involved."
CEO/President/Owner, Insurance
"I would like to know about finishing or finisher. What is the purpose and is it important for published works."
Designer, Travel/Hospitality
"I need just the basic digital copier that can be used to copy magazine articles or pages from a book by lifting the top and placing the open volume on copy area. We are a very small school and very likely would never do more than 1000 copies per month."
Educator, Education
"I work for a sole practitioner attorney, who wants me to comparison shop for a 2-3 year digital copiers lease that covers 3000-4000 copies / month with service included. Need quotes on capabilities, what is & is not included (e.g., staples, ink), base price, cost for exceeding allotted copies, etc."
Receptionist, Legal
"This copier will be for a new surgical (ophthalmic) practice. We are interested in a leasing option with service contract. We are currently obtaining estimates from various vendors to help us finish the business plan. Supplies can be purchased by us possibly but we'll want a service contract that will allow for same-day emergency visits and/or copier loaners if the copy machine is down."

"As a new business we expect to have a volume that may start slower but will quickly escalate over the first 6-18 months of the contract. Color-copying would be nice but is not critical. Copying, faxing and scanning will be important. We would like to use the copier as a networked printer as well."
Office Manager, Healthcare
"We have a small office that does approx 3000 copies per month. We are looking for prices on basic digital copiers. Black & white that has basic sorting functions & medium speed. We want to compare that with a multi functional copier. One that has networking, fax, collating, stapling, is black & white and 8x11 paper with a bypass for card stock. We would like the prices for leasing and want the fair market value would run after the lease is up or how much if purchased out right. We are also interested in purchasing a service warranty with the copier."
CEO/President/Owner, Advertising/Marketing/PR
"Will be networked & be main printer/copier for company. Need ability to scan & save to/e-mail to pdf. Possibly use as fax - may not be necessary. Need to be able to do 2 sided copies & sort. Don't really care about staple. If capable of printing 9 x 12" envelopes a plus but not necessary (thru side feed - not tray)."

"We need digital copiers in our US office in Chattanooga, Tennessee. They must have these characteristics: 1) at least 40 copies per minute 2) finisher for brochures 3) 5 paper trays 4) black/white and color printing 5) 48 months leasing 6) flat fee per color or b/w copy estimated use is 20'000 b/w copies per month and 2'000 color copies. Some brands that come to my mind are Canon, Océ and Xerox, maybe HP. We looked at some that are about what we are looking for, namely Canon C5058, C5058i, C5180, C5185."
Engineer/Programmer, Biotech/Pharmaceuticals
"We are a Psychiatric Group with large charts of patient files. We need several digital copiers that allow scanning of 8 — or more pages simultaneously for storage purposes. Our charts have to be records must be stored for years and kept within our premises. We need to reduce the number of file cabinets, boxes. Our goal is to place these records on CD's or in folders on secured portals, the copier must be able to scan nearly a full chart to expedite the process."
Purchasing Manager, Healthcare
"Looking for a copier that can be used as a printer, if needed. Must be able to enlarge and reduce copy size. Would like automatic feeder, with capabilities of manually placing the copy where I need to on the glass. We do a lot of enlarging of business cards. Thinking about using it also as a network printer."
Facilities/Operations, Government
Digital Copier Advice
Read more about Digital Copiers:
Digital Copier Overview and Basics
Choosing an office digital copier is not as easy as it once was. While, in the past, copy speed and sorting/stapling were the primary considerations, today's copiers are more complex. For example, copy machines now frequently include color copy functionality. While copiers are still available in black and white only or color only, combination machines, known as hybrid copiers, are now quite popular.
Hybrids, which only print in color when specified, are increasingly common as prices have come down for those machines and they therefore can provide the functionality and flexibility of two dedicated machines at once.
In addition to color copying features, technological improvements in machine memory and performance now allow you to add nearly any copier to a network, which enables digital copiers to offer printing, faxing or scanning capabilities. Additional software can even transform your copier into a document imaging system, where documents can be stored and accessed for future use.
In addition to the specific functions and features of your copier, take a close look at the service agreement and warranties along with carefully considering the costs and benefits of purchasing a machine or opting to lease your new copier instead. See the section below for more things to think about as you evaluate your copy machine options.

Points to consider:
Would you like your copier to produce black and white copies only or color copies as well?
How many copies do you expect to make each month?
How quickly do you want copies to be made (10 pages per minute is slow, 100+ extremely fast and typically of an industrial-sized machine)?
Do you want to lease or purchase a copier?
What, if any, additional features do you want with your copier, e.g. printing, faxing, document imaging
What size paper do you want the copier to handle (letter, legal, envelopes, etc)?
What copier-specific features like sorting or duplex copying are you interested in?